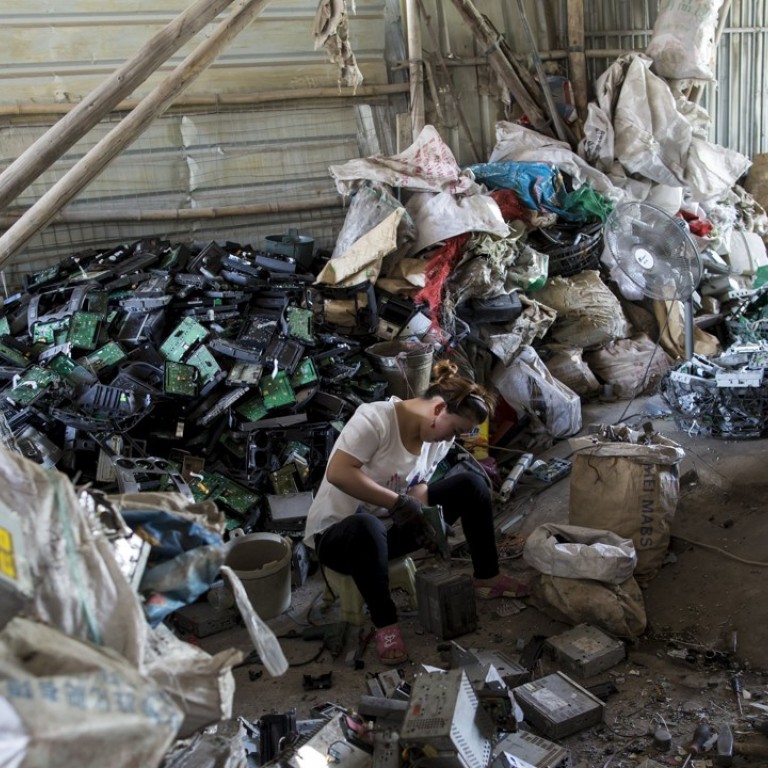 China customs intercept a million tonnes of illegal waste
Authorities cracking down on waste smuggling after ban on certain types of recycling material
China's customs authority intercepted nearly one million tonnes of illegally imported rubbish in the first half of this year, it said on Wednesday, part of a crackdown on smuggled waste materials.
The General Administration of Customs has made the crackdown on smuggled foreign waste one of its priorities for this year after China imposed bans on 24 types of recyclable material, including plastics.
It said in a notice that it uncovered 276 cases of waste smuggling in the first half of the year, up 89 per cent on the year and involving 987,900 tonnes of rubbish.
In an operation it has called "Sword at the Country's Gate 2018", the authority has focused on foreign rubbish, the trade in endangered species and tax evasion by commodity importers.
It also said it tackled a total of 963 smuggling cases overall in the first six months, involving a value of 20.3 billion yuan (US$3 billion).
One of the biggest cases involved the smuggling of 313,500 tonnes of steel slag by an unnamed Shanghai company, as well as a 200,000-tonne shipment of plastic and other solid waste intercepted by customs inspectors in Shantou, near China's recycling town of Guiyu.
Guiyu, in southeastern China, is notorious for the recycling of old computers, mobile phones, paper, textiles and plastics, operations that have dirtied its air and water, and left workers and residents suffering chronic health problems.
The administration also said in a separate notice on Tuesday that it had intercepted a "Russian-style" truck in the northern city of Harbin containing the body parts of endangered species worth 106 million yuan, the largest haul of its kind in years.
It said the illegal shipment, which was hidden inside a consignment of "mouldy" soybeans, included 1,276 antelope horns and 226 whale teeth, as well as 156 mammoth tusks collected from the melting tundra of Siberia.
This article appeared in the South China Morning Post print edition as: Customs intercepts million tonnes of smuggled trash