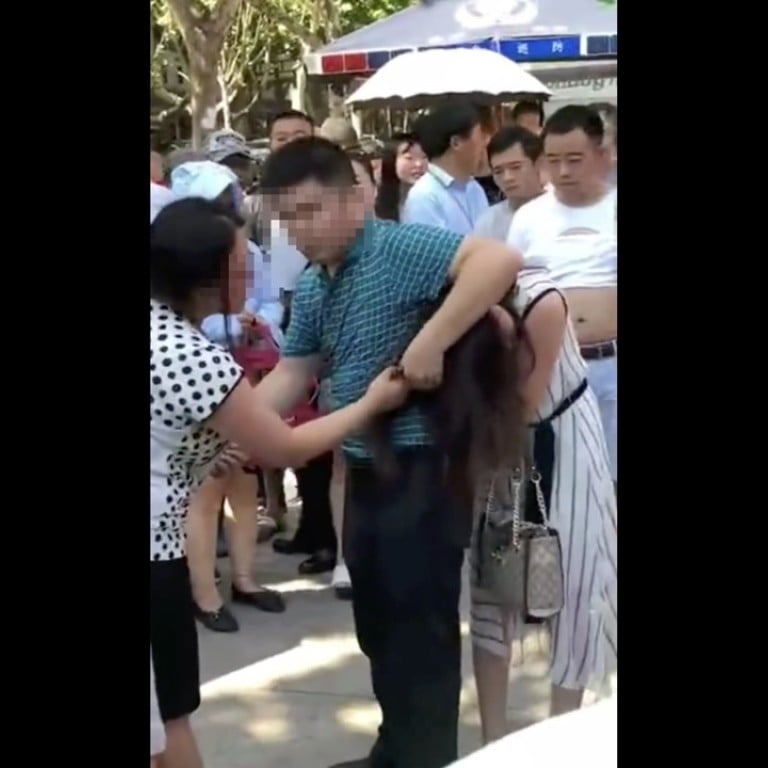 Chinese woman attacks husband's Audi as he drives with 'mistress'
Police are called after damage to car windscreen, shouting and hair-pulling draw a crowd
The police had to intervene in a marital dispute on Wednesday after an altercation caused a commotion on the streets in eastern China, mainland media reported.
Video footage
circulating online shows a woman, identified as the wife, perched on the bonnet of a black Audi moving along a stretch of road in Nanjing, Jiangsu province,
Yangtse Evening News
reported on Wednesday.
The woman repeatedly hit the windscreen of the car with a hard object as it crawled along the road.
A man identified as her husband drove the vehicle as a younger woman sat in the passenger's seat.
Screaming for the occupants of the vehicle to step out, the wife referred to the woman in the car as the man's mistress.
When the car finally stopped and the driver emerged, the woman lunged at the man, exclaiming repeatedly: "Only yesterday you were viewing flats with me, and today you are with your mistress."
She called for those in the crowd that had gathered to help her "catch" her husband's lover in the car.
Some people hurled insults at her while others tried to persuade her to leave the man. The woman lashed back at the crowd at one point.
The man is heard in the video telling the wife: "You are so aggressive every day, how do you expect me to take responsibility?"
Minutes later, the three became entangled in a scuffle with the wife pulling at the alleged lover's hair and the husband trying to separate the women. Only when the police arrived did the scuffle end.
The video ended with the woman on the ground, wailing as officers and those watching attempted to console her.
Officers took the three to a nearby police station and counselled them, according to the report.