Chinese firms ordered to stop selling Peppa Pig-themed toys after British firms win landmark copyright court ruling
Two Chinese businesses were told to stop making and selling a toy kitchen set using the image of the children's favourite and to pay US$22,000 in fines for breaching makers' intellectual property
Two Chinese companies have been ordered to stop producing and selling a toy that used the image of Peppa Pig after the first intellectual property case involving the popular children's cartoon character.
Ye Shengnan, the judge who tried the case in eastern Zhejiang province's Hangzhou Internet Court, also ordered the offending companies to pay the Peppa Pig character's owners compensation of 150,000 yuan (US$22,000) for breach of copyright.
Wildly beloved by Chinese youngsters since its introduction to the country in 2015, the cartoon chronicles the adventures of Peppa, her family and friends. Its popularity has generated a raft of toys, clothes and other spin-off products.
The British companies filed for copyright infringement after discovering that Jufan Limited of Shantou, Guangdong province, was selling a toy kitchen set decorated with Peppa Pig images on its shop on Alibaba Group Holding's Taobao Marketplace, according to Ye. The kitchen set's producer was Shantou-based Jiale Toys Industrial.
Alibaba, the Chinese e-commerce giant, owns the South China Morning Post.
"This case is a landmark in the way that it serves as a warning to the chaotic market, and it's the first ruling on production copyright infringement," Ye said.
"These two companies have brought many lawsuits before, but these cases usually ended up being settled."
The British animated TV series for preschool children is co-owned by Entertainment One UK Limited and London-based Astley Baker Davies Limited.
At Monday's trial at Hangzhou Internet Court, set up last year for the adjudication of e-commerce and internet-related disputes, the judge ruled that Peppa Pig and her "family" were distinct artistic characters protected by intellectual property rights.
Ye fined the producer, Jiale, 120,000 yuan and the sales company, Jufan, 30,000 yuan.
Taobao had deleted the shop link before the trial started, so its involvement did not come up in the proceedings, according to Ye.
"We appreciate Taobao's support in proactively monitoring and removing infringing product listings, as well as the offline investigations it has launched to crack down on bad actors and trace their unlawful activities back to their source," said Olivier Dumont, president of family and brands at Entertainment One.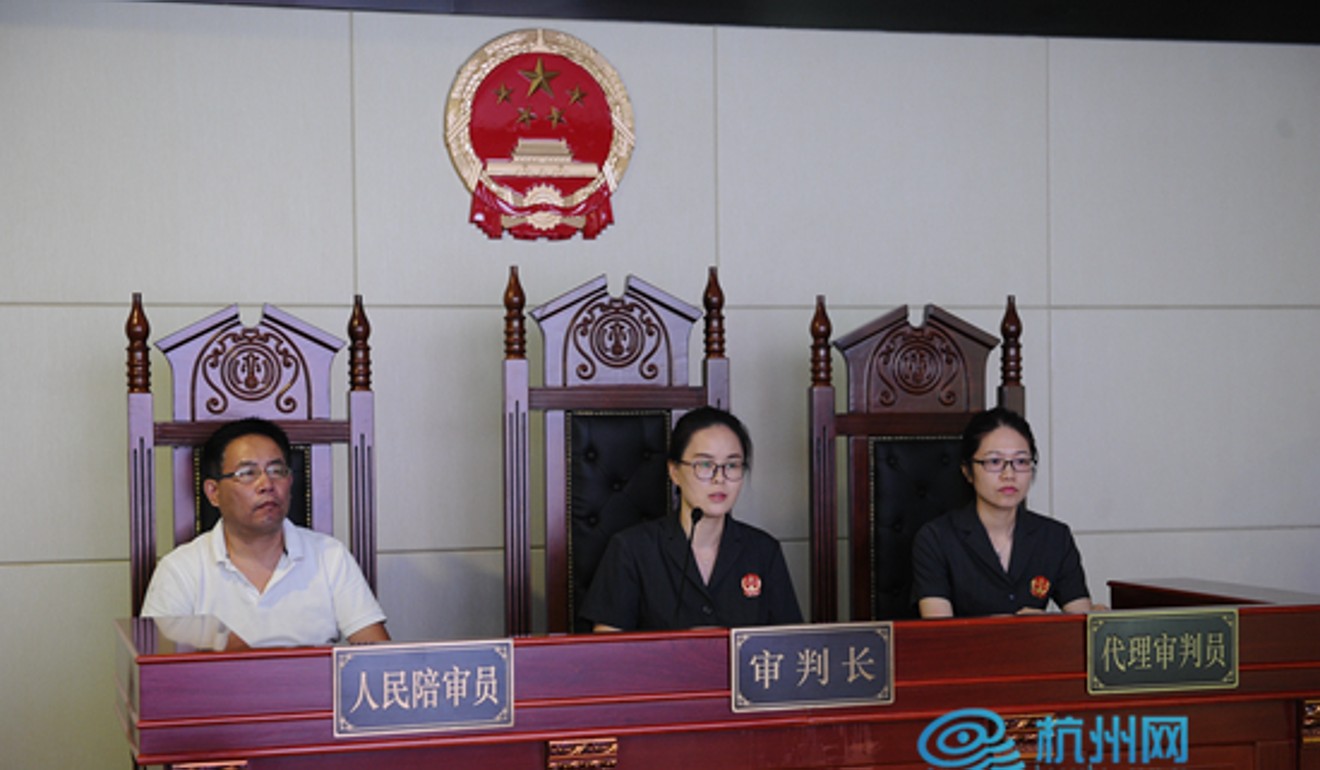 "We're confident the court's verdict will send the right message to the market about copyright protection."
A spokesman for Taobao said: " We respect the court's verdict and are gratified that it recognised our strong efforts in protecting intellectual property.
"We remain committed to best practice in IP rights enforcement through partnership with brands and rights owners based on mutual trust. Taobao and Entertainment One have established a close cooperation and will continue to work together."
In its 2017 annual report on IP protection, Alibaba said it had made strides towards stopping internet fakes and supporting intellectual property protection.
The company dealt with 95 per cent of IP infringement complaints within 24 hours, according to its report. It also closed 240,000 Taobao shops suspected of IP infringement and provided law enforcement officials with leads that helped capture 1,606 IP infringement suspects, according to the report.
However, when the Post searched for "Peppa Pig toys" on Taobao, it was unclear whether the shops that came up in the results were authorised to sell the products.
During the trial, Entertainment One and Astley Baker Davies had argued that Jiale and Jufan had seriously infringed the British companies' intellectual property rights.
By registering the copyright of four characters in the Peppa Pig franchise – Peppa Pig, George Pig, Daddy Pig and Mummy Pig – with China's State Intellectual Property Office in 2014, Entertainment One and Astley Baker Davies owned the rights to animations and products that used these images, Ye said.
The ruling closes the latest chapter in Peppa Pig's occasionally turbulent history in China.
Regulators banned the character this spring from the video sharing app Douyin, ruling that it promoted a subversive lifestyle.
State media had reported that the country's youth subculture had embraced Peppa Pig as a symbol of "shehuiren," literally meaning a "society person," but referring to people who dropped out of society, such as slackers and gangsters.
The video ban followed a crackdown on Peppa Pig picture books last year, part of a wider campaign against celebrating Western culture.
Early this year, unauthorised images of Peppa Pig and other well-known cartoon characters turned up in crude and violent videos that were uploaded to online children's entertainment channels.
A Chinese video production firm subsequently was suspended and forced to apologise for making the disturbing cartoons.