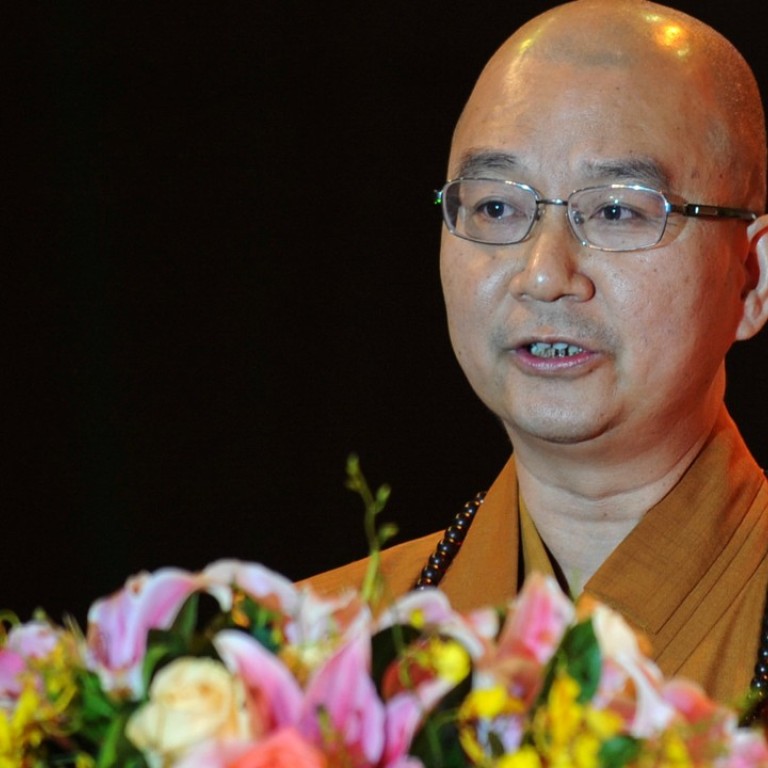 Top Chinese Buddhist monk Xuecheng faces police investigation after #MeToo sexual harassment claims upheld
Police investigating whether Longquan Temple abbot broke the law after report finds he harassed women and mishandled temple funds
An investigation concluded that Xuecheng, abbot of the well-known Longquan Temple on the outskirts of Beijing, had sexually harassed female disciples via text messages, built temples without obtaining official permits and mishandled the temple's funds, according to a statement posted on the website of the National Religious Affairs Administration.
Claims he sexually assaulted nuns have been passed on to the police, who are also investigating whether any of his other activities broke the law.
The report also said he was suspected of "violating Buddhist principles" and he is now subject to disciplinary action by the national Buddhist Association.
The investigation began after two women compiled a 95-page document outlining the accusations made about the monk, who is also a member of China's top political advisory body.
The document went viral online at the end of last month, contributing to China's fledgling #MeToo movement.
Shi Xianjia and Shi Xianqi, the two women who compiled the report, said the abbot sent suggestive messages to two nuns at the temple and made unwanted sexual advances towards at least four others.
The 52-year-old stepped down as chairman of the Buddhist Association a week ago amid a public uproar.
Previously Xuecheng had denied all the allegations in an online statement, saying they stemmed from "fabricated material" and "distorted facts".
Longquan Temple is known as China's hi-tech temple for its use of artificial intelligence technology to aid enlightenment and the development of a miniature robotic monk.
Many of its monks and nuns are former top academics from prominent universities, including the two whistle-blowers.
While some activists have hailed the monk's downfall as a victory for China's #MeToo movement, others believe there is more to this case.
Wei Tingting, head of the Guangzhou Gender and Sexuality Education Centre, said, "I think it is a victory of various social powers," referring to the women who pointed the figure at other prominent figures before the Xuecheng scandal broke and the public support the victims received.
"It never occurred to me that the government would be so efficient in dealing with this case," she said.
Before the complaints about Xuecheng emerged, a series of accusations against famous figures from various spheres – including NGOs, the media and literary world – had attained national prominence.
Xuecheng's case raised more eyebrows due to the identity of the person being accused.
But according to Guangzhou-based feminist writer Hou Hongbin, his downfall could also be tied to the drive against corruption given the financial dimension to the complaints.
She added: "It's just that it happened amid the [#MeToo] movement, and the part about his sexual misconduct is something that people love to share."
This article appeared in the South China Morning Post print edition as: police investigate leading monk