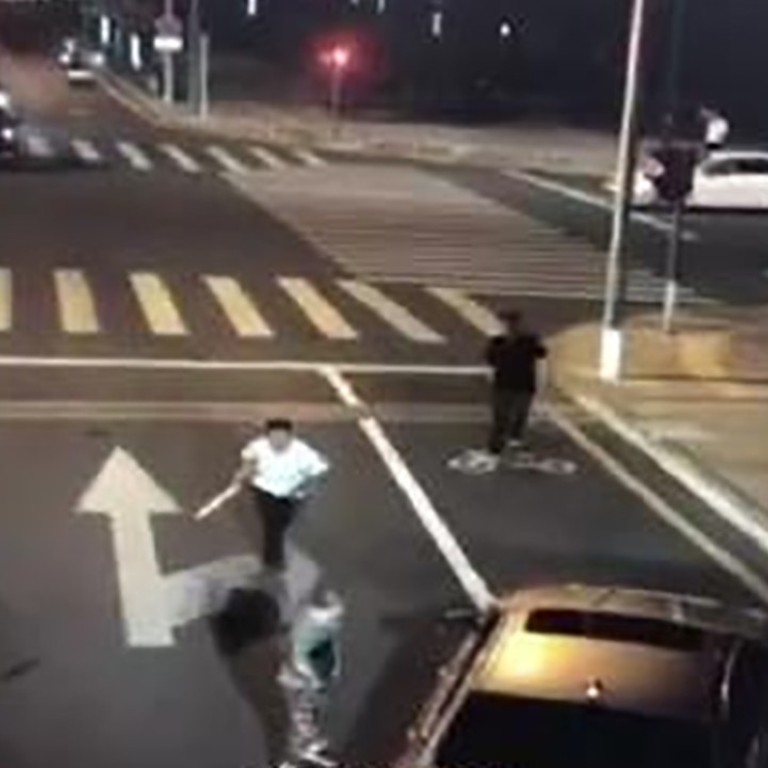 Chinese cyclist 'acted in self-defence' in fatal road rage machete attack on BMW driver
In case that has gripped nation, police clear 41-year-old electrician Yu Haiming of criminal responsibility over the stabbing of a motorist who later died of blood loss
A cyclist who fatally wounded a drunk driver with a machete in eastern China last week will not face charges after police determined that he acted in self-defence.
In the latest twist in the nationally debated case, police in Kunshan, Jiangsu province, said late on Saturday that the cyclist, 41-year-old electrician Yu Haiming, did not bear any criminal responsibility for the death of Liu Hailong.
"As such, the police have closed the case against Yu," the police said in a statement.
The two men came to blows on Monday night after Liu, 36, veered into a bike lane in his BMW, nearly knocking Yu off his electric bike, the statement said.
Liu got out of his car and the two men fought before Liu went back to his car and took a machete from the back seat.
Liu attacked the cyclist but lost his grip on the weapon as he and Yu scuffled, the report said.
Yu then picked up the machete and stabbed Liu five times in seven seconds, rupturing one of the driver's major veins and his intestines.
Liu was rushed to hospital but died of blood loss, while Yu was bruised on his neck and torso, the police said.
Police said Liu had put the cyclist's life in danger and committed a serious assault on Yu.
"Yu acted out of self-defence," the police statement said, in a decision endorsed by the provincial prosecutor.
The case aroused national interest after surveillance camera footage of the incident was posted online, earning Yu widespread public support.
But courts have overwhelmingly found against defendants like Yu in the past. In 100 similar cases published on China Judgments Online, judges found self-defence was justified in only four instances, provincial prosecutors said in an online post that was later removed. In 20 cases, the judges ruled that the defendants had gone too far in defending themselves. The remaining cases were dismissed outright as not self-defence.
Professor Qu Xinjiu, from China University of Political Science and Law, told state broadcaster CCTV that a verdict of self-defence had been very narrowly applied in the past but Yu's case would encourage broader acceptance of it among the judiciary and prosecutors.
State-run media came out in favour of the police investigation, describing it as "a victory for the rule of law".
"The value of the law is to be independent of public sentiment ... and make rational and just conclusions," a commentary from official news agency Xinhua said.
"The recognition of self-defence in this case showed the value of suppressing evil."
Kunshan police confirmed that Liu had a record of violent criminal activity but was not involved in a gang or organised crime.
This article appeared in the South China Morning Post print edition as: Police clear cyclist in fatal attack on driver