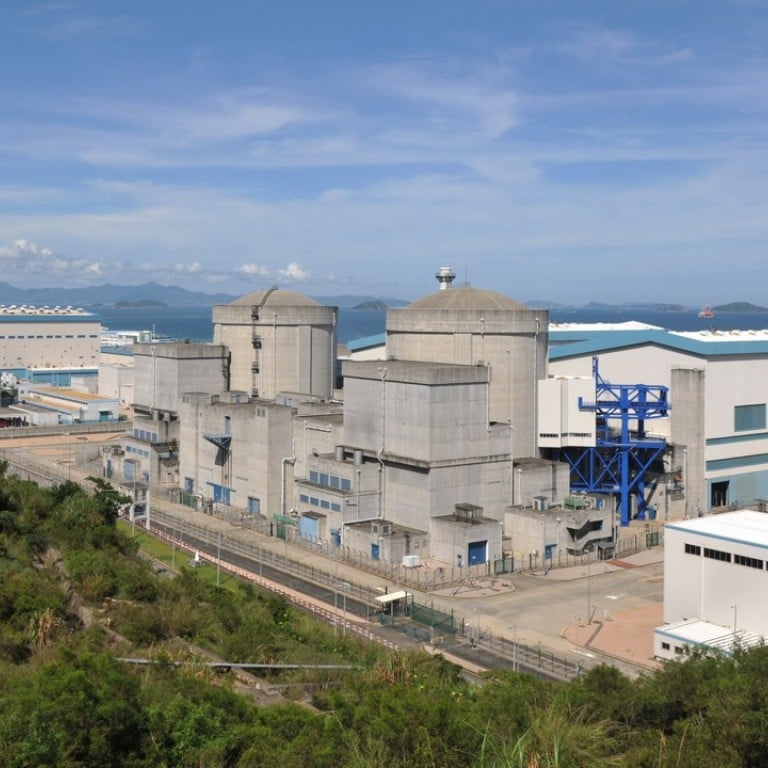 Typhoon Mangkhut: Two nuclear power plants on China's Guangdong coast in path of storm
Workers batten down the hatches at Yangjiang and Taishan facilities as superstorm set to make landfall nearby
Two nuclear power plants stand on the projected path of Typhoon Mangkhut, which is expected to make landfall in mainland China as early as Sunday afternoon.
Taishan Nuclear Power Plant and Yangjiang Nuclear Power Station, both in Guangdong province, said they were "in combat readiness" mode as the superstorm approached.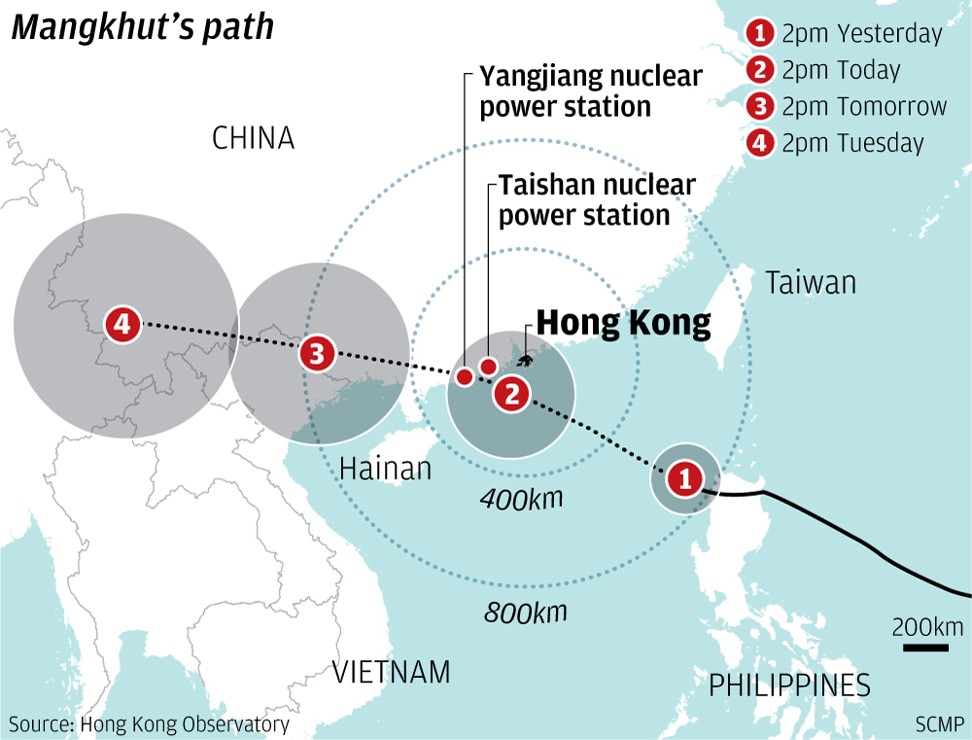 The Taishan plant, which is about 135km from Hong Kong, said via WeChat that officials had discussed how best to deal with the approaching storm and specialist workers had conducted safety investigations.
Emergency response teams had also been briefed and were prepared for the typhoon's arrival.
"All emergency personnel are at their posts and have conducted their preparatory work. The Taishan plant is fully prepared for the typhoon, and everything is in its place," it said.
Workers at the Yangjiang plant, which is just 230km west of Hong Kong, earlier secured the facility's five generating units – a sixth is under construction – each of which has 1,086 megawatts of capacity.
The plant said it had conducted inspections of its units on Wednesday morning and held a meeting on Thursday to discuss how best to deal with the onset of the storm.
Plant manager Chen Weizhong stressed the importance of ensuring all doors and windows were tightly closed, and that the units were secured to minimise Mangkhut's impact.
"All departments must attach the highest level of importance to this and adhere to high standards to strictly ensure the preventive measures are implemented," he said on WeChat, China's most popular messaging platform.
Nuclear power plants are taking no chances in the wake of the Fukushima tragedy in Japan where three nuclear reactors went into meltdown following an earthquake and tsunami in 2011.
In the United States, extra safety measures were taken at six nuclear power plants that stood in the projected path of Hurricane Florence, CNN reported.
A Yangjiang resident said she was concerned about the looming storm and had stocked up on food supplies.
"I am scared," she said. "Even though Yangjiang has typhoons every year, this time it is very strong. I bought some vegetables that can be kept for a few days."
But another resident, who manages a tea shop, said there was nothing to fear.
"We're not worried because even if the typhoon is strong, the Yangjiang nuclear plant will take the appropriate measures to ensure it is secured."
The managers of the department store in which her shop is located had advised her to secure all doors and windows, but other than that it was business as usual, she said.
"The sun is shining outside. Customers are not talking about the typhoon, they said it is very hot and asked us to turn the air conditioning up."
After barrelling through the Philippines on Saturday, Mangkhut is expected to head through the South China Sea before reaching the Chinese mainland, somewhere between Yangjiang and Wenchang in Hainan province, on either Sunday or Monday.
The China Meteorological Administration on Saturday maintained its yellow alert for the approaching typhoon – the second-highest level on a four-tier scale – after warning that southern China could be put to "a severe test" just days after Typhoon Barijat slammed the region.
As well as the provinces of Guangdong and Hainan, the Guangxi Zhuang autonomous region is on Mangkhut's expected path, and governments in all three areas have implemented emergency measures, such as stocking up food and releasing water from reservoirs, ahead of its likely landfall.
The Yangjiang power plant, which went into commercial operation in 2014, has been in the news before.
In 2016, four members of its staff were punished for breaching operational guidelines and covering up an incident in which a residual heat-removal pump on one of the reactors stopped functioning for six minutes.
Last year, component supplier Dalian Teikoku Canned Motor Pump Company was fined for violating operating rules regarding welding at the plant.
China has more than 40 nuclear power reactors in operation and more under construction as Beijing moves to reduce its dependence on coal plants.
This article appeared in the South China Morning Post print edition as: Two nuclear plants in projected path of typhoon