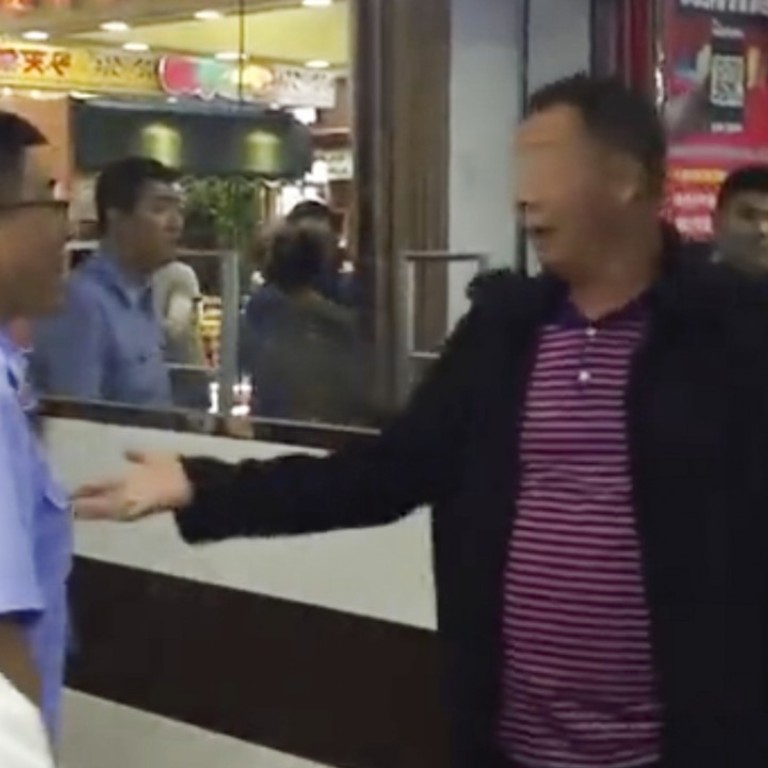 A cashless supermarket, a bunch of grapes and the growing digital divide in China's economy
An elderly man tries to use cash to buy some fruit, reigniting discussion over those left behind in the rush to online payments
An argument between staff at a cashless supermarket in northern China and an elderly man who did not know how to use his smartphone to buy a bunch of grapes has revived calls for help for those left behind in the digital economy.
The 67-year-old man, identified only by his surname Xie, tried to use cash to buy the fruit at a supermarket in Jixi, Heilongjiang province, on Sunday, video news site Pear Video reported.
Checkout workers rejected the money and insisted that he use his phone to pay via either WeChat Pay or Alipay, prompting the argument, according to the video.
Alipay is owned by Alibaba, which owns the South China Morning Post.
"I'll leave if you don't take the cash," Xie said in the clip.
"Well, leave if you can," the cashier replied.
Xie took the grapes and approached the door but was stopped by security guards.
"I know it's not right to leave without paying," Xie said. "But I have real yuan in my hands. It's not fake money. Why are you humiliating this old man for not knowing how to use WeChat?"
A security guard later helped Xie process the payment with cash, the report said.
The video reignited discussion about the daily problems China's elderly people as small businesses around the nation go cash-free.
"It makes me sad to read this news," one user wrote. "It feels like these people have been abandoned by the times."
Another said: "So if elderly people and children go to supermarkets, they can't even pay if they don't have phones?"
A Jixi resident said the supermarket had different – but poorly labelled – lanes for customers who paid by cash or with their phones.
Concerns about the gap in access to service in an economy of expanding e-payments prompted the central bank to issue a directive in July stating that the yuan was the country's legal currency and no units or individuals should refuse payment by cash.
It urged organisations to use cashless tools when necessary, but in a voluntary and fair fashion.
The same month, Beijing Daily said in an editorial that technology should deliver convenience rather than exclude groups of people. A "cashless society" did not mean cash should be eradicated, it added.
But Li Yi, chief fellow at the Shanghai Academy of Social Sciences, told the Post that change was inevitable and there would always be people who could not adapt on their own.
"We need to help them increase their ability to survive in this society," Li said.
"On the one hand we can call for fairness in the handling of such matters. But on the other, we should also encourage these people to learn and better embrace new technology."