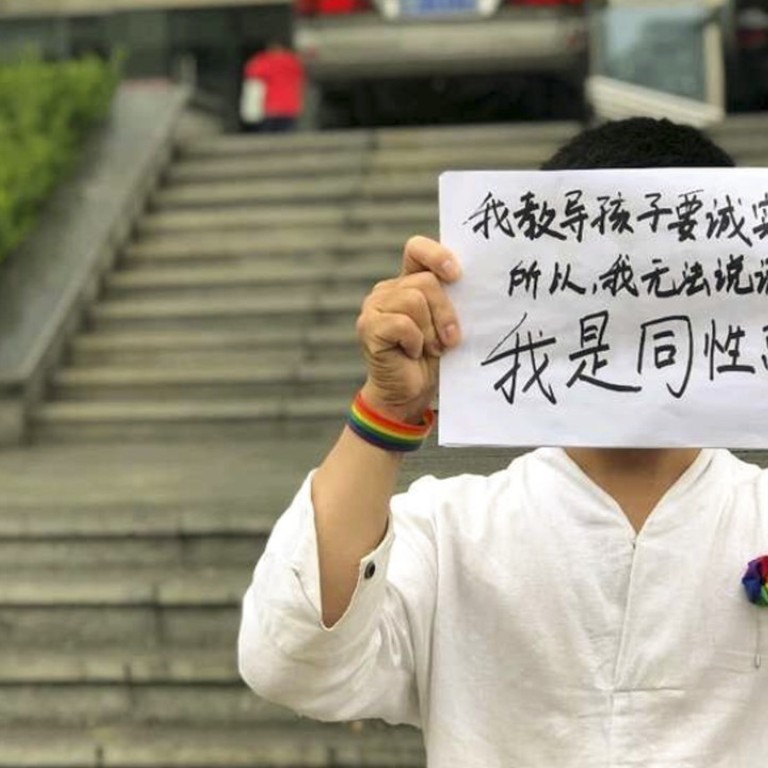 Chinese gay teacher files for unfair dismissal after being outed by parent of former pupil
Kindergarten teacher, 31, who was sacked after being seen at a gay charity event says he hopes his actions will teach his pupils about being brave
A Chinese kindergarten teacher who claims he was sacked for being gay is suing his former employer for unfair dismissal, and says one of the reasons he is pursuing the action is to teach his young charges the importance of being brave.
The case, which was accepted on Thursday by the arbitration committee in Qingdao, east China's Shandong province, is a rare example of a Chinese employee turning to the legal system to pursue a claim of workplace discrimination on the basis of sexuality.
The 31-year-old said that on August 6 the administrators at his school told him they had been made aware of his homosexuality and that he should not come to work any more.
The man, who asked to be identified by the pseudonym Ming Jue, said in an interview that he had been working as a kindergarten teacher for 10 years and had joined the Qingdao school earlier this year.
He said he took part in a gay charity event on August 5 and posted an article about it on his personal WeChat account.
A parent of one of his former pupils saw the piece and made it known to his current employers, he said.
"The kindergarten's owner said I had publicly announced that I was gay, which went against the kindergarten's philosophy," Ming said. "I told him that was illegal and I would sue."
After consulting a lawyer, Ming filed for arbitration.
Before going to court, labour dispute cases in China have to be accepted by an arbitration committee. The arbitration process in Ming's case will take place in November.
He declined to name the school involved as the case is pending.
"I love my job," he said. "I never imagined I would one day lose it because of my sexual identity, much less because of a parent's complaint over it.
"Some parents even said they would have to take their children to the hospital for health check-ups after having interacted with me. That pained me the most."
Ming's lawyer, Yu Liying, said they would argue the case on the grounds that the dismissal was neither legal nor in line with Ming's contract.
"We request the resumption of labour relations as well as appropriate compensation," she said.
The kindergarten did not respond to the Post's requests for comment.
The founder of the NGO LGBT Rights Advocacy of China, who goes by the pseudonym Yanzi, said Ming was not the first person from China's LGBT (lesbian, gay, bisexual and transgender) community to face workplace discrimination, though few took legal action to fight it.
"These people frequently meet discrimination in the job market for their sexuality, gender identity or gender expression," he said.
"After they are exposed, many are either fired or denied promotion. Few go to court because there is no legal basis and no mention of LGBT in any of China's laws."
The first person in China to sue his employer for unfair dismissal did so in 2014 after his sexuality was exposed in dramatic fashion in an online video.
The incident happened in Shenzhen, south China's Guangdong province, when a man was filmed accusing the claimant of arranging to meet up and have sex for money, but then reneging on the deal.
When the accused man's employers saw the video, they fired him. He took the case to court in 2015 but lost.
In 2016, China's LGBT community celebrated the case of "Mr C", a transgender man won a lawsuit against his firm after being unfairly sacked.
Mr C's employers said he had been dismissed on the grounds of "dressing like a man and presenting a different image from the company's requirements". The court ruled that the dismissal had no legal basis and ordered the firm to pay compensation.
Ming said he had questioned his decision to take the case to court, but decided that if he did not act he would be betraying his values.
"When the children speak of me some day, I don't want them to remember me as the teacher who encouraged them to be brave but then ran and hid when he met discrimination."
This article appeared in the South China Morning Post print edition as: Gay teacher suing former employer for unfair dismissal