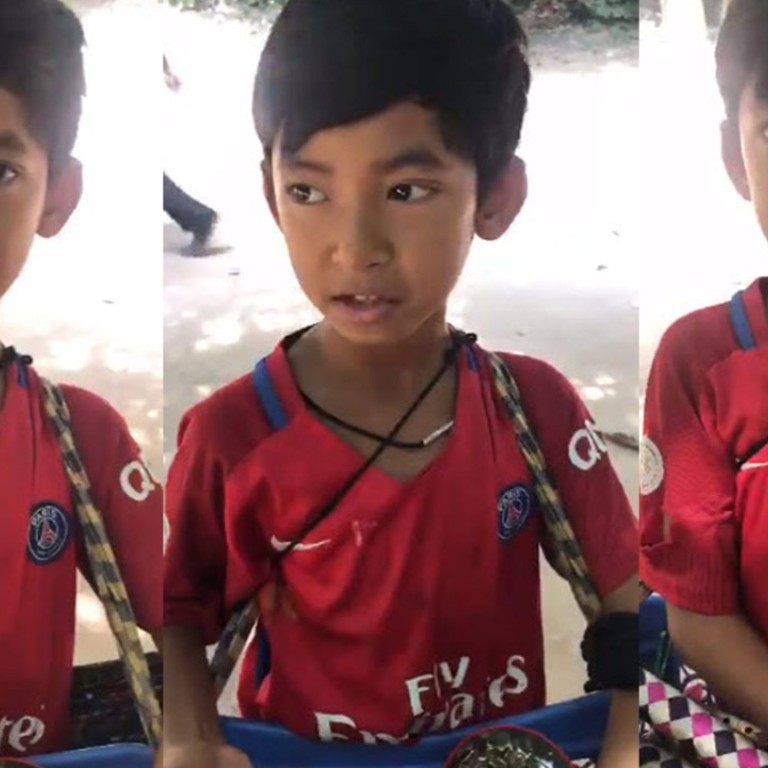 Big in Beijing: young multilingual Cambodian internet sensation to star on Chinese TV
Street-smart Thaksin became hit online after viral video showed him chatting to tourists
Talented hawker says he wants to go to university in Beijing
A Cambodian boy who became an internet star worldwide has been invited on a three-day trip to Beijing after being filmed speaking at least 12 languages and dialects, Cambodian media reported.
The boy, named in various reports as either Thaksin or Thuch Salik and whose exact age is unclear, was filmed hawking souvenirs first in fluent Cantonese, then Mandarin, Japanese and Thai by a Malaysian tourist at the Ta Prohm temple in Angkor Wat.
In another video shared on Chinese social media, he and his brother were filmed answering questions in fluent Mandarin. "I can only speak Mandarin, but I don't know how to write it. I want to go to university in Beijing," the boy said in the video.
His performance of a popular Chinese song, where he changes a line of the lyrics from "we are here waiting for you" to "we are here selling things to you", attracted the attention of a Beijing television station, the reports said.
Cambodia's K01.news reported that the television station – which will pay for the boy and his family to travel to Beijing – would interview him in a live broadcast. The Cambodian Red Cross would pay for the siblings' education, the news outlet said.
The young hawker speaks at least 12 languages and dialects, which he said he picked up from tourists. He also speaks Korean, French, Spanish, Malay, Filipino and Hainanese.
The original video has been watched more than a million times and shared by many Chinese media outlets. The Weibo topic page for "Cambodian boy wants to go to university in Beijing" has been viewed more than 7 million times.
"If he is interviewed by Japanese media, he'd say he wants to go to the University of Tokyo, and Seoul National University to Korean media. Maybe he might say he wants to go Nanyang Technological University if Singaporean media talks to him," one user said.
This article appeared in the South China Morning Post print edition as: Multilingual street vendor to appear on Chinese TV