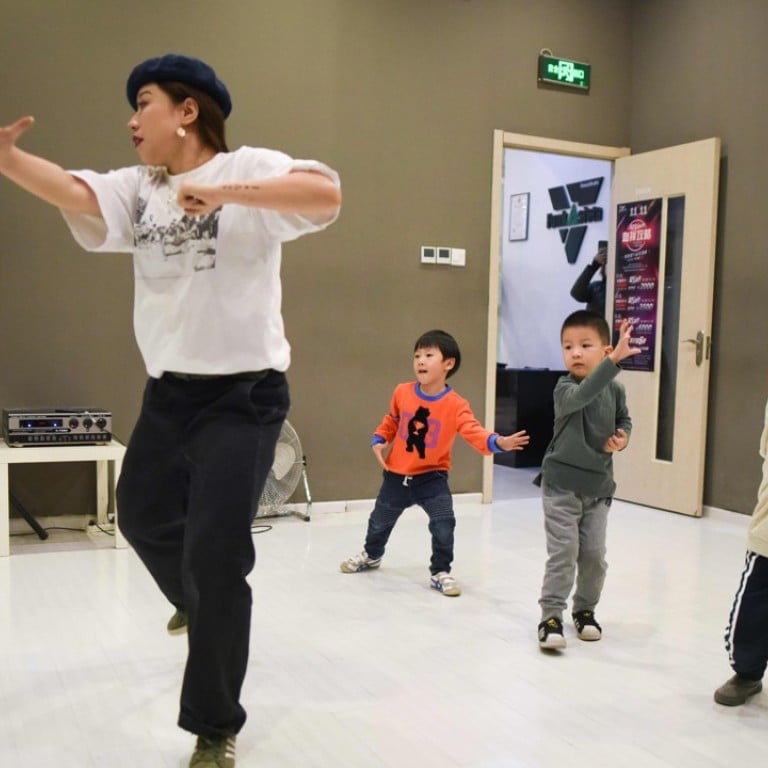 China's street dance scene thrives despite TV censorship of 'immoral' hip hop
Preschool children join in a pastime that has exploded into mainstream consciousness, even if its stylings and message are deemed unacceptable by the authorities
In China, where children are often saddled with a packed schedule of extracurricular activities before they even enter primary school, some parents are making room for a surprising pursuit: hip-hop dance classes.
Inside a dance studio in central Beijing, a group of kids bopped up and down to an American hip-hop beat as they mimicked their teacher, a young woman in a dark blue beret and loose clothing.
Some practised in earnest – bending their arms just so – while others giggled, treating the class more like play.
"I want my son to be more extroverted. Kids these days lack spunk," explained Liu Li, whose son, a shy four-year-old with a large dimpled smile, started taking dance classes at the studio, FunkAsista, this year.
It is not uncommon for children as young as three to take English lessons, piano classes and other more traditional after-school activities in China, where the pressure to compete with other students can be all-consuming.
But Liu wanted something different for her son, who often struggles to feel comfortable in group settings.
"I want to encourage him to be more lively and carefree," the 36-year-old said.
Though China's nascent street dance scene took root as early as the 2000s – thanks in part to Korean boy band H.O.T. – it wasn't until recently that the style exploded into mainstream culture.
Underground street dancers were thrust into the limelight after a few televised competitions featuring celebrity judges, such as Street Dance of China, blew up.
Young parents like Liu view the contemporary dance style as a cure for introversion while others see it as a hip form of exercise or even an alternative way of living that embraces self-expression at the expense of traditional social norms.
"All parents want their daughters to be well-behaved and find a stable job, then find a good husband, get married and have kids," said Ya Xin, a 25-year-old dancer.
Ya moved to Beijing in May to pursue dance full-time, renouncing her 9-to-5 gig at a government bureau in Hebei province. Her parents were not pleased.
"They didn't agree, but I am willing to push back," she said. "They are not paying for my living expenses, so doing what I want isn't their burden."
The buzz has not, however, resulted in a movement towards actual dancing in the street, with most aspiring dancers practising within the confines of a studio instead.
There are more than 5,000 street dance studios in China, according to local media reports, citing figures from the national dance association.
The association has also developed a level-based certification test for street dance – though many dancers feel the system is antithetical to street culture.
"I personally feel that certification tests are not useful because street dance comes from the street," said Zhao Lun, who started street dancing in 2001 and co-founded FunkAsista in 2016.
"There's no concept of 'levels'."
While elsewhere street culture – such as rap and graffiti art – is often used to expose social ills or dissatisfaction with the status quo, in China, where tattoos and even make-up can be considered politically sensitive or inappropriate, there seems little chance of that happening.
Earlier this year, high-profile rap musicians from TV show The Rap of China faced censure over explicit song lyrics and tattoos.
In mid-January a leaked government directive banned airtime for "artists with tattoos, hip-hop music" and other content that "conflicts" with Communist Party morals.
Zhang Jianpeng, a well-known street dancer in China, said he was forced to remove his make-up before going onstage during a televised dance competition.
"On TV shows, you can't show tattoos" and "men cannot dress like women", said Zhang, whose dance workshop, T.I. Studio, hangs a large rainbow-coloured flag in its lobby and prides itself on being a LGBT-friendly space.
Everyday folk were "very accepting" of street culture, even if China's media regulators were not, he said, adding that he thought it best to avoid high-profile competitions, since "you can't be yourself anyway".
Others in China's street dance community agree. "As long as you are not on stage, you have freedom of speech," said Lian Jiulong, a "B-boy" who has been dancing in China for over 15 years.
In 2017, Lian helped organise and judge a TV show called Dance Awakening. All music used in the show had to be approved before launch.
"These are the circumstances in China," he said.
This article appeared in the South China Morning Post print edition as: Piano, English ... and now hip-hop class