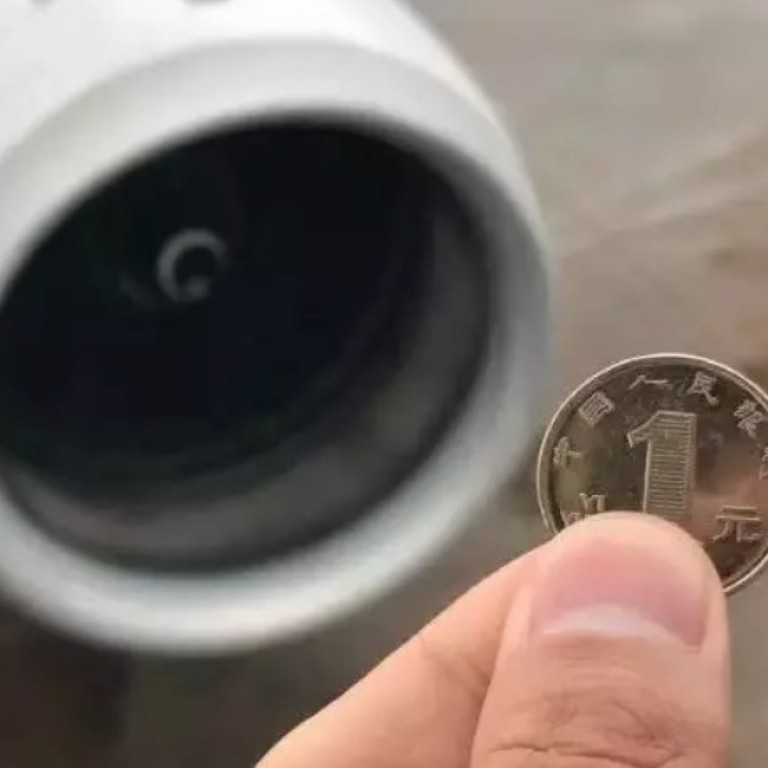 Chinese man who threw coins at plane for good fortune runs out of luck and faces criminal charges
Lucky Air flight between Anhui and Yunnan suffers second money blessing misfortune in as many years thanks to superstitious passengers
A man who tossed coins at a plane for luck in eastern China will face criminal charges after the flight from Anqing to Kunming was grounded for security reasons, costing the airline nearly US$21,000.
Lucky Air Flight 8L9960 was cancelled at Anqing Tianzhushan Airport in Anhui province on Sunday after authorities found two 1 yuan coins near the port [left] engine of the plane, the airline's WeChat account said.
A 28-year-old man, identified by his surname Lu, admitted to throwing them at the plane in hope of a safe journey and was detained by staff, local media outlet Xinan Evening News said.
The airline said on Friday that "the incident caused a direct economic loss of nearly 140,000 yuan, and our company will press charges against the passenger in accordance with the law".
If a coin is sucked into an aircraft engine, it may severely damage the rapidly-spinning turbine and cause engine failure, leading to serious safety hazards if the plane is in flight, engineers said in the report.
All 162 passengers had to wait until the next day to fly to their destination in southwestern Yunnan province.
Lucky Air is part of the Hainan Airlines group.
The incident was met with mirth and incredulity.
"He does not need to board the plane, he is safe now," said a wit on Weibo.
"Why is this happening again? This person isn't that old. Does he not know about airline security? Maybe he is just doing this to seek attention," another said.
In 2017, a Lucky Air flight from Anqing to Kunming was cancelled after a 76-year-old woman threw coins at the engine for "good luck" during boarding. She was taken into custody, but it was not clear whether any charges were pressed.
Also in 2017, a China Southern Airlines flight from Shanghai to Guangzhou was grounded for nearly six hours after an elderly woman passenger tossed nine coins at the engine. One ended up inside.
The woman was detained but spared prosecution because of her age, state media reported.
"Throwing money for blessings has a long history … but there are places where you should not throw coins. Plane engines, for example," Lucky Airline's social media account said.
This article appeared in the South China Morning Post print edition as: Tossing coins at plane not lucky after all