Xinjiang
Get more with myNEWS
A personalised news feed of stories that matter to you
Learn more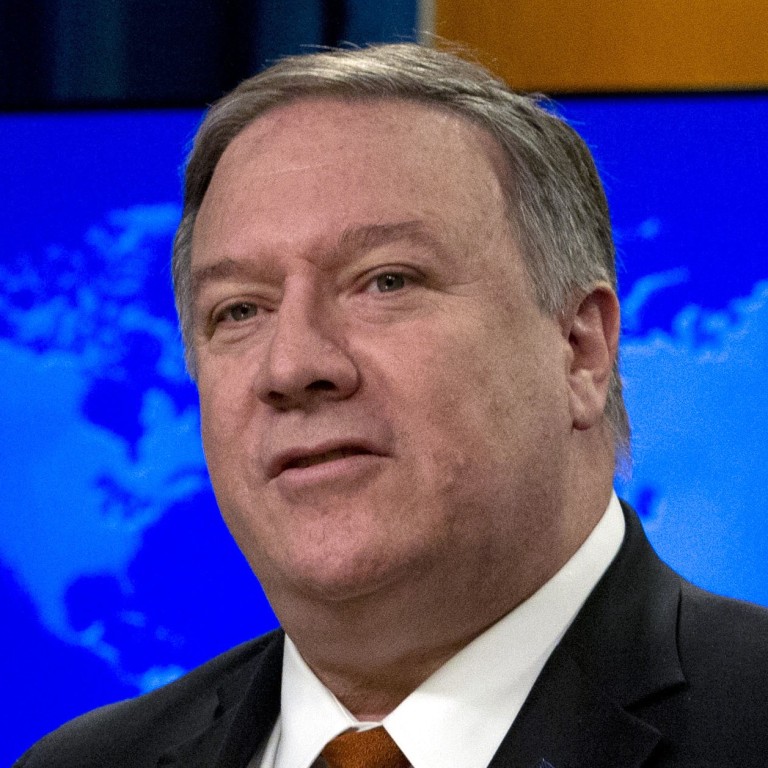 US calls China one of the worst regimes for human rights in 2018 due to 'abuse and torture of Uygur Muslims in Xinjiang'
The State Department's annual human rights report cites China's systematic internment of its minorities
US Secretary of State Mike Pompeo says Beijing is 'in a league of its own when it comes to human rights violations'
The United States identified China Wednesday as one of the worst countries on the planet last year in terms of respecting the basic human rights of its citizens.
The State Department's annual human rights report, released on Wednesday, spotlighted the Chinese government's systematic internment and possible abuse and torture of as many as two million Uygur Muslims in the northwestern Xinjiang Uygur autonomous region in 2018.
The department's Country Reports on Human Rights Practices, published for the 43rd year, aims to promote human rights globally, including freedoms of religion or belief, expression, peaceful assembly and association.
The US has typically scored China in these reports for restricting freedom of speech and assembly and for allowing or committing violence against religious and ethnic groups. Last year, the report called China, along with Russia, Iran and North Korea, "forces of instability".
But on Wednesday, US Secretary of State Mike Pompeo said Beijing was "in a league of its own when it comes to human rights violations".
"Official repression of the freedoms of speech, religion, movement, association, and assembly of Tibetans in the Tibet autonomous region (TAR) and other Tibetan areas and of Uygurs and other ethnic and religious minorities in Xinjiang worsened and was more severe than in other areas of the country," according to the 2018 report.
The report found that during 2018 the Chinese government "significantly intensified its campaign of mass detention of members of Muslim minority groups in Xinjiang".
The authorities, it said, "have arbitrarily detained 800,000 to possibly more than two million Uygurs, ethnic Kazakhs, and other Muslims in internment camps designed to erase religious and ethnic identities".
News accounts have earlier reported that more than a million ethnic Uygurs and other largely Muslim ethnic groups had been detained in extrajudicial internment camps in the Xinjiang region since a crackdown began in early 2017.
Last month, China was said to be lobbying to keep the issue off the agenda of the main annual session of the United Nations' Human Rights Council.
Chinese government officials claim that the camps are educational and feature "training centres", and are needed to combat terrorism, separatist movements and extremist activities.
Also on Wednesday, the US co-hosted an event at the UN in Geneva, Switzerland – alongside Canada, Germany, the Netherlands, and Britain – calling for international organisations to make it a priority to put to an end of the abuses in Xinjiang, the State Department said.
At the event, according to the department, government officials and survivors described the severity of the violations of human rights in the northern Chinese region.
In January, as part of a continuing effort to pressure China to stop its crackdown, a bipartisan group of US lawmakers nominated the imprisoned Uygur academic Ilham Tohti for the 2019 Nobel Peace Prize.
"International media, human rights organisations, and former detainees reported security officials in the camps abused, tortured, and killed some detainees," the State Department report said.
Wednesday's report added that "members of the minority Uygur ethnic group reported systematic torture and other degrading treatment by law enforcement officers".
The report cited the case of Abdulreshit Seley Hajim, a Uygur businessman, who died in May or June while held in an internment camp. According to those interviewed by Radio Free Asia, he died from strikes to the head with a blunt object, according to the report.
"Survivors stated authorities subjected individuals in custody to electrocution, waterboarding, beatings, stress positions, injection of unknown substances, and cold cells."
According to Human Rights Watch, these camps focused on "military-style discipline and pervasive political indoctrination of the detainees".
Available information was limited, but some reports described the withholding of food as punishment for those who could not learn Chinese phrases and songs, the report said.
The report also cited Beijing's violations and abuses of other human rights including unlawful killings by the government, forced disappearance, torture, arbitrary detention, harsh and life-threatening prison and detention conditions.
Authorities harassed, detained, and arrested citizens who promoted independent efforts to combat abuses of power, it said.
In November award-winning Chinese documentary photographer Lu Guang disappeared after travelling to Xinjiang to lead a photography workshop.
A month later, Lu's wife Xu Xiaoli, who lives in the United States, told the South China Morning Post that her husband had been arrested by the police. She wasn't told what Lu was charged with.
This article appeared in the South China Morning Post print edition as: China protests over US report of abuses against Muslims