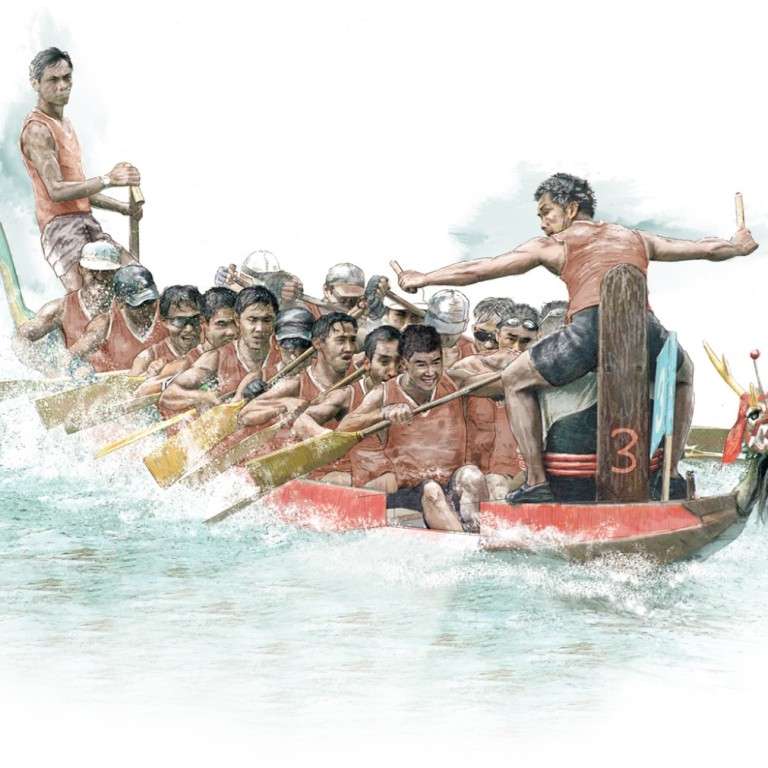 Dragon Boat Festival: how an ancient Chinese tradition became a global sport
The festival has its roots in ancient China, when a poet committed suicide
Now a team sport, dragon boat racing benefits from athletes with different skills
Every year, on the fifth day of the fifth lunar month, crews of paddlers re-enact the legend of Qu Yuan.
They power boats mounted with ferocious dragon heads through the water to the frenzied beating of drums.
The legend
In 278BC, in the ancient Chu kingdom during the Warring States Period, poet and government minister Qu Yuan committed suicide by drowning himself in the Miluo River in protest of prevalent corruption among officials.
The "dragons" 
Like any team sport, dragon boat racing benefits from athletes with different skills. Crew members are assigned places in the boat according to their individual strengths and aptitudes.
The boat
In Hong Kong races, the hull is usually made from teak, with a dragon's head and tail made of camphor wood.
The development of dragon boat-making is marked by the type of wood used for the main body of the boat:
Phase 1 (before 1911): Ge wood imported from Myanmar, Thailand and Vietnam
Phase 2 (from 1911-the end of 1990s): pine wood imported from the United States
Phase 3 (since 2000): cedar wood from China's Guizhou province
The positions 
Paddlers in the front are good at keeping time. Out-of-sync blades hit the water a fraction of a second behind each other, creating lag. The back paddlers focus more on power strokes to maintain speed in the faster water.
The steps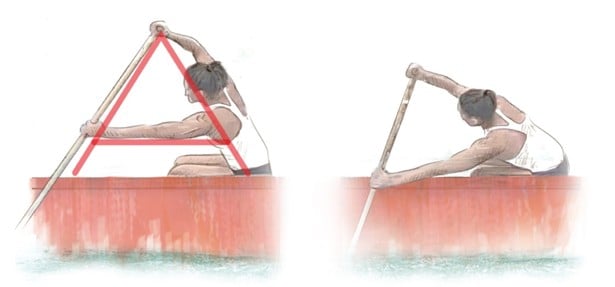 1. 'A' position
Turn your back to the water. Reach forward, stretching your arm and back. Place the paddle at the thigh of the paddler in front of you. Lean your body outside the boat, top arm straight, top shoulder over the water.
2. 'Catch' and drive
Enter the blade fully into the water at an approximate 60-degree angle. Pull and counter rotate with your lower arm, shoulder and back. Drive down aggressively with your top arm.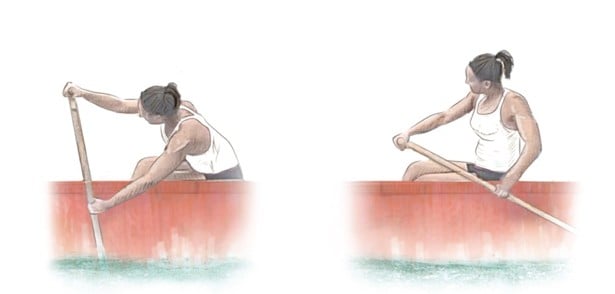 3. Pull and exit
The paddler uses their back muscles to pull the blade parallel with the boat. The exit occurs when the paddle arrives at their hip by lifting their top arm.
4. Recovery 
The paddle exits the water at the hip, returning to the 'A' position by rotating and stretching the bottom arm, shoulder and back. Additionally, paddlers should attempt to transfer their weight onto the blade.