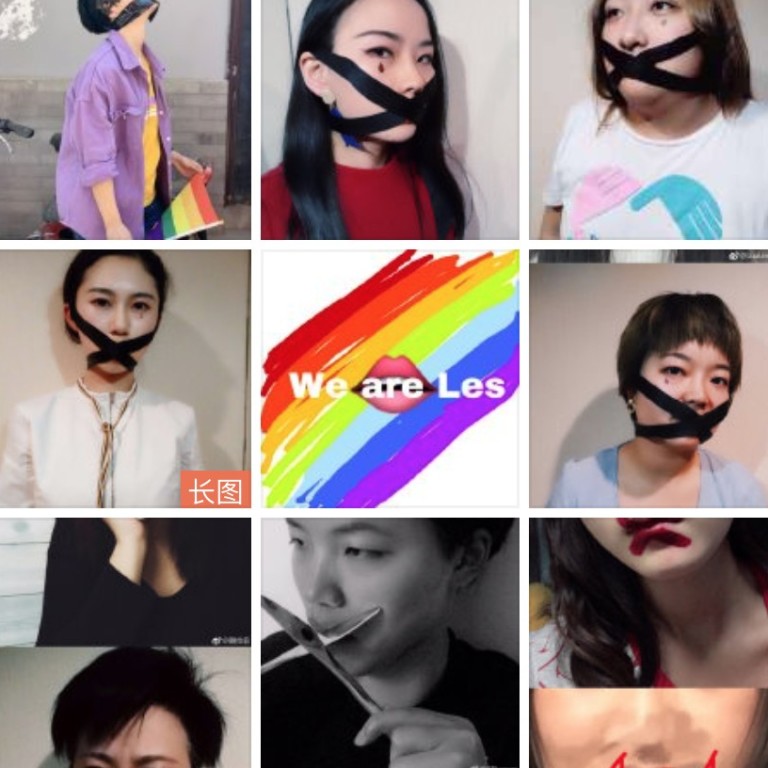 Small victory for China's online lesbian community as censored forum is restored, but another remains blocked
Social media ban on same-sex discussion forum reversed after weekend of protest
Straight allies join LGBT fight for freedom to talk about experiences
China's online LGBT community has won a small victory as a popular lesbian forum was restored to the cultural discussion site Douban after being censored for a few days.
But a similar discussion page – the "les" supertopic on Weibo, viewed 480 million times – has been blocked since Friday, despite a highly visible social media campaign protesting the platform's silencing of lesbian and bisexual women.
LGBT activists, lesbians and allies have been posting a flood of rainbow images and messages of solidarity under the hashtag "IAmLes". Many also posted selfies with their mouths taped shut, and some users even found they were blocked from using the rainbow flag emoji in their WeChat display names.
By Tuesday evening, "IAmLes" and the newly created hashtag "les" had accumulated 350 million and 540 million views each. Users also created a new "LESBIAN" supertopic which had racked up 27 million views.
Many users promoted LGBT and lesbian visibility in their posts and urged people to come forward and take a stand.
"If you did a survey counting all the LGBT people in China, I think the result would definitely be beyond your imagination. Many of them stay silent to protect themselves, hide themselves and envy the freedom which many in the West enjoy," wrote one lesbian Weibo user under the hashtags.
"But [LGBT people] always hope that the country they were born in will one day be willing to accept them, instead of hiding, ignoring, avoiding and even censoring them time after time."
"I feel like I should come forward and say that #IAmLes and this is not something shameful. Everyone else under the sun can love [who they want], why can't I do the same?" said another user from Hangzhou, in the eastern province of Zhejiang.
Many straight allies also spoke up in support of lesbians, who have traditionally been less visible in China than the gay community.
"Many LGBT people just want to be with someone else who also loves them, why do some people want them to disappear? Stifling their voices and preventing them from speaking out, does that make them not exist?" said a commenter from Beijing who identified herself as straight.
The reason for the brief shutdown of the popular lesbian discussion forum remains unclear.
"Some people say that the 'les' supertopic was reported, others think the discussion may have had 'harmful' content, since recently there has been a crackdown on porn and 'vulgarity'," said a spokesman for the Beijing LGBT Centre who gave his name as Duan.
"A lot of people think that this is Weibo controlling the speech of members of the LGBT community … we will encourage people to comment and post photos online, as well as write a letter to Weibo."
Duan also recalled how on April 13 last year, the supertopic "gay" discussion forum was similarly shut down on Weibo as part of a site-wide clean-up of pornographic, violent and LGBT content.
The move drew a furious online backlash from LGBT activists and supporters who opposed how their channels of communication were lumped with "dirty" or "immoral" content. Shortly afterwards, Sina Weibo said it would no longer target LGBT content in the crackdown.
Homosexuality is legal in China, but LGBT people remain deprived of many legal rights such as marriage, joining the military and protection from discrimination.
While state media editorials have previously encouraged tolerance towards the LGBT community, the government has stopped short of actively promoting LGBT rights and visibility.
Several LGBT NGOs such as the Guangzhou Gender and Sexuality Education Centre have been shut down in recent months as the government has cracked down on various forms of activism.
Censors removed multiple scenes that referenced Queen frontman Freddie Mercury's sexuality and Aids diagnosis from the Oscar-winning biopic Bohemian Rhapsody, which was released in mainland cinemas last month.