Offbeat
Get more with myNEWS
A personalised news feed of stories that matter to you
Learn more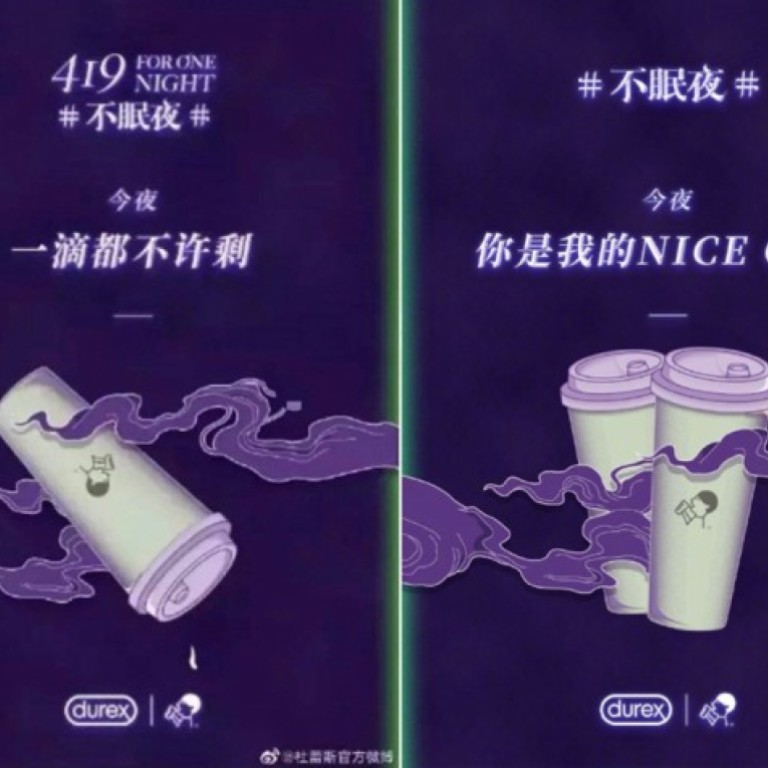 Durex ads 'more frightening than pornography', China's online watchdog says after bubble tea brand Heytea joins innuendo-filled campaign
Authorities vow to crack down on condom maker's 'vulgar' promotions with bubble tea brand Heytea, which contain innuendo
Latest campaigns could 'ruin Chinese', National Office Against Pornographic and Illegal Publications says
Chinese censors have accused condom manufacturer Durex of using "soft pornography" to promote its products on social media and vowed to step up their crackdown on vulgar content online.
In a country where openly talking about sex is still considered taboo, the condom brand has established a name for itself among young people with its adverts loaded with humour and innuendo.
However, a recent joint social media campaign with Chinese bubble tea brand Heytea caused upset with its use of suggestive images and crude taglines.
Against a picture of a white, creamy drop coming out of a cup of bubble tea was the line: "Tonight, not a drop left", followed by the question: "Do you remember our second date? I said to you, 'Your first bite is the most precious'."
Heytea, which makes a popular bubble tea with a creamy cheese topping, responded with: "I remember the date. We agreed from that day on, my cheese will always be on your lips."
The National Office Against Pornographic and Illegal Publications said in an article on Weibo, China's Twitter-like platform, that crude advertising content was "more frightening than pornography" as it was unregulated, adding that Durex's latest adverts could "ruin the Chinese".
"The office has added such content to its ongoing crackdown on vulgar content online," the statement said. "We urge and guide all internet platforms to enhance discipline, establish standards and maintain a bottom line."
Durex did not immediately respond to requests for comment.
After a public outcry, Heytea issued an online statement the following day apologising for any "discomfort" caused.
Durex revised its initial post to read: "Tonight, you are my nice guy", although that too is suggestive, as the phrase "nice guy" in Mandarin sounds similar to that for "cheese topping".
Durex has more than 3.1 million followers on Weibo and is known for tailoring its adverts to current affairs and topical issues.
On April 15, the day the final season of Game of Thrones premiered in China, the company posted a picture of the show's famous Iron Throne, but styled from pink vibrators rather than swords and knives. It also replaced the acronym "GOT" with "GOD", for "Game of Durex".
Chinese authorities have been cracking down on online pornography and vulgar content for many years. In 2018, officials said they had closed 26,000 websites and dealt with almost 6.2 million pieces of "harmful information".