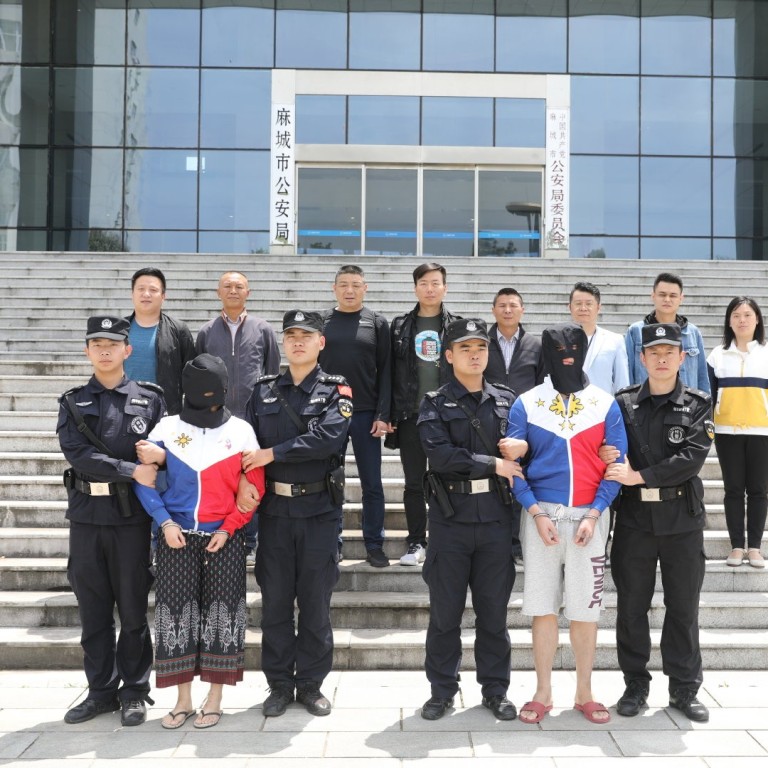 Chinese police arrest 20 over pornographic live-streaming app that attracted 1 million users
Streaming platform Huahua earned US$2.3 million in profit in five months, according to media report
Final two suspects arrested in Philippines, police say
Chinese police have arrested 20 people from a cross-border group accused of operating illegal live streaming platforms to broadcast pornographic content, according to mainland online news outlet The Paper.
After an investigation lasting over a year, police in Macheng in central China's Hubei province said they arrested the last two main suspects, a man surnamed Hong and a woman surnamed Li, in the Philippines on April 26.
Their
live-streaming
platform, which was initially called Huahua, had more than 900,000 registered users, earning the group 16 million yuan (US$2.3 million) in profit in five months from November 2017, according to the report.
The Chinese government announced in February 2018 it was
launching a campaign
against pornographic and illegal publications to foster a healthy online environment.
The next month, Macheng police received a tip-off that people were distributing QR codes to download Huahua in chat groups on the popular Chinese messaging app QQ.
On the Huahua platform, live streamers gave erotic performances, with the most popular streamers drawing more than 2,000 viewers at a time and users able to make requests by paying up to almost 2,000 yuan (US$290).
The group had a structure and rules designed to avoid the police's attention, the report said. Members did not know each other's identities and each had only one point of contact.
Some recruited streamers, others promoted the app on social platforms to attract traffic, and members in Mongolia laundered money with foreign bank accounts, while the app's appearance and servers were changed several times, the report said.
After 18 people were arrested by April 2018 across the country, including in Shanghai and Guangdong, the No 1 suspect, the Mongolia-based Hong, fled to South Korea then to the Philippines, where he met Li and they built a similar app, according to the report.
The report said Hong had owned a company in Shanghai focusing on developing video games before turning to pornographic live streaming to make money quickly when the gaming business struggled.