China troll army's battle expeditions leap Great Firewall to target Hong Kong anti-government protests
Secretive Chinese nationalist group targets Hong Kong protesters and supporters on social media platforms banned on mainland
A secretive Chinese nationalist group – best known for its internet trolling attacks – has stepped up its online information war in recent weeks, spreading pro-China memes and targeting supporters of Hong Kong's anti-government protests in so-called "battle expeditions".
The state media-endorsed Diba forum's latest targets have included high-profile Hong Kong figures such as Canto-pop singer Denise Ho Wan-sze, a vocal attendee of the protests, and pan-democrat lawmaker Claudia Mo Man-ching.
Mo's Facebook page was spammed with pictures of the Chinese flag on Monday, shortly after it was thrown into the harbour for the second time in three days by protesters. But they were eventually outnumbered by supporters of the protests, with many leaving comments remarking on the number of wumao – or "50 cent trolls" as they are known.
Diba's troll army is believed to be behind memes depicting hard hat-wearing protesters as cockroaches and zombies, as well as a lexicon of slurs such as "rubbish youth", "yellow zombies" (yellow is the signature colour of the pro-democracy movement) and "LIHKG dogs", the latter referring to the popular Reddit-like local forum used by protesters to coordinate and spread information.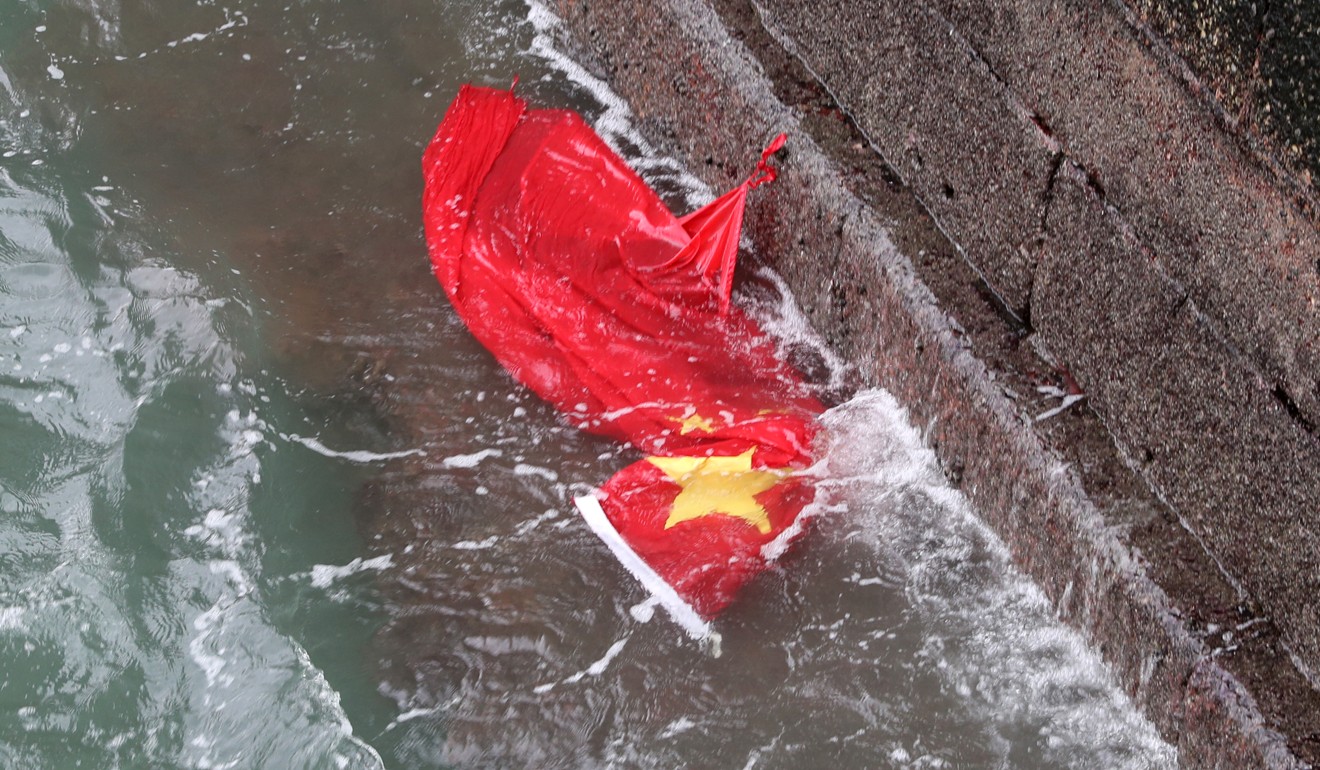 Diba's modus operandi is also to cherry-pick and amplify social media content from Hong Kong voices speaking out against the protests, as well as highlighting reports of harassment towards Hong Kong police officers – including the leaking of their relatives' personal details online – which is shared via Weibo to its estimated 20 million members for further dissemination.
"You use memes to show off to your friends and chat up the opposite sex, but why don't you use your knowledge and your memes to battle the rubbish youth of Hong Kong? Let them hear the sound of our anger," said a post on Diba's official Weibo social media account on Monday.
Diba's members operate across Facebook, Weibo and Tieba, the giant Chinese communication platform where the group began – originally for soccer fans – in 2004. Today, Diba boasts of conducting trolling campaigns with military precision, with users regularly leaping the Great Firewall to take part.
The Facebook page of the Civil Human Rights Front (CHRF), a Hong Kong NGO and protest organiser, was flooded with patriotic comments on 22 July, in what was believed to be a Diba-inspired attack, after anti-government protesters defaced the Chinese emblem outside the city's central government liaison office.
Some of the commenting accounts appear to be genuine, either based on the mainland or elsewhere, while others are "sock puppets" – social media accounts which have few or no followers and whose only purpose is to spread propaganda or anti-protester messages.
Typical comments on the CHRF Facebook page included, "The rioters who hurt the motherland and Hong Kong must be fully condemned and severely punished with no excuse," and "Behind these Hong Kong troublemakers are Western masters who pay. Their proposals and methods will not bring true freedom and democracy to Hong Kong, but only disaster and ruin!"
Fang Kecheng, a professor at the Chinese University of Hong Kong who has researched Chinese internet nationalism, believes the aggressive displays of patriotism on social media networks which are blocked in China are actually "not [about] winning hearts and minds overseas, but being applauded in mainland China".
"They boost Chinese nationalists' pride and further dehumanise pro-democracy protesters. The dehumanisation of the enemy is important in military [campaigns], and is also seen as such in online 'crusades'," he said.
Fang also pointed out that endorsement of Diba's activities within China was limited to specific state media outlets, rather than any blanket approval.
"The Communist Youth League might be endorsing such trolls, because promoting nationalism among young people is one of its major missions. [State newspaper] Global Times might be endorsing them, because they make money by selling nationalism," Fang said.
"But I think the CCP is also acutely aware that radical nationalists may go out of control and cause trouble. So the endorsement is specific to several organs rather than an overall strategy," he said.
Although Diba is not formally affiliated with the Communist Party, its stance on Chinese politics and international affairs closely echoes Beijing's official line. Previous attacks targeted the Facebook pages of pro-Uygur rights groups in April, and independence-leaning Taiwanese President Tsai Ing-wen shortly after she was elected in 2016.
Some of Diba's efforts have backfired spectacularly, most recently in the battle expedition of July 22, which called on its members to flood the LIHKG forum in an attempt to disrupt the activities of Hong Kong protesters.
A requirement for LIHKG users to register using a genuine IP address meant the trolls' real identities and sensitive personal information were soon leaked by Hong Kong's savvy online community.
Diba's online battles are not restricted to Hong Kong, as student activists in Australia and New Zealand have discovered.
Serena Lee, at the University of Auckland, and Drew Pavlou, at the University of Queensland in Brisbane, have received online death threats – in what seems to be a coordinated effort – following their involvement in organising activities on campus in support of the Hong Kong protesters.
"They seemed coordinated because they shared similar themes and insults," Pavlou said. "The death threats have put [a] major strain on my family and personal relationships and made me fear participating in future activism."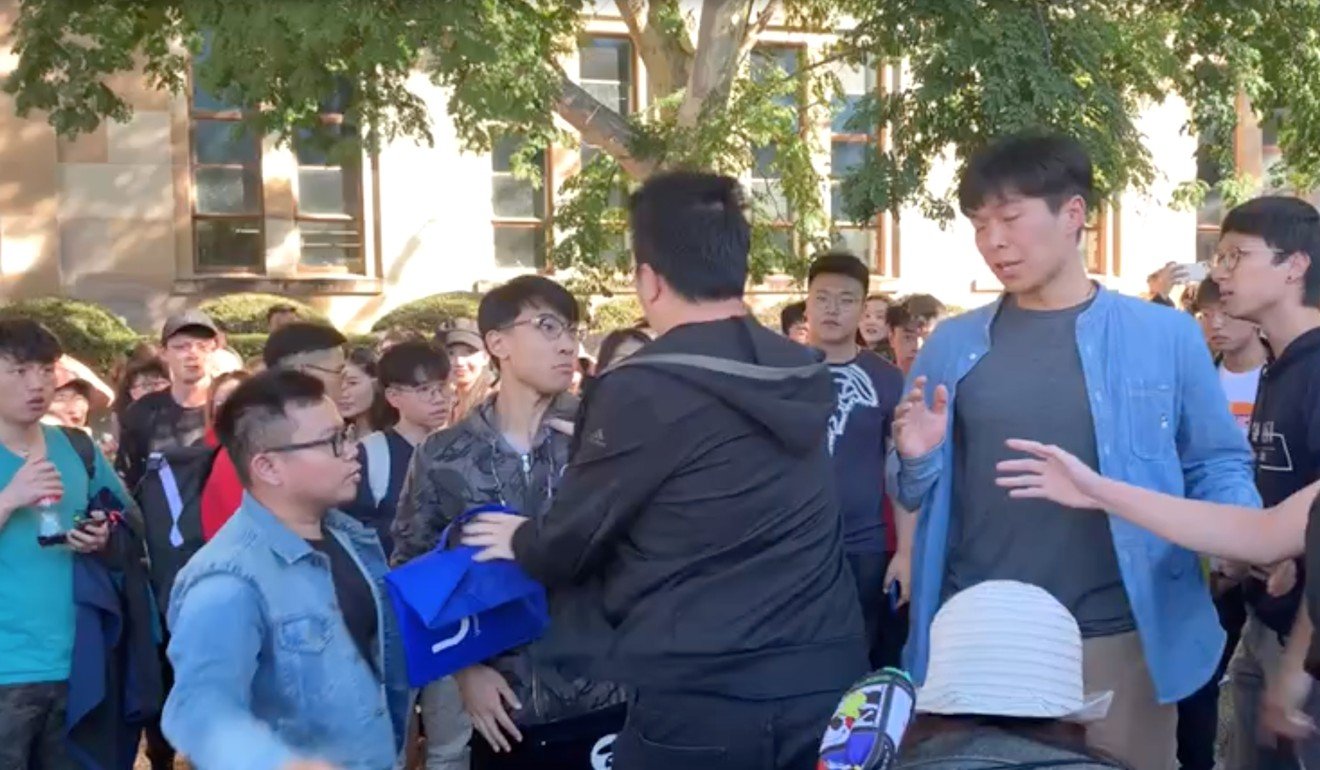 The pro-Hong Kong democracy protest organised by Pavlou ended in a physical scuffle with Chinese nationalists. Since then, he said, he had been targeted with dozens of death threats across a variety of social media platforms.
Hong Kong student activist Lee was allegedly shoved to the ground during a heated confrontation with three mainland Chinese students at the Auckland university's Lennon Wall last Tuesday.
Diba claimed in a Weibo post last Thursday that Lee had deliberately fallen to play the victim. She has since received multiple death threats from social accounts in New Zealand and abroad, according to the New Zealand Hong Konger Facebook group.
A Diba spokesman refused a request for comment from the South China Morning Post.
This article appeared in the South China Morning Post print edition as: Nationalist trolls target supporters of HK protests