Hong Kong policeman filmed aiming gun at protesters hailed as a hero by Chinese state media
The officer's actions last month were widely criticised, but as mainland outlets ramp up their rhetoric against the protests he has been singled out for praise
Police defended his actions, saying he had been surrounded by demonstrators and had lost his helmet
A Hong Kong police officer who faced a storm of criticism after he was caught on camera pointing a shotgun at protesters has been hailed as a hero "who moved all of China" by state media in mainland China.
The incident outside Kwai Chung police station on July 30 prompted extensive criticism in the city at the time, but
police defended the officer's actions
by saying the sergeant was in fear of his life after being surrounded by protesters and losing his helmet.
In recent weeks mainland state media has stepped up its rhetoric by attacking protesters and calling for tough measures from police.
On Wednesday Global Times, a nationalistic tabloid published by Communist Party mouthpiece People's Daily, singled out the officer, whom they identified only by his surname Lau, for praise, saying he had only raised his gun because he had no other way of defending himself.
The Hong Kong anti-government protests, which have continued for nine weeks, have put an immense strain on the police force once described as Asia's finest.
Officers have been heavily criticised in Hong Kong and accused of excessive use of tear gas, firing "non-lethal" rubber bullets and sponge grenades at protesters, civilians and journalists, and aiming batons at people's heads.
They have also faced widespread public anger after they were slow to respond to a gang who indiscriminately
attacked civilians at Yuen Long
MTR station on July 21.
Live news footage of officers chatting to attackers and walking past their stronghold led to furious accusations that they were colluding with the triads, and chants of "corrupt police" and "dog officials" have been regularly heard at protests and confrontations with residents since then.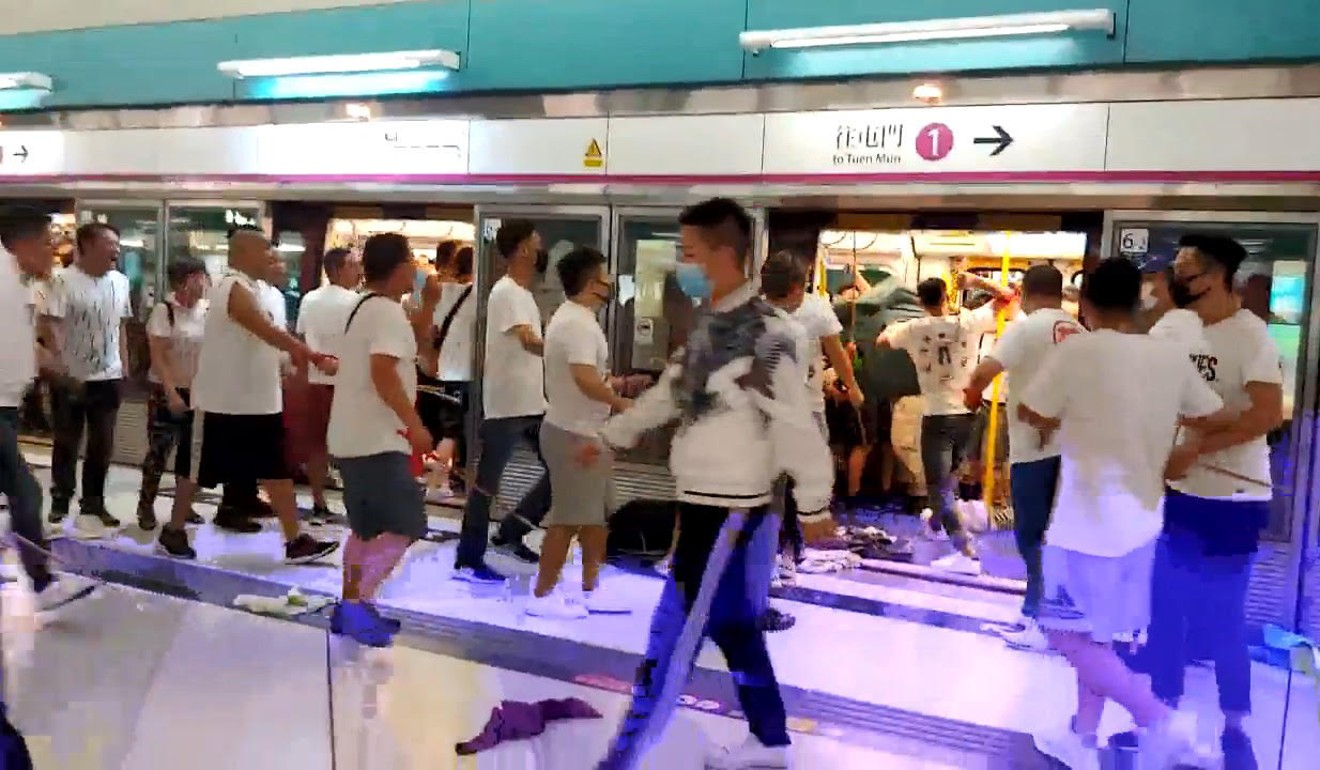 But on the mainland, many social media users have denounced the violence and protests in Hong Kong, echoing calls in state media to support the police and calling for tougher measures to restore peace and stability.
A video published by People's Daily on Sunday claimed that foreign media reports had been "selectively blind" in criticising police measures for being too extreme, but ignored how violent the protests had become, with bricks being thrown and lasers shone in officers' eyes.
The video said Hong Kong police had suffered, repeating comments made earlier by the force that officers had been attacked, that one had his finger bitten off and that private details of officers and their families had been posted online.
"Time will prove the value of them sticking to their posts," the video said.
Many web users left comments under the videos supporting the police and calling for tougher measures, saying news of the unrest was saddening.
On Wednesday, CCTV host Hai Xia also praised the city's police, saying Chinese people supported them.
"It's the police responsibility to guard our homes and protect their loved ones. Hong Kong police, you are guarding peace in society on the front line, 1.4 billion Chinese are standing behind you guarding you. Lau, Sir [a common Chinese term of respect for officers], we support you!"
During the clash on July 30 when Lau pointed his gun at the crowd, hundreds of protesters had surrounded the Tin Shui Wai and Kwai Chung for hours.
Hong Kong Police Force said in a statement the next day that the police officer "raised a shotgun loaded with beanbag rounds" to "protect himself from the threat of death or serious injury" since his helmet had been taken by protesters.
Police have also released multiple statements condemning violence during the protests.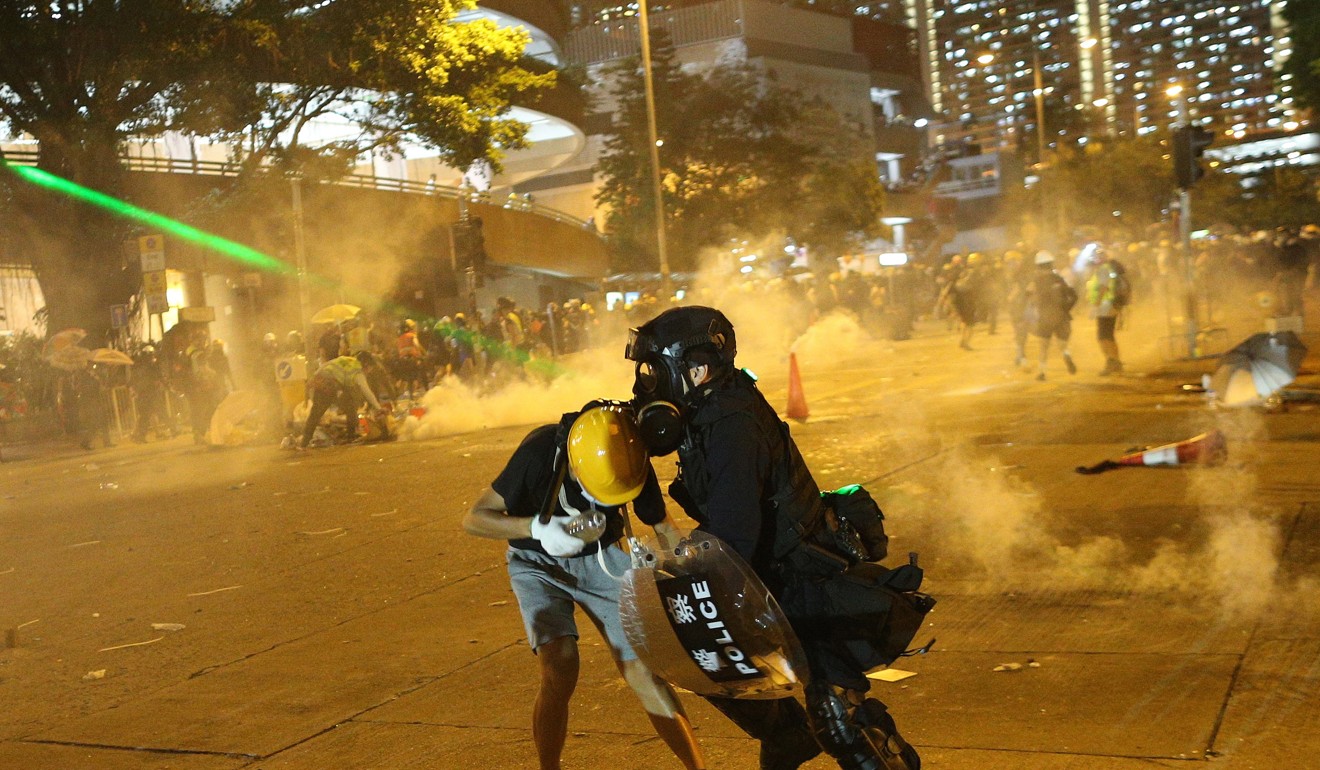 Dixon Sing Ming, a political-science professor at Hong Kong University of Science and Technology, said that in recent weeks it had become apparent that the Beijing authorities were using mainland media to push their official line on the protests.
"The purpose is to divide the support of mainlanders for Hong Kong protesters and to justify the mainland government's further suppression of the protests, whether directly or indirectly," he said.
"How Hongkongers view this is the polar opposite of what state media is trying to say."
Sing said it was important not only to consider Hong Kong public opinion about the violence that erupted during protests but also how people regarded the police's increasingly heavy tactics and who people blamed for the situation.
According to a poll from the Hong Kong Public Opinion Research Institute last week that interviewed 1,007 people, people rated Chief Executive Carrie Lam Cheng Yuet-ngor, the Hong Kong Police Force and the central government as the top three causes of the crisis in the city.
Since violence started escalating in Hong Kong with national symbols, such as the Chinese crest and flag being targeted by protesters, mainland criticism of the protests – both official and from members of the public – has become increasingly harsh.
Beijing has also reiterated its "unflagging support" for Lam and warned that the city was entering "a most dangerous phase".
At a seminar across the border in Shenzhen on Wednesday, Zhang Xiaoming, director of the State Council's Hong Kong and Macau Affairs Office, said the city's most urgent task was to stop violence. He urged the pro-government camp to "have no fears and stand up" to safeguard the rule of law and restore stability.
Wang Zhimin, director of Beijing's liaison office in Hong Kong, further urged the delegation to organise rallies to demonstrate the "positive energy" of the city, citing two previous ones supporting the government and police on June 30 and July 20.