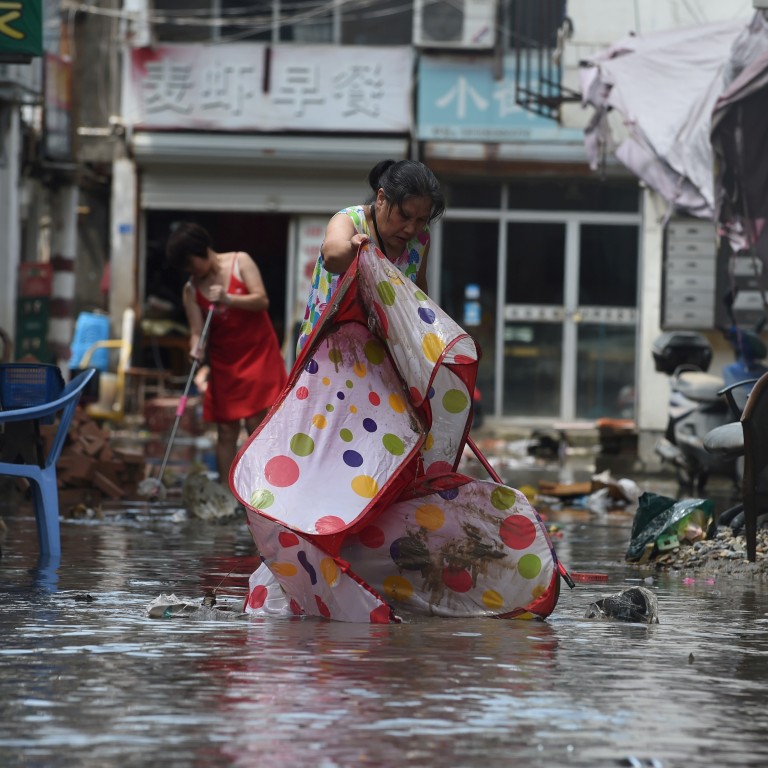 Dozens dead in eastern China as Typhoon Lekima carves destructive path
Heavy rain across several provinces threatens further damage as rivers and reservoirs reach their limits
Lekima, the fifth-worst typhoon to have hit China in 70 years, killed 44 people in the east of the country and caused heavy flooding as it moved north, authorities said.
Several provinces had been battered by torrential rain – as much as 732mm (29 inches) – since Lekima made landfall at Wenling in Zhejiang province on Saturday morning, the Ministry of Water Resources said on Monday.
Heavy rain pushed 73 rivers in Shanghai and Jiangsu, Zhejiang and Shandong provinces past danger level and 38 of those burst their banks, including three that broke records for flooding, the ministry said.
A landslide in Shanzao, Yongjia county in Zhejiang, blocked a river and pushed the water level up 10 metres in 10 minutes on Saturday. A barrier quickly collapsed, flooding the village. State broadcaster CCTV said than by Monday morning, 27 bodies had been recovered from Yongjia, with five people missing.
Across Zhejiang, 39 people were killed by the typhoon, 234,000 hectares (578,000 acres) of crops was destroyed and 41,000 houses were damaged, the broadcaster reported.
Shanzao resident Pan Jianli told CCTV he heard a loud noise at around 4am on Saturday, and by the time he got up water had reached the first floor of his home and kept rising.
"The water rose quickly as I watched it. It rose to the fourth floor in 10 minutes," Pan was quoted as saying.
Zhu Fajun, director of the Zhejiang Research Institute of Water Resources Development and Planning, told state news agency Xinhua that Lekima had caused so much damage because the typhoon had inundated high ground and also posed a serious risk to low-lying coastal areas.
Almost 90 reservoirs went past flood warning levels but high levels downstream meant reservoir floodwaters could not be discharged, he said.
"Too much water saturated the soil and that was likely to cause secondary problems with high water levels on the rivers," Zhu said.
Yao Honghua, president of the Zhejiang Geological Environment Exploration Institute, said Shanzao registered 169mm (6.6 inches) of rain in three hours, and "heavy rainfall scouring the rock mass of the mountain could easily cause geological disasters".
Zhejiang Radio Station reported that flooding broke the gate of ancient city of Linhai on Saturday. Police appealed for boats to help in rescue operations, and by Sunday evening volunteers and troops had pulled nearly 6,000 people off roofs and buildings.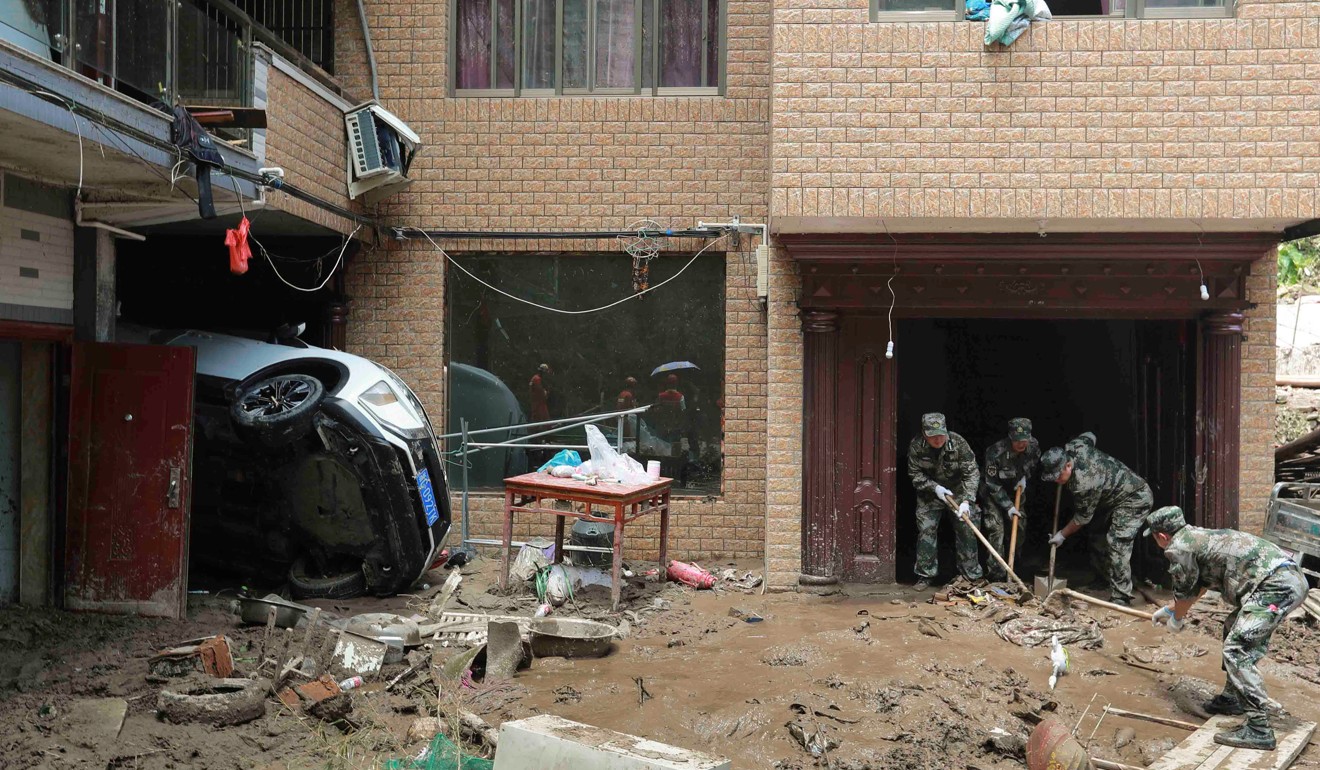 Lekima broke single day rainwater level records in many cities across Jiangsu and Shandong provinces on Sunday, the China Meteorological Administration reported. By the time it hit Qingdao in Shandong province on Sunday night, the winds had eased.
Five people were reported dead and seven missing by Monday morning, Xinhua said.
In Shouguang in central Shandong, a major fruit and vegetable production area, nearly 10,000 hectares of land was under water, Xinhua said.
Bohai Bay was in the typhoon's path late on Monday, and the Ministry of Water Resources said rivers in Liaoning and Jilin provinces would have heavy flooding.
China has been hit by some of the deadliest typhoons in history. In 1956, Wanda killed more than 5,000 people and injured 20,000 more.
In August 2004, Rananim hit Wenling and claimed 188 lives as it tore across Zhejiang. In 2006, 848 people in southern provinces were killed by or went missing in Typhoon Bilis. That year, Saomai killed more than 500 in Zhejiang and Fujian provinces.
On average, seven or eight typhoons have made landfall in eastern or southern China each year since 2000, causing economic losses of 46 billion yuan (US$6.5 billion), according to Ministry of Emergency Management data.