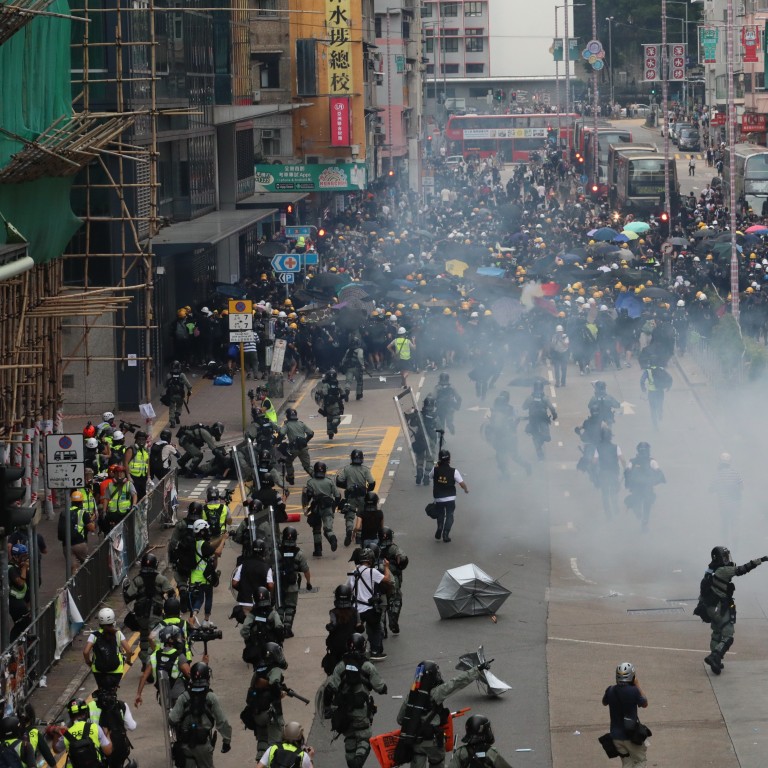 Mainland Chinese tour groups shun 'violent' Hong Kong, survey says
Tour operators report drastic fall in bookings, with 90 per cent losing more than half their income, although number of mainland visitors rose in June
Latest sign that city's tourism sector is being hit by the ongoing unrest
The number of Hong Kong tours booked from mainland China fell dramatically in June and July, according to a travel industry survey released amid growing concerns that ongoing unrest, now in its 10th week, is damaging the city's economy.
The poll, of almost 1,000 tour guides and other industry workers, showed an average 74 per cent decline in business, with 42 per cent of respondents reporting a drop of more than 90 per cent. About 100 of the operators said they conducted no tours at all in June and July, and almost 90 per cent reported a drop in income for those months of more than half.
The survey, released on Monday, was conducted by the Federation of Hong Kong and Kowloon Labour Unions, to which many travel industry unions are affiliated.
The most recently available statistics from the Hong Kong Tourism Board showed a 10 per cent growth in mainland visitors for June compared with a year earlier, with 4 million travelling to the city. Same-day visitors were up 15 per cent and overnight visitors grew 1.2 per cent.
The current unrest in Hong Kong began in early June with escalating violence as anti-government protests have continued.
According to the tourism board, the number of mainland visitors has fluctuated in the past five years, with declines in 2015 and 2016 and a growth of 4 per cent in 2017, attributed to changes in government policies and other factors.
But Monday's survey is another sign that Hong Kong's tourism industry
has suffered overall
since the protests began, with the recent escalation disrupting travel and prompting safety concerns.
On Thursday, Hong Kong's commerce secretary Edward Yau Tang-wah said a drop in tourist arrivals had accelerated from the 1.5 per cent year-on-year decrease in mid-July to 26 per cent by the end of the month.
"For early August, the drop was 31 per cent," Yau said, also noting a "double digit" percentage drop in hotel occupancy rates in July – especially for hotels on Hong Kong Island, where some of the worst clashes between police and protesters had taken place.
Wong Ka-ngai, chairman of the Hong Kong Tour Guides General Union, said of the survey: "Our tour guides are feeling a lot of pressure. Many mainland tourists don't have the desire to come to Hong Kong any more. They make up almost 80 per cent of our market."
Unrest in the city was triggered by opposition to the now-suspended extradition bill, which would have allowed the transfer of fugitives to jurisdictions with which Hong Kong had no extradition agreement, including mainland China.
On Monday, protesters
occupied terminal buildings
at Hong Kong's airport, leading to the cancellation of hundreds of flights. The disruption continued on Tuesday.
Although Beijing, which has strongly condemned the protests, has not issued a travel ban, as it has to
put pressure on Taiwan
, Wong said he had heard that many travel agencies on the mainland had stopped offering group tours to Hong Kong.
The Hong Kong branch of China Travel Service, one of China's largest travel agencies, did not reply to an interview request. Sincere Travel, an award-winning agency offering tours to Hong Kong, did not respond to an emailed request for comment.
However, popular travel websites such as Ctrip and China Travel Service were still offering tours to Hong Kong.
Some regular visitors from the mainland may have been deterred as Chinese state media has
increased its coverage
of the unrest in Hong Kong, highlighting the increasingly violent clashes between protesters and police.
Sun, who did not wish to be identified by her first name, lives in the neighbouring city of Shenzhen, while her husband lives and works in Hong Kong. The family made frequent cross-border trips before the unrest.
"We never used to consider safety issues coming to Hong Kong," Sun said. "Now I have had to delay my daughter's vaccination appointment in Hong Kong this week because I feel it's risky.
"Going to Hong Kong used to be so normal. But now I have to be more careful as I have a baby."
The events of the past two months have affected confidence in the city as a place to do business. Tara Joseph, president of the American Chamber of Commerce in Hong Kong, said that its reputation as a global business hub had been damaged by the government's handling of the extradition bill.
Lance Cheung, an IT worker who lives in Shanghai, visited Hong Kong between June 9 and 13, during which 1 million people marched against the extradition bill and there were later clashes between protesters and police that he said shocked him. He said he had planned to incorporate a company in the city but decided against it after the chaotic scenes of recent weeks.
"I never knew about protests until I arrived in Hong Kong. Free taxes were not enough to cancel out potential flight and hotel cancellations I may experience in the future," Cheung said, referring to income generated offshore by Hong Kong companies being exempt from tax.
He added that Hong Kong retained advantages for doing business compared with the mainland, and that he had not ruled out registering a company there in the future.
"I was not scared for my own safety, but I'm scared for Hong Kong residents," he said. "Hong Kong's status as a key business hub cannot be lost."
Several other countries have issued travel warnings for Hong Kong, including the United States and Australia, adding to fears for the city's tourism revenue.