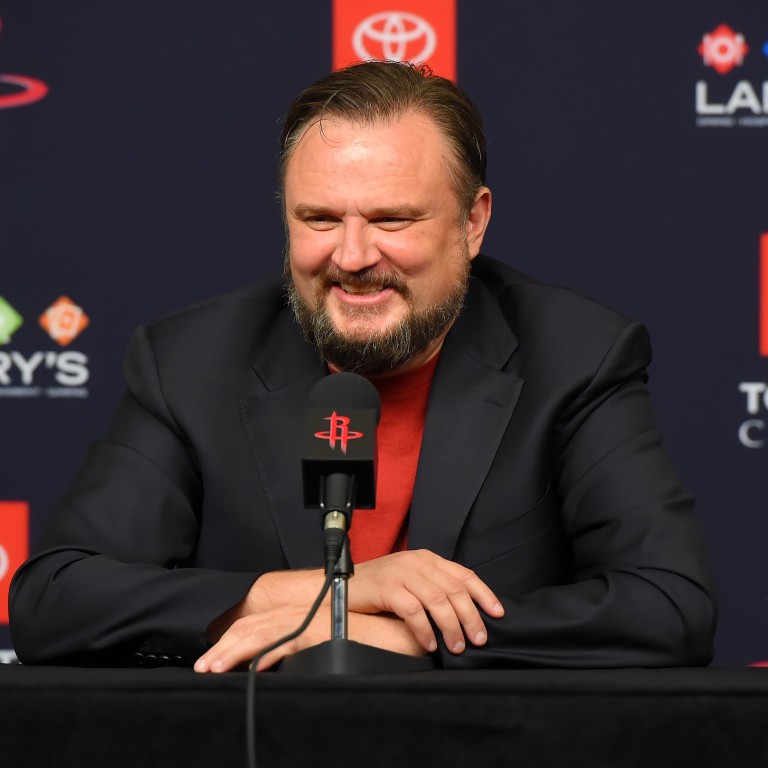 Mainland Chinese fans angered by Houston Rockets general manager's tweet supporting Hong Kong protests
Daryl Morey posted an image reading 'Fight for freedom, stand with Hong Kong' – a slogan used by pro-democracy protesters – before deleting it
Many on social media expressed their disapproval, while the NBA team's owner said Morey did not speak for the Rockets
Mainland Chinese fans of the American basketball team Houston Rockets have taken to social media to vent their anger over a tweet by its general manager, Daryl Morey, in support of Hong Kong's protesters.
Morey posted the image, reading "Fight for freedom, stand with Hong Kong" – a slogan frequently used by the
pro-democracy protesters
– on Saturday.
He later deleted the tweet, replacing it with an image of Tokyo, where the Rockets will face the Toronto Raptors in a preseason game next week.
But it had already been picked up by Chinese state media outlets including
Global Times
and
People's Daily
and was being circulated on China's version of Twitter. Fans of the
NBA
team – one of the most popular in China – took to Weibo to express their disapproval on the official Rockets account, which has more than 7.26 million followers.
Some called for Morey to apologise for the tweet. "I've liked the Rockets for 15 years – I watched their games with my grandfather when I was in primary school. But this crosses the line," the top-rated comment read.
The Rockets started gaining popularity in the country after Chinese basketball player Yao Ming – one of China's best-known athletes – joined the team in 2002. He played eight seasons with the Rockets until he retired in 2011.
Rockets owner Tilman Fertitta sought to distance the team from Morey's tweet, saying he did not speak for the Rockets.
"Our presence in Tokyo is all about the promotion of the NBA internationally and we are not a political organisation," Fertitta said in a Twitter post.
That did not stop others from weighing in on the controversial tweet. Well-known Chinese basketball commentator Yang Yi, who has more than 6.9 million followers on Weibo, said in a post that Morey's message may have been brief, but it reflected the long-term misunderstanding and distortion of Chinese society and politics in the West.
"Although the West advocates complete freedom of speech, without basic understanding of major social and political issues, I do not think they should have the freedom to make such statements," Yang wrote.
"The institutions they serve have long been the beneficiaries of Chinese social stability and trade freedom. The Rockets have received a lot of Chinese sponsorship in the past 17 years. ESPN has also made tens of millions of dollars annually in China over the past four years. China should make these institutions pay for it [Morey's message]."
Yang's post had been shared more than 12,000 times by Saturday evening and received more than 10,000 responses. "Change your manager," was one of the top comments.
Anti-government protests have gripped Hong Kong since early June. They were sparked by a
now-abandoned extradition bill
that would have allowed criminal suspects to be sent to the mainland for trial and have morphed into a broader call for political reform.