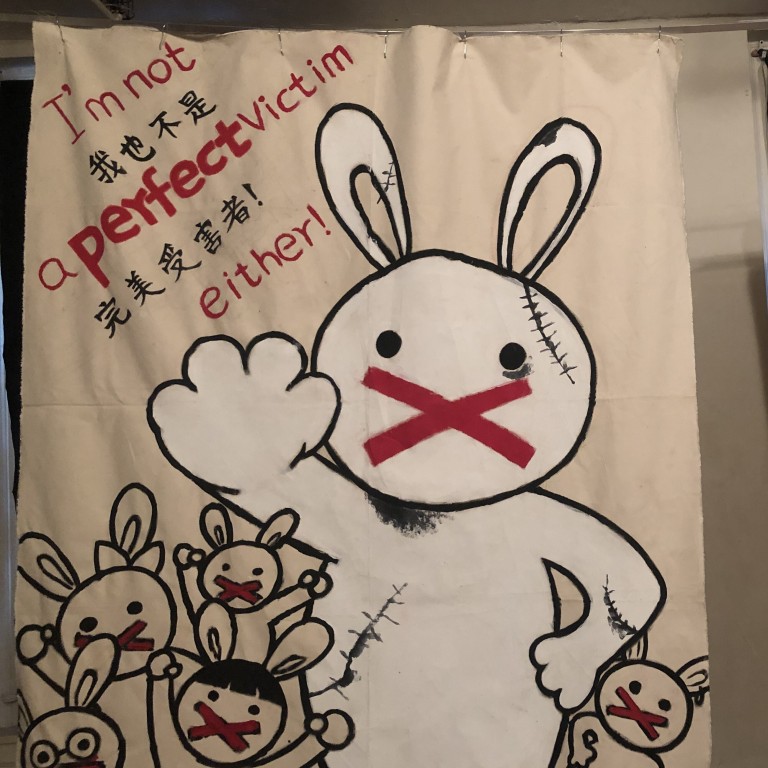 Silenced at home, finding a voice overseas: China's feminists cultivate the expatriate community
Supporters of #MeToo and Liu Jingyao turn out at a panel discussion and exhibition opening in New York
The exhibition, The Voiceless Rise Up!, which aims to put a spotlight on sexual assault, was shut down in Beijing, Guangzhou and Chengdu, activists said
"We support Jingyao!"
"I'm not a perfect victim!"
"We believe in survivors!"
"We support #MeToo in China!"
On Sunday evening, about 60 feminists, mostly Chinese nationals, formed a human chain on the streets of New York City's Lower East Side. They chanted slogans and held signs in solidarity with Liu Jingyao – a Chinese student at the University of Minnesota who has sued billionaire JD.com CEO Richard Liu over alleged rape – and also called out support for the thwarted #MeToo movement in China.
This group of activists, students and volunteers had just left the opening reception of an art exhibition at the Access Theatre on China's #MeToo movement called The Voiceless Rise Up!, following a panel discussion on the movement.
None of the events could take place in today's China, organisers said; the topic of MeToo is heavily censored there. Earlier this year, the same exhibition, aiming to give voice to sexual assault victims, was shut down in Beijing, Guangzhou and Chengdu just days after it opened, activists said.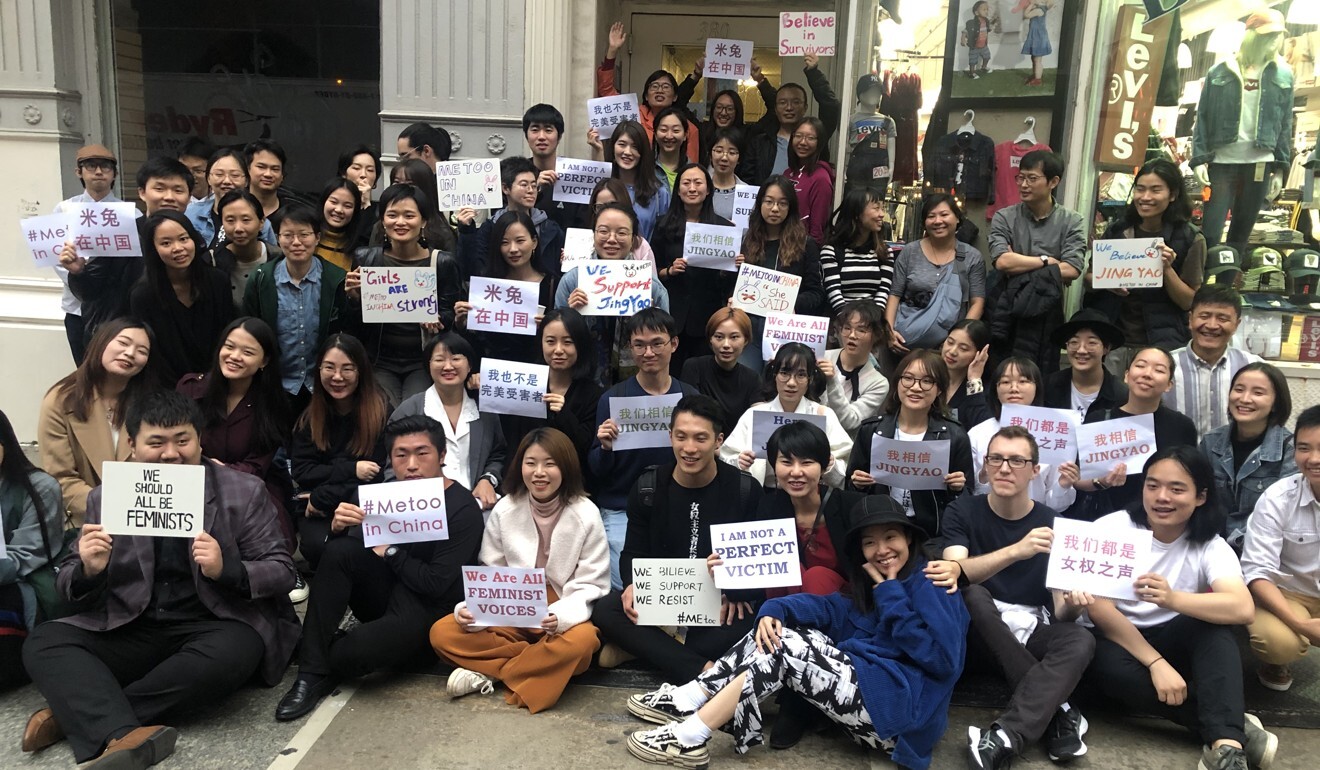 Silenced at home, some of China's feminist activists are finding new momentum overseas. Free from censorship and harassment of Chinese authorities beyond the mainland's borders, they are cultivating an expatriate community of sympathisers and advocates who can help friends back home sustain a battered feminist movement.
"This exhibition can't take place in China, and so it's significant that it can be on show in New York," says Tai, a China-based feminist activist and one of the show's main curators, who declined to reveal her full name for safety concerns. "It allows more supporters to directly participate in activism, and empowers those in China by showing that people are actually doing things."
Calls by the South China Morning Post to the Chinese Consulate General in New York seeking comment went unanswered.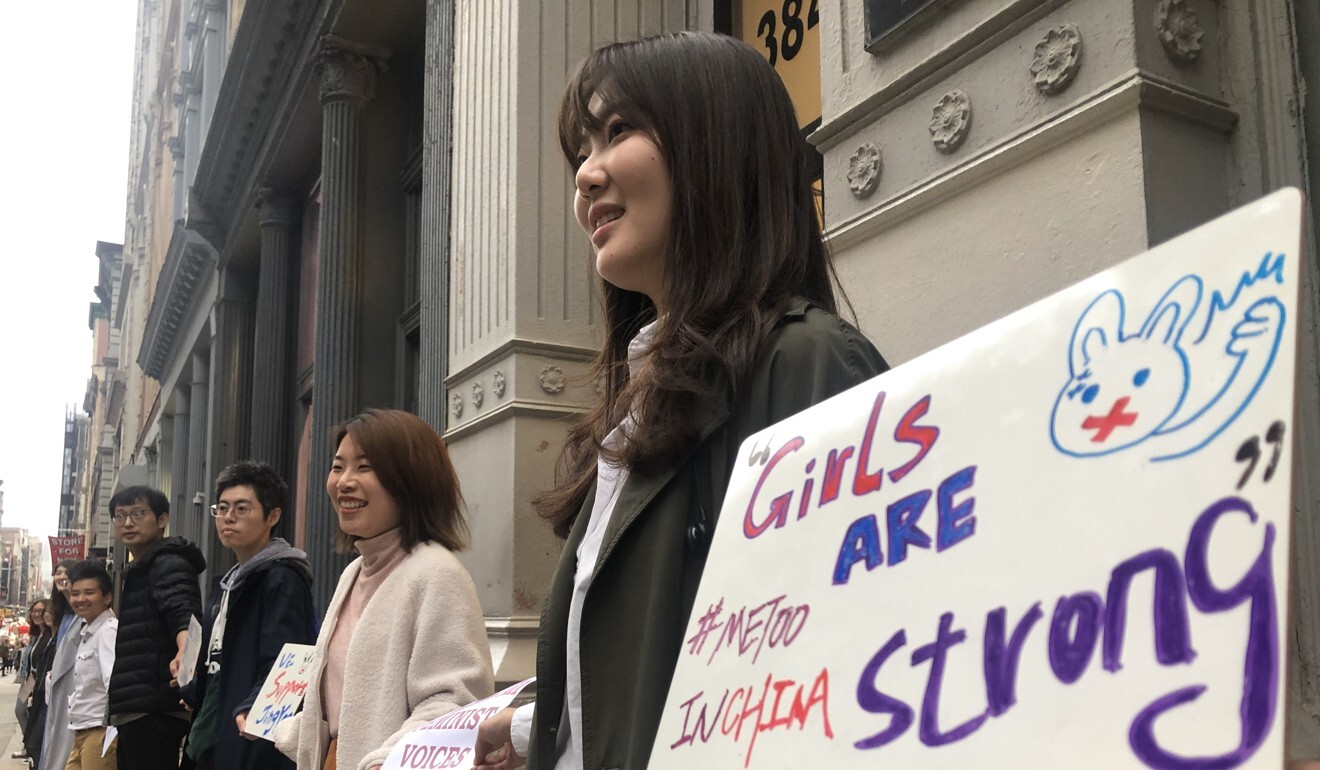 In the panel discussion – addressing an audience of roughly 60 people, mostly young Chinese nationals, along with a smattering of Americans and Taiwanese – four Chinese activists spoke in English of a nimble feminist movement that started in China just seven years ago, when a cohort of advocates formed a loose coalition called Young Feminist Activism.
And the interest was much larger, organisers said: more than 100 people were wait-listed for the discussion due to space limitations, even though information about the event on WeChat had been censored shortly after the organisers posted it.
The speakers explained the profound impact of the 2015 detention of five prominent feminists, who were held for five weeks in Beijing before being released on bail simply for planning to hand out materials to raise public awareness of sexual harassment.
Among its consequences, they said, was the formation of a Chinese feminist movement away from home. The panellists discussed their work in the US: organising offline campaigns and workshops on Chinese feminist activism; offering vocal support to Chinese sexual assault victims; translating materials about China's feminist movement into English to rally broader support.
Transcripts of police interviews with Liu Jingyao and others witnessing her and Richard Liu together offered conflicting accounts of whether the billionaire forced himself on her. But activists say they stand with women like Liu Jingyao because they believe that they deserve a chance to tell their stories, and that they don't deserve to be smeared or silenced by fear and shame.
Eva Jiang, a graduate student in neuroscience at New York University, said the talk inspired her.
"I was interested in feminism while I was in college," she said. "But I didn't know what practical things I could actually do to raise awareness of the issues affronting women's rights.
"Now I've learned that those of us based abroad, just like one of the speakers said, can vocalise and offer support for sexual assault victims."
Following the discussion, the audience walked to the Access Theatre, which hosted a multimedia exhibition composed of striking imagery, sounds and voices. In the middle of the small gallery, barbed wire encircled statements from victims of sexual assault and harassment.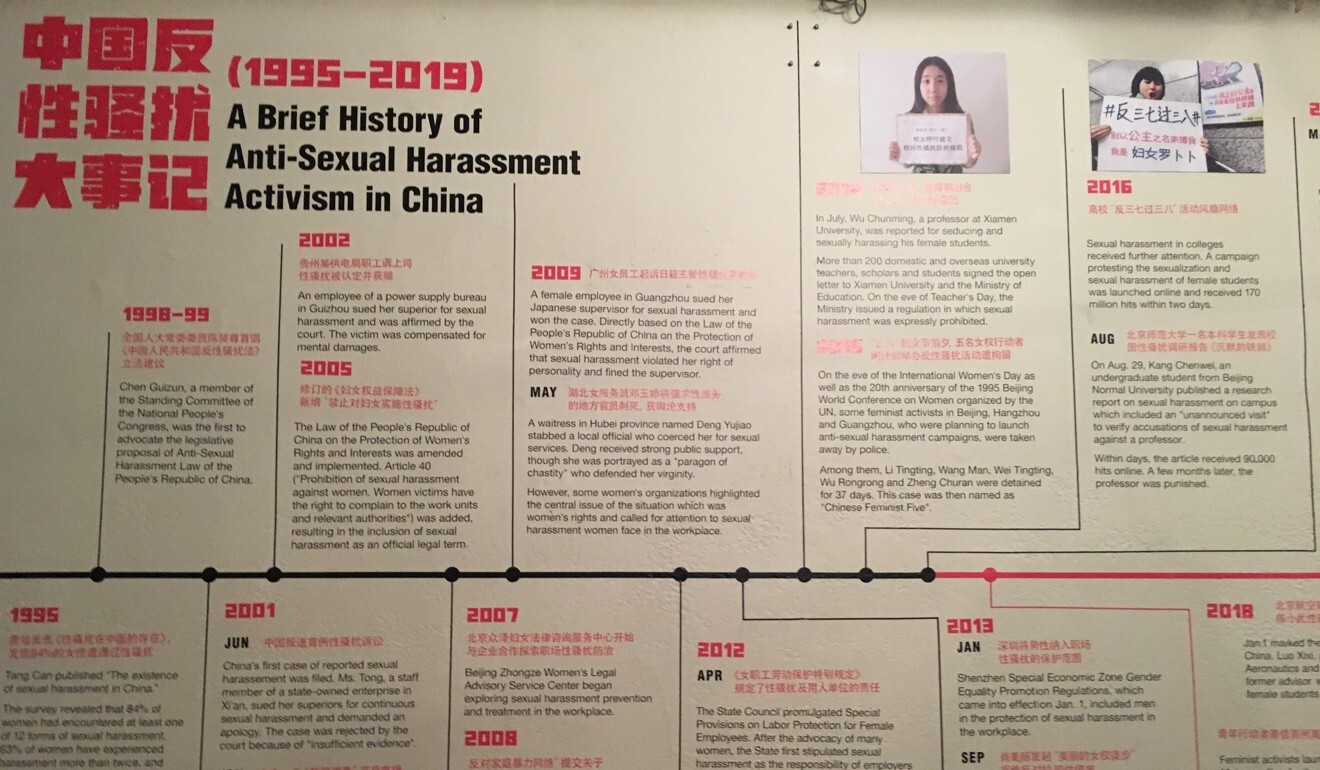 One wall chronicled Chinese women's fights against sexual assault from 1995 – when a survey revealed that 84 per cent of Chinese women had encountered sexual harassment – to 2019.
A sound booth was filled with the voices of victims telling their own experiences. On giant canvases, injured and muzzled bunnies were fighting and chanting, "I'm not a perfect victim."
(A close homophone of "me too" in Mandarin is "mitu", which means "rice bunny"; the image now both symbolises silenced victims of sexual assault and harassment and is used to circumvent censorship of the topic on Chinese social media.)
"This is not an exhibit of a few organisers, but is one built with collective efforts," Tai said, adding that the organisers were deeply touched that more than 100 volunteers, most of whom they'd not met before, helped assemble the gallery presentation in the three days prior to its opening. The exhibition runs through October 20.
Leta Hong Fincher, the author of Betraying Big Brother: The Feminist Awakening in China, said the creativity of the multimedia works struck her.
"It also shows you just how many countless women in China have experienced this kind of violation and we just don't know about it because it's been so systematically censored and erased," Fincher said after the panel discussion.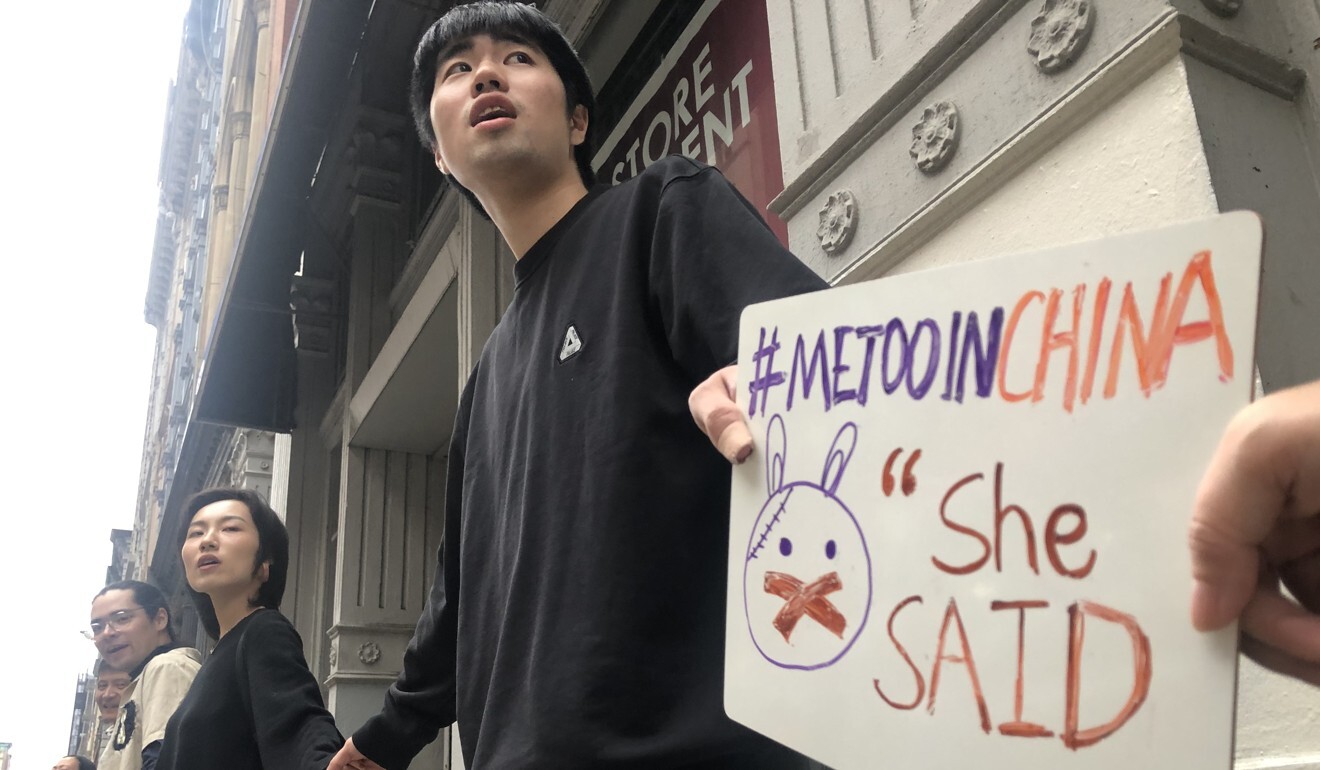 "It's another example of the importance of the global diaspora of Chinese feminists and the importance of Chinese women outside of China in sustaining the momentum of the feminist movement inside China."
Lü Pin, one of the key activists who launched China's feminist movement home and abroad, said that increasing authoritarian control in China unleashed wider and firmer support for the movement within the Chinese diaspora. Participating in events like this one, she said, provided an outlet for feminists from China in search of a community.
"Those who came to help are looking for an opportunity to contribute to the #MeToo movement in China, to China's feminist movement, and to advancing their own country from New York," Lu, who has lived in the US since 2015, said at the event.
"They rally to feminism because of their own shared gender experience in China, which will not fade out even if they have moved abroad."
This article appeared in the South China Morning Post print edition as: China's silenced feminists cultivate the diaspora