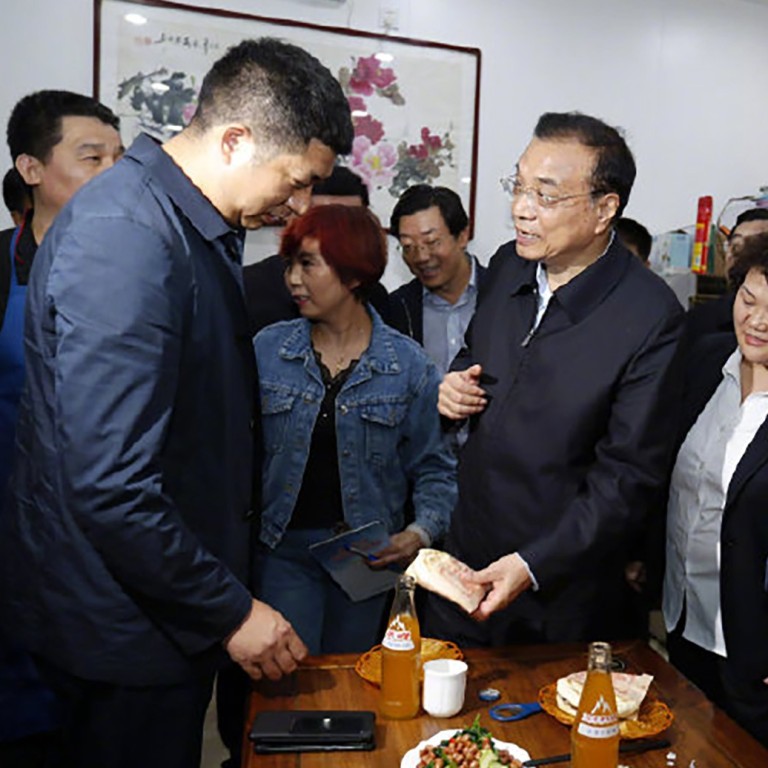 Premier Li Keqiang's snack stop highlights impact swine fever has taken on Chinese pork supplies
Li's visit to a roadside food vendor during a visit to Xian highlights country's ongoing drive to secure supplies of the staple meat
Consumers have faced rising prices and shortages after disease wiped out more than 40 per cent of domestic pig herds
Chinese Premier Li Keqiang visited a roadside food stall on Monday to discuss the impact of rising pork prices, highlighting the country's ongoing struggle to secure supplies of the staple meat after African swine fever devastated domestic herds.
Consumers have faced record prices after the disease swept across the country and policymakers have been scrambling to boost imports and rebuild domestic stocks in its wake.
Official state news agency Xinhua reported that Li visited the store on a visit to the northwestern city of Xian and asked the owner about rising prices and how it had affected business.
According to the report, the owner replied that the increase was "quite noticeable", adding: "Our prices have also risen a bit accordingly. The effect on business hasn't been too big."
Pork prices hit record highs over the summer, and are likely to remain so in the coming months.
Vice-premier Hu Chunhua said in September
that pork shortages would continue to be "extremely severe" in the last quarter of this year and first half of next year.
China's pig population in September was 41.1 per cent smaller than it was a year earlier, according to the latest figures from the Ministry of Agriculture and Rural Affairs released on Monday.
The country's customs agency said it was increasing sources of imports to help rebuild the country's live pig production capacity.
China imported 1.3 million tonnes of pork in the first three quarters of this year, up 43.6 per cent year-on-year, the customs agency added.
Meanwhile, Su Wei, deputy secretary general of the National Development and Reform Commission, said food prices were "basically stable" despite the rise in pork prices.
Su told a press conference on food security that measures to stabilise prices were beginning to take effect, and that government would take further steps if necessary.
Last month the State Council unveiled a series of measures to restore the domestic pork industry, and has already spent 3.2 billion yuan (US$453 million) in subsidies to producers.
Pan Chenjun, senior analyst at Rabobank in Hong Kong, said that the country's pork shortages have a symbolic impact, but were unlikely to threaten the country's food security.
"Chinese people already consume a lot of meat, so a decline in meat supply by 20-25 per cent cannot cause starvation, although it will impact happiness level of consumers who love meat," she said.
"There will be an impact on health for low income consumers, however, if they cannot afford protein when the prices of all proteins go up," she added.