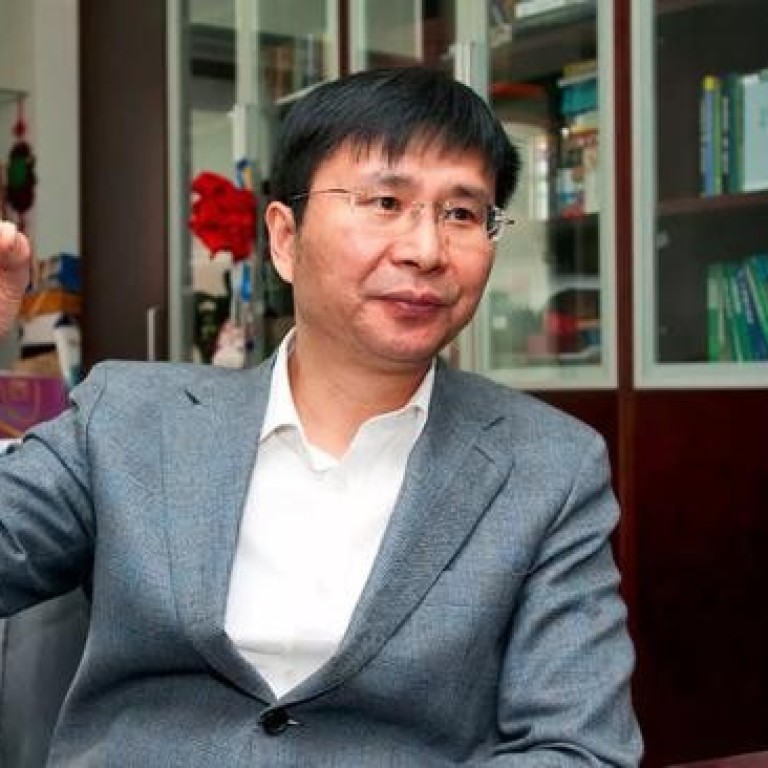 Chinese scientist Li Ning gets 12 years in prison for embezzling US$4.3 million of government funds
Cloning expert and his colleague Zhang Lei from China Agricultural University in Beijing found guilty of moving funds to private firms the pair controlled
Court rejects claims money was moved to prevent a funding gap
A Chinese scientist
arrested in 2014
for embezzling more than 34 million yuan (US$4.3 million) of research funds has been sentenced to 12 years in prison.
Dr Li Ning, an expert in cloning and former director of the State Key Laboratory of Agrobiotechnology, was found guilty of illegally transferring the funds in the form of "investments" to several companies he controlled, though there was no evidence he spent any of the money on himself, the Intermediate People's Court of Songyuan in northeast China's Jilin province said in its verdict.
Li was also fined 3 million yuan, while his assistant, Dr Zhang Lei, was sentenced to five years and eight months in prison and fined 200,000 yuan on the same charge.
Yuan Chenghui, Li's lawyer, confirmed the sentencing and said his client had expressed a willingness to appeal. He did not elaborate.
In his defence, Li said that he transferred the money – provided by the government to help finance research at his laboratory at China Agricultural University in Beijing – as a way to prevent a funding gap.
At that time, the government required all universities and research institutions to return unused state funding at the end of each year and apply for new grants each January.
Recipients around the country complained, however, that this left them with a cash flow problem while their new claims were being evaluated. Some, like Li and Zhang, responded by trying to squirrel some of the money away.
In court, the two defendants admitted to setting up companies to receive the unused funds and creating fake receipts to fool the government into thinking the money had been spent legitimately.
When Li was arrested in 2014 – soon after which the government suspended its funding return policy – China's research community began appealing for clemency on his behalf.
Last year, more than 15 senior members of the Chinese Academy of Sciences (CAS) and Chinese Academy of Engineering put their names to a petition letter sent to Supreme People's Court President Zhou Qiang.
The court, however, was unmoved. While the judges in Songyuan said they had taken the changes to the government's fund management policy into account – citing it as one of the reasons for the delay in the case going to trial – the sums Li and Zhang had transferred to the private companies exceeded the amount they needed to maintain the lab's normal operation.
At his trial on Monday, Li – whose research into genetics and cloning has been widely applied in the breeding of domesticated animals – said he had won six major national science awards and "contributed tens of billions of yuan economic benefits to the nation".
Dr Wei Qi, a retired researcher with the CAS, said Li's punishment was too severe considering the scientific contributions he had made.
"Science and technology researchers are a valuable asset to China," he said.
Another scientist, who asked not to be named, said that the prison sentence spelt the end of Li's career.
"Five years is about as long as a scientist can maintain his peak performance," he said. "Twelve years is effectively a death penalty for his academic life."
Li is the second high-profile Chinese scientist to be sentenced to prison in less than a week. On Monday,
He Jiankui
, the man who created the world's first "gene-edited" babies, was sentenced to three years in prison and fined 3 million yuan.
Purchase the China AI Report 2020
brought to you by SCMP Research and enjoy a 20% discount (original price US$400). This 60-page all new intelligence report gives you first-hand insights and analysis into the latest industry developments and intelligence about China AI. Get exclusive access to our webinars for continuous learning, and interact with China AI executives in live Q&A. Offer valid until 31 March 2020.
This article appeared in the South China Morning Post print edition as: Cloning pioneer sentenced to 12 years for plundering HK$38m in research cash