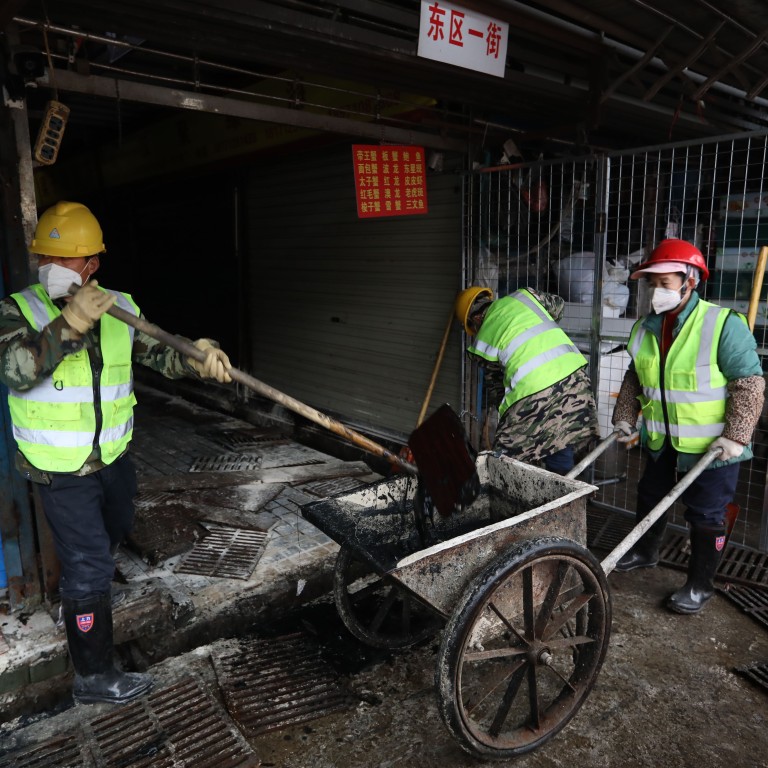 China reports first death in new pneumonia outbreak
Health authorities in Wuhan say seven people infected with the virus remain in a serious condition
Man who died after contracting coronavirus was a frequent visitor to market linked to series of cases
The Wuhan Municipal Health Commission in Hubei province said on Saturday that of the 41 people identified as having the illness, one had died, seven remained in a serious condition and two had been discharged.
The patient died on Thursday night of severe pneumonia and was a regular visitor to a market linked to the outbreak. The man also suffered from abdominal "tumours" and chronic liver disease, the commission said.
Cases of a mystery virus – since identified as a new strain of coronavirus – emerged in Wuhan last month. Many of the patients had worked at a seafood market where wild animals such as pheasants and snakes, as well as rabbit organs, had also been sold. The market has since been closed.
The commission said no new cases had been reported since January 3, and no medical staff had been infected.
"There is no clear evidence proving human-to-human transmission," it said. "People who have been in close contact with the patients, including medical workers, have not been infected."
A senior official at the Chinese Centre for Disease Control and Prevention told state news agency Xinhua on Thursday that laboratory tests had identified the new virus and its genome sequence.
Peking University First Hospital respiratory specialist Wang Guangfa, who is part of a national team of experts investigating the cases in Wuhan, said the patients' condition and the overall outbreak were under control, China Central Television reported.
Most of the patients were in a mild to moderate condition and of those confirmed as having the coronavirus, the proportion in a critical condition was similar to that of ordinary pneumonia, he said.
China's health authorities have not released any personal details of the people infected. David Kelvin, director of the International Institute of Infection and Immunity at Shantou University in Guangdong province, said it was important to understand more about the patients, such as their age and general health, in determining the potency of the new virus.
The data currently available indicated that the coronavirus had caused more than mild infections and that those hit by it needed hospital treatment, he said.
Although health authorities said there had been no cases of human-to-human transmission, and the Huanan Seafood Market in Wuhan appeared to be the common link, the public should remain vigilant, Kelvin said.
"The large number of humans infected suggests that either a large number of animals were infected, hence infecting a large number of humans, or a limited [amount of] human-to-human transmission can take place," he said.
Of the six previously known human coronaviruses, four were common and caused only minor respiratory symptoms similar to those of a cold. The other two are Sars, which killed more than 700 people worldwide after originating in China, and Middle East respiratory syndrome, which has killed more than 850 around the world since 2012.
In Hong Kong, 54 people had been admitted to hospitals with respiratory problems after returning from Wuhan, city health authorities said on Friday. Of those, 31 had been discharged.
The Korea Centres for Disease Control and Prevention in South Korea said on Wednesday that a 36-year-old woman diagnosed with pneumonia after two business trips to Wuhan last month could be the country's first case of the illness.
Wuhan is one of the country's biggest transport hubs and millions of people travel through the country over the holiday period.
This year's travel period began on Friday, two weeks ahead of the festival at the end of January.
This article appeared in the South China Morning Post print edition as: Man, 61, is first to die from virus in Wuhan