Chinese woman, 24, dies of malnutrition despite US$145,000 effort to save her
Wu Huayan, who lost her mother at four and spent much of her life caring for a sick brother, fell ill after eating only boiled rice and pickled chilli for five years
She appealed for financial help after being admitted to hospital in October, but the public's generosity was not enough to save her
A young woman from southern China whose story of poverty and deprivation sparked a public appeal that raised almost 1 million yuan (US$145,000) has died in hospital from complications relating to malnutrition.
Wu Huayan was born in 1995 into a poor family from a remote, rural area of Guizhou province, one of the country's most
impoverished regions
, news website Thepaper.cn reported on Monday.
After her mother died when she was four, Wu lived with her father and younger brother, Wu Jianglong, who suffered from mental health problems for which he required frequent medical treatment. Much of the family's meagre earnings went on paying his hospital bills
Wu's father died when she was 18, after which the siblings received a modest government subsidy of 300 yuan a month.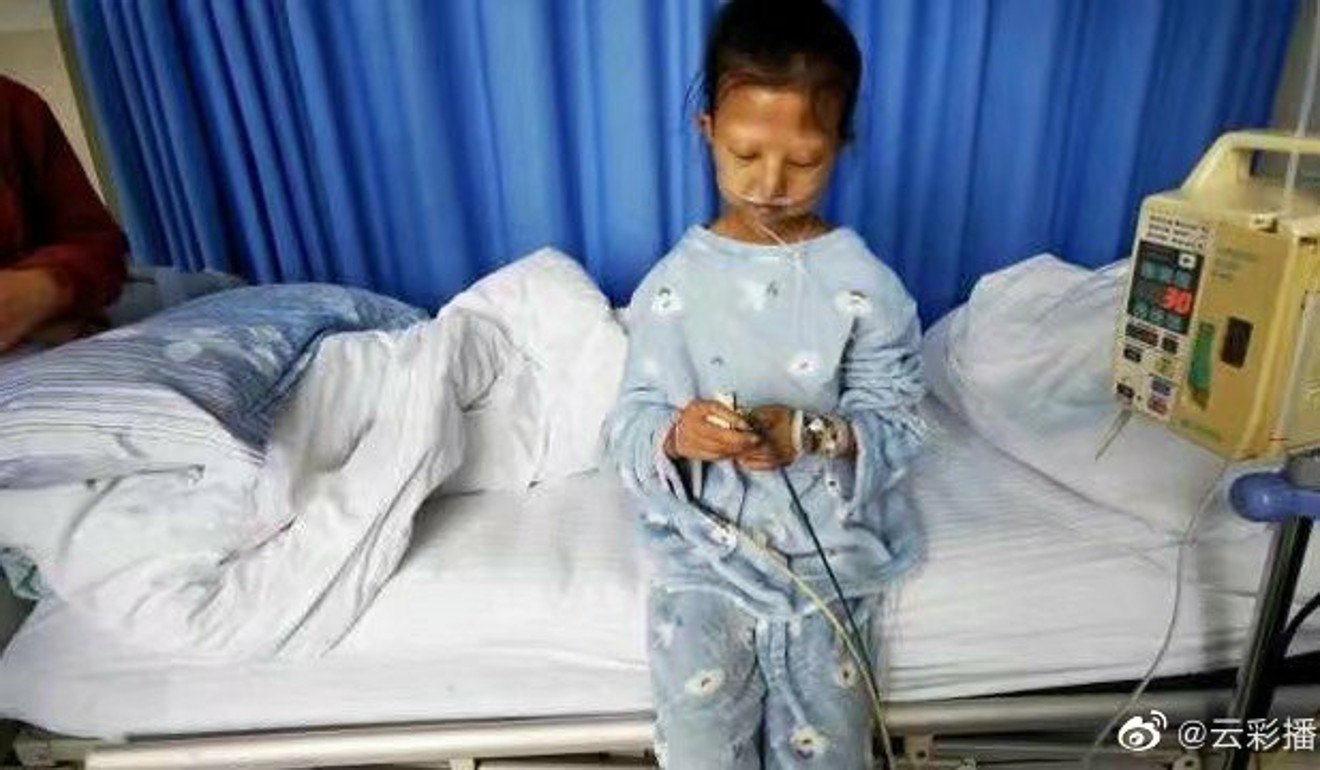 Despite the demands of caring for her brother, after leaving school Wu managed to get a place at a vocational college and was awarded an annual scholarship of 7,000 yuan to cover her expenses.
While the siblings lived under the guardianship of an aunt and uncle, they too lived impoverished lives so money was always tight.
The financial demands of her brother's medical treatment made it hard for Wu to balance the books, so to make ends meet she stopped eating proper meals.
For five years she survived on nothing more than boiled rice and pickled chilli, the report said.
Such deprivation inevitably took its toll, and in October, Wu began having difficulty walking and breathing, so she went to her local hospital for a check-up. She was diagnosed as suffering from serious heart and kidney problems, both as a result of malnutrition.
The problem was, she did not have the money to pay for her treatment, so she appealed to the public and charities for help.
Several media outlets picked up the story and after the emaciated young woman – she weighed just 22kg (48lbs) at the time – appeared in newspaper articles and on television, the donations flooded in, reaching almost 1 million yuan (US$145,000).
In an interview with Chongqing Morning Post at the time, Wu explained why she had turned to the media for help after falling ill.
"My grandma and dad both died because they didn't have money for treatment," she said. "I don't want to experience that – to wait for death because of poverty."
In November, Wu's health deteriorated and she was transferred to a leading hospital in Guiyang, the provincial capital. But doctors there were unable to save her and on Monday she lost her fight for life at the age of 24.
Chinese President Xi Jinping set the end of this year as the deadline for local governments to eradicate "absolute poverty" – a term used to describe those people who survive on less than 627 yuan a year.
According to a report published in November by Communist Party mouthpiece People's Daily, there were 150,000 such people living in Guizhou.
Purchase the China AI Report 2020
brought to you by SCMP Research and enjoy a 20% discount (original price US$400). This 60-page all new intelligence report gives you first-hand insights and analysis into the latest industry developments and intelligence about China AI. Get exclusive access to our webinars for continuous learning, and interact with China AI executives in live Q&A. Offer valid until 31 March 2020.
This article appeared in the South China Morning Post print edition as: Tragic end to woman's battle with poverty