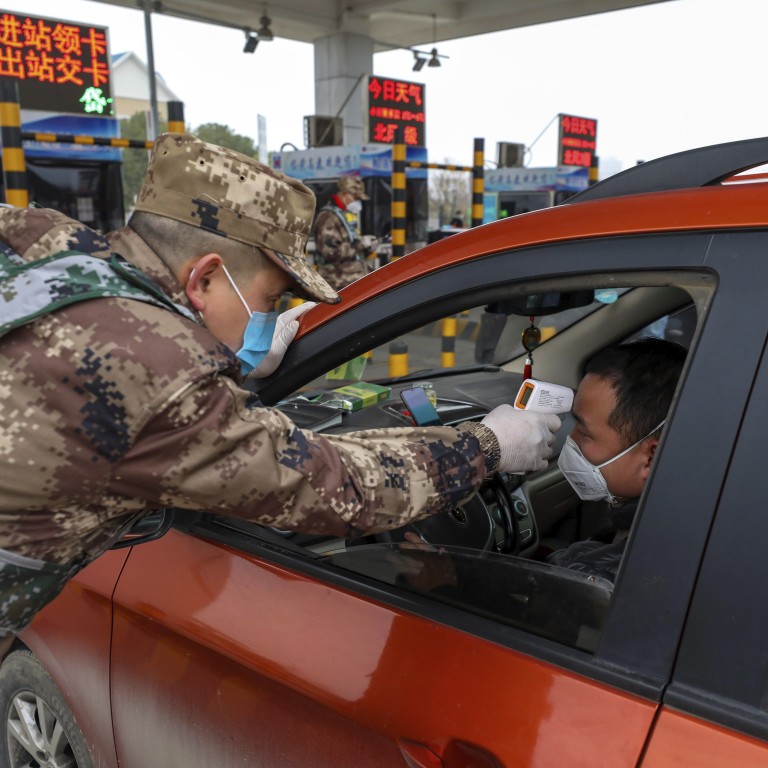 China calls in top Sars expert as State Council takes charge of emergency coronavirus response
Several provinces raise alert level, centralising command of response measures as authorities confirm first deaths outside epicentre around Wuhan
Respiratory medicine expert Zhong Nanshan, a key figure in handling the 2002-03 outbreak, will lead a new working group, Beijing says
Several Chinese provinces and municipalities, including Beijing and Shanghai, have declared the highest level of public health emergency over the rapidly spreading
coronavirus
outbreak, handing control of response measures to the State Council, China's cabinet.
It came as Beijing called in the country's leading Sars expert to head a new group tackling the response. Zhong Nanshan, a key figure in China's response to the devastating 2002-03 outbreak of severe acute respiratory syndrome, will lead a group of scientists researching a "joint prevention and control working mechanism", the Ministry of Science and Technology said.
The 83-year-old respiratory medicine expert was already leading the National Health Commission's (NHC's) task force investigating the virus.
All but two of the country's 31 provinces and municipalities had reported cases by Friday, a day after lockdowns and travel bans came into effect in Wuhan – the epicentre of the outbreak – and several other Chinese cities.
As of Friday night, state media had confirmed 892 cases of infection in mainland China, with 26 deaths, including the first two to be reported from outside Hubei province, of which Wuhan is the capital city.
Infections in the north
One of the deaths was reported in Hebei province, which surrounds Beijing, and one was in the northeastern province of Heilongjiang.
On Friday, two railway staff in the northern port city of Tianjin, about 130km (80 miles) from Beijing, were confirmed as having the coronavirus.
Tianjin Centre for Disease Control and Prevention said the two staff, the city's fifth and sixth confirmed cases, worked in the same passenger train carriage. Screening and inspection of the train had been conducted overnight and people who had close contact with the two employees had been placed under medical supervision, the centre said.
It came as hundreds of millions of people travelled across the country for the Lunar New Year holiday, raising concerns that China's biggest annual migration could hasten the spread of infection.
Call to report negligence
The State Council, China's cabinet, called for people to report inadequate epidemic control measures to its online inspection platform.
"The State Council inspection and monitoring office will assign agents to investigate information about delays, cover-ups, negligence and incompetent epidemic prevention work," it said in a notice published online. "Confirmed cases would be severely dealt with by law and regulations."
Highest alert
Hubei province on Friday declared the outbreak a "Grade I public health emergency" – the most severe level of emergency response.
The same is in force in Sichuan, Anhui, Guangdong, Zhejiang and Hunan provinces and the municipalities of Tianjin, Beijing, Shanghai and Chongqing.
Grade I status centralises the command and co-ordination of provincial-level emergency response work under the State Council in Beijing.
Outbound transport from 13 cities and counties in Hubei had been closed down by Friday morning, according to China National Radio, leaving most of the province's major cities in lockdown.
The US state department on Thursday night issued a warning to Americans in China not to travel to Hubei province. Non-emergency US personnel based in Hubei had left on Thursday, according to the notice, which warned people that local travel restrictions could be put in place without notice.
"The US government has limited ability to provide emergency services to US citizens in Hubei," it said.
Extra staff sent
The NHC was sending medical staff from around the country to Wuhan to help treat patients, China National Radio reported. Intensive care, respiratory and infectious unit specialists from Shanghai, Jiangsu and Sichuan were on their way to Hubei after a surge in infections among medics in Wuhan.
It also assigned 21 national inspection units to Hubei hospitals and infectious disease units to refine treatment plans and train local medical staff, the report said.
Disneyland closure
Shanghai Disneyland announced it would be closed to tourists from Saturday until further notice, "to protect the health and safety of tourists and performers". Tourists who had already booked tickets and hotel rooms would be offered refunds, it said.
Other major amusement parks, including Happy Valley Shanghai and Happy Valley Beijing, also announced that they would suspend entry from Saturday onwards, and cancel all planned Lunar New Year performances, due to the outbreak.
Job security
Businesses were warned that they would not be allowed to fire employees who could not get to work as a result of the virus, the ministry of human resources announced.
The ministry stated that patients, suspected sufferers and those in close contact with infected persons who are unable to work must be paid their salaries, and may not be dismissed for missing work.
The statement also said companies who "suffer difficulties" would be allowed to negotiate changes in pay, shifts and working hours with staff to prevent layoffs.
A viral hit?
State broadcaster CCTV's annual Spring Festival Gala – the world's most watched television programme, with about 1 billion viewers – has added a pneumonia-themed poetry recital to its live broadcast on Friday night.
The poem United We Are Undefeatable, Resist Pneumonia! was set to feature in the variety show, which was due to go ahead despite the outbreak.
Purchase the China AI Report 2020
brought to you by SCMP Research and enjoy a 20% discount (original price US$400). This 60-page all new intelligence report gives you first-hand insights and analysis into the latest industry developments and intelligence about China AI. Get exclusive access to our webinars for continuous learning, and interact with China AI executives in live Q&A. Offer valid until 31 March 2020.