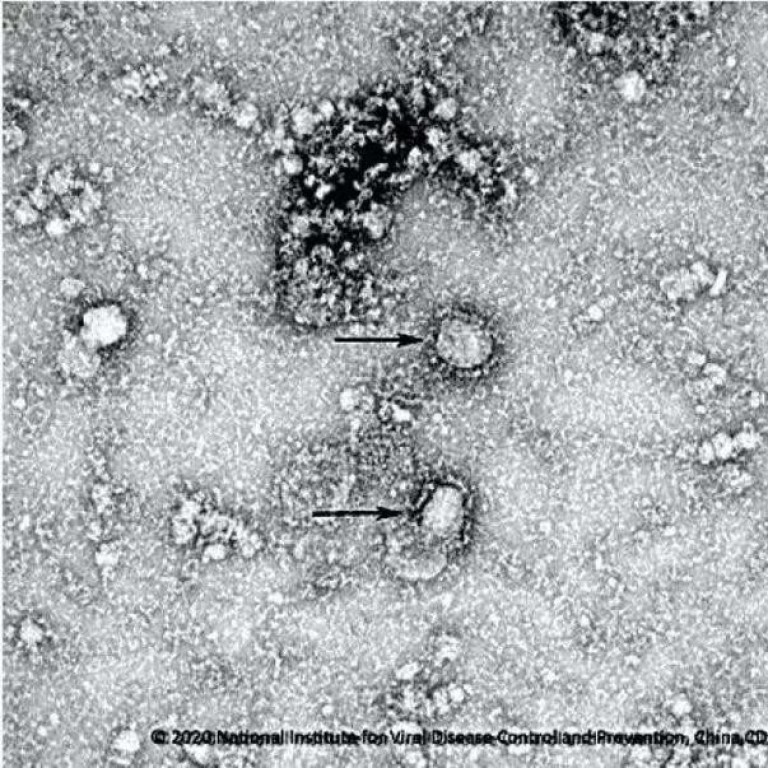 Scientists debate whether Wuhan coronavirus came from bats or snakes amid joint US-China effort to develop vaccine
Experts from three American institutes are collaborating with a team from Fudan University in Shanghai to develop a vaccine
Meanwhile academics in China and UK question research that links its origins to two common species of snake
Chinese and American researchers are working together to develop a vaccine against the
deadly new strain of coronavirus
amid a growing international debate about whether it came from snakes or bats.
At present, there is no cure for the virus which has pneumonia-like symptoms and is contagious among humans. Officials have told hospitals to
quarantine any suspected patients
and their close contacts.
So far it has killed 26 people and infected hundreds across mainland China.
The World Health Organisation on Thursday stopped short of declaring the virus a global public health emergency, despite China's climbing death toll. The virus had spread to Hong Kong, Macau, Taiwan, Japan, Singapore, South Korea, Thailand, Vietnam and the United States as of Thursday. Japan on Friday reported a second confirmed case.
Experts from Baylor College of Medicine in Houston, the University of Texas, the non-profit New York Blood Centre and Fudan University in Shanghai are collaborating on the project, Peter Hotez, dean of Baylor College's National School of Tropical Medicine, told state news agency Xinhua.
"[Vaccine] development is not a fast process, and it's not clear whether we would have a vaccine ready to use before this current epidemic ends," Hotez was quoted as saying. He added that there were likely to be more cases in the US.
Meanwhile some British and Chinese scientists questioned the findings of a recent Chinese study which claimed that the new coronavirus had jumped from snakes to humans, arguing instead that it had most probably come from bats.
The study by a group of Chinese scientists, published in the Journal of Medical Virology on Wednesday, said that the snake is "the most probable wildlife animal reservoir" because the virus's genetic coding patterns were most similar to those of two common species of snake found in southern China.
However, scientists from the elite Chinese Academy of Sciences said that its genome was 96 per cent identical to a bat coronavirus, and 79.5 per cent similar to the severe acute respiratory syndrome (Sars) coronavirus, which killed more than 700 people internationally in 2002-3.
In a non-peer-reviewed paper published on the open-access biology server bioRxiv on Thursday, the CAS scientists analysed the full genome sequence of the new strain, taken from infected patients in the early stages of the outbreak.
They concluded that this virus belonged to the Sars family of coronaviruses, and enters host cells using the same receptor proteins as Sars.
This echoed the findings of David Robertson, a bioinformatics specialist at the University of Glasgow's Centre for Virus Research, and statistician Jiang Xiaowei of Xian Jiaotong-Liverpool University.
Robertson wrote in a medical discussion forum on Wednesday that the new coronavirus genome data was "most closely related" to three other bat coronaviruses.
He and Jiang carried out an evolutionary analysis of publicly available genome data of the Wuhan coronavirus.
On Friday, the Institute of Microbiology at the Chinese Academy of Sciences also released the first close-up images of the new virus, which has been named 2019-nCoV.
The United States
reported its first coronavirus case
on Tuesday – a male resident of Washington state who had been to Wuhan. A second suspected case has been
reported in Texas
, where authorities are investigating a student at Texas A&M University who had also travelled from Wuhan.
The outbreak, which began in December, is likely to have originated at a seafood and live animal market in the central Chinese city, where the vast majority of confirmed cases have been found.
Wuhan and seven other cities in Hubei province
are now in lockdown
as authorities try to limit the spread of infection.
The US National Institutes of Health has also started to develop a vaccine against the novel coronavirus, which could start human trials in three months, a top NIH official said on Wednesday.
"We're already working on it," Anthony Fauci, director of the NIH's National Institute of Allergy and Infectious Diseases, was quoted by Bloomberg as saying.
"And hopefully in a period of about three months, we'll be able to start a phase one trial in humans."
But medical experts were apparently divided on how severe the impact of the new coronavirus could be, as much was still unknown about it, including its transmission patterns.
"The only good news is that it appears so far that this coronavirus is not as transmissible from person to person as was Sars," Hotez was quoted as saying. "But we're still early in this epidemic and we have a lot to learn."
However, other experts who have studied the virus have warned that it could have a much bigger impact than Sars.
"At a conservative estimate, the scale of infection may eventually be 10 times higher than Sars," Guan Yi, a virology professor at the University of Hong Kong, told Caixin on Thursday.
Guan, who is director of the State Key Laboratory of Emerging Infectious Diseases, was on the team that first identified Sars, and recently visited Wuhan to investigate the coronavirus outbreak.
"I've experienced so much and I never felt scared. Most of them are controllable. But this time I'm afraid," he said.
Purchase the China AI Report 2020
brought to you by SCMP Research and enjoy a 20% discount (original price US$400). This 60-page all new intelligence report gives you first-hand insights and analysis into the latest industry developments and intelligence about China AI. Get exclusive access to our webinars for continuous learning, and interact with China AI executives in live Q&A. Offer valid until 31 March 2020.