China coronavirus: hospitals turning people away as doctors say 'home is best' in many cases
Local people say they are becoming increasingly concerned as doctors turn them and their families away
Man finally admitted to hospital for treatment after a week of worry for his niece
After more than a week of worry and multiple talks with doctors, a woman from Wuhan was relieved on Thursday when her uncle – a suspected
coronavirus
patient – was finally admitted to hospital.
Wang, who declined to give her full name, said her uncle began coughing on January 15. Five days later, he went to Tongji Hospital and after having a CAT scan was diagnosed with viral pneumonia, though the doctor said he could not be sure if it was the new coronavirus.
"They said it might be, but also might not be, but didn't have any test kits to make sure," Wang said. "They could only base the diagnosis on blood tests and the CAT scan."
After being given some medicine, Wang's uncle was sent home.
On Wednesday, he went to the Wuhan Red Cross Hospital in the hope of being properly tested for the new virus. But because he did not have a fever, he was told he would not be able to see a doctor.
On Thursday, he did have a fever, so his family called an ambulance, which took him to Hankou Hospital where he had another CAT scan and was admitted. The hospital said he had secured the last available bed.
Wang said she was relieved her uncle had been admitted to Hankou, as it is one of a dozen hospitals in the city designated to handle suspected and confirmed coronavirus cases.
But as the epidemic has developed, with the city on lockdown, hospitals are starting to run short of medical supplies and hospital workers are feeling the strain.
Local people are also becoming increasingly worried, with many taking to social media to air their concerns, fears and complaints about how the government is handling the crisis. Many are angry about not being admitted to hospital as suspected patients, while others have complained about not being told what to do or where to get treatment.
As of Friday night, the number of confirmed cases on the Chinese mainland had passed 890, with 26 deaths. There had also been 20 confirmed cases elsewhere in the world.
A Wuhan doctor, who declined to give her name because she is not authorised to speak on the matter, said not all patients could be tested for the coronavirus.
"There's not enough staff at the local Centre for Disease Control and Prevention," she said. "They can't test all the patients. Some people have begun to panic and want to do the tests immediately, but that's impossible."
Under China's infectious disease protocol, all suspected cases must be verified by the CDC before they can be classified as confirmed cases. Hospitals will only admit suspected patients who show very clear symptoms.
The doctor said that it was safer for patients with mild symptoms to stay at home, put themselves in isolation and self-medicate, as the risk of cross infection was higher in hospital.
Hospitals were struggling to cope with the huge number of patients, and many people were panicking, even though they were not seriously ill, she said.
Many people are using Weibo, China's Twitter-like microblog, to share the latest news about the spread of the virus and advice on where to get treatment or be tested. Many of them have come together under the name "nCOV support", which, among other things, offers advice on how to isolate and treat suspected patients.
Chen Huifang said in an interview that her mother had blood tests and CAT scans at the No 5 and Red Cross hospitals in Wuhan on Sunday and Monday.
The results showed she had infections in both lungs. The doctor said she should be admitted but there was no room. He also declined to say if she had been infected with the coronavirus.
Three other hospitals also said they had no room for Chen's mother but said she would be put on a waiting list. Chen gave them her phone number but said no one had called back.
"Right now, she's on an IV drip and is in isolation at home," she said. "She has a low fever of 37.8 C, and can't eat or sleep."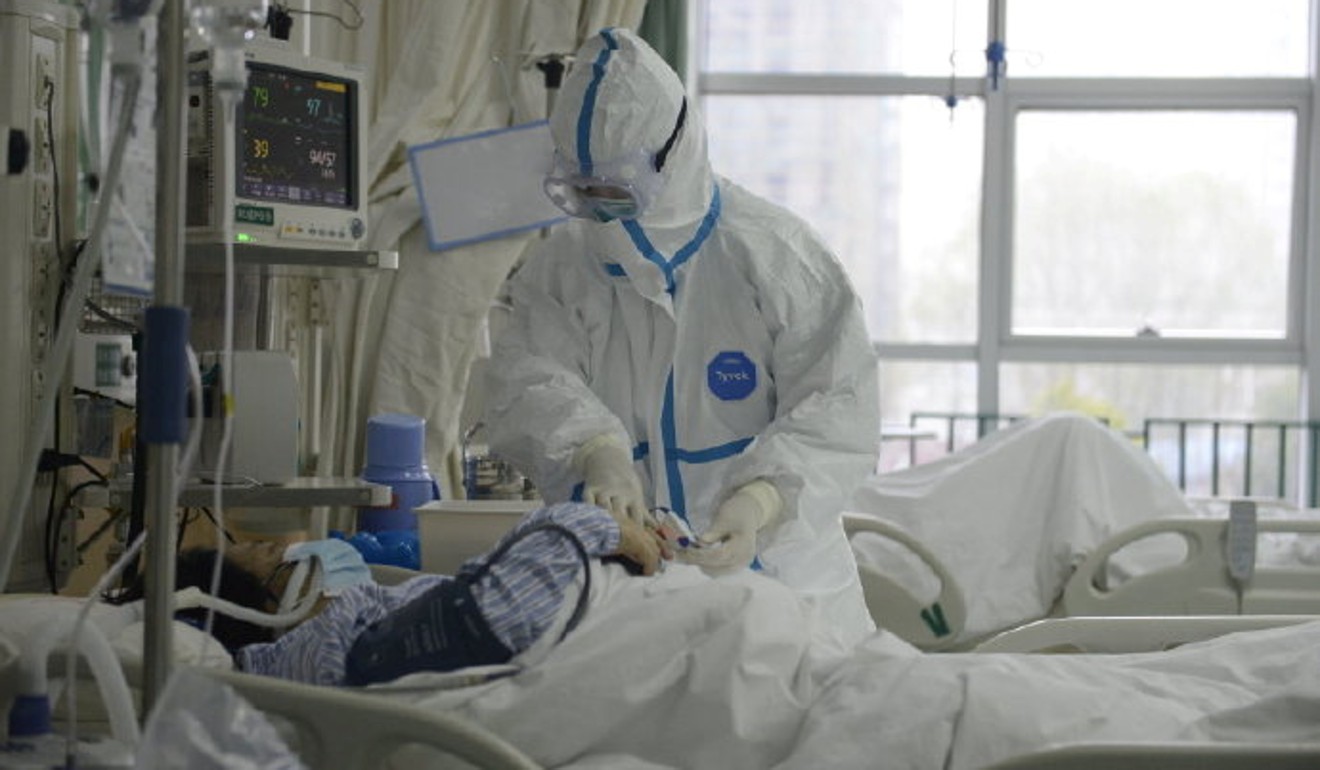 Chinese media has reported a shortage of test kits, as well as an inability to deliver them.
As a result, some hospitals in Wuhan have issued appeals on social media for companies to donate masks and other medical equipment.
To help deal with the epidemic, authorities in Wuhan have ordered the construction of a
specialist treatment centre
. The aim is to have the 25,000 square metre, 1,000 bed facility up and running by next week.
A similar centre was built in a town near Beijing 17 years ago as China battled the Sars (severe acute respiratory syndrome) outbreak. Almost 15 per cent of all Sars patients in China were treated there over a period of two months.
Chen said she had heard about the new centre but was still worried about her mother and hoped that help would come in time.
"But who can be absolutely sure?"
Purchase the China AI Report 2020
brought to you by SCMP Research and enjoy a 20% discount (original price US$400). This 60-page all new intelligence report gives you first-hand insights and analysis into the latest industry developments and intelligence about China AI. Get exclusive access to our webinars for continuous learning, and interact with China AI executives in live Q&A. Offer valid until 31 March 2020.