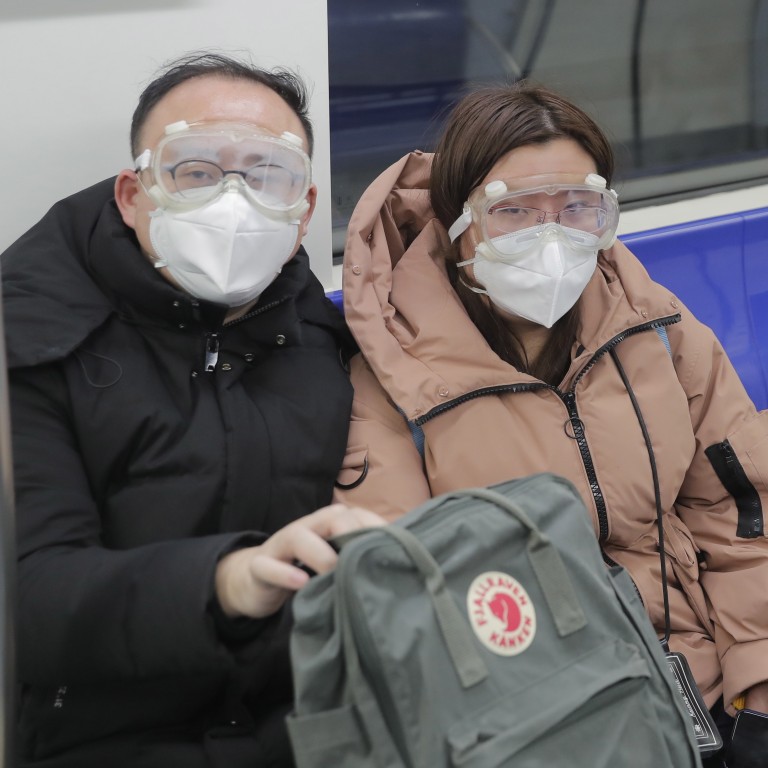 Fear is also infectious: how coronavirus outbreak is unsettling a nation
Deadly epidemic has people across the country heading for the safety of the countryside, or stockpiling supplies and battening down the hatches
And a report of a train passenger with an upset stomach is enough to almost derail one woman on her way home for the holidays
Before packing up her car on Friday, 33-year-old Beijing resident Mo Ying sent a message to some friends on social media. It read: "I'm going into seclusion in the mountains."
Since the start of the
coronavirus epidemic
, Mo's husband has been closely monitoring the news for the latest updates.
As more and more people became infected and the death toll rose, he decided it was time for the family – himself, Mo and their three-year-old son – to get away from the crowds.
So they packed up and drove to rural Huairou district, where they planned to spend the Lunar New Year holiday in a small flat they have there.
Mo said that in each village they passed through they saw notices in front of every building, alerting people of the epidemic.
But once away from the crowds, she said she felt much happier.
"It was so safe, we wouldn't return to the city if I didn't have to work on Sunday," she said.
In less than a month China has been overwhelmed by an outbreak of a previously unknown
Sars-like coronavirus
that as of Sunday afternoon had infected more than 2,070 people and killed 56.
Just a week ago, the government of Wuhan – the city at the centre of the crisis – described the new virus as "preventable and controllable". The city of 11 million people, like many others in Hubei, is now in total lockdown.
Hospitals across the province are full of suspected patients and doctors are being pushed to their limits.
Outside the main
danger area
, people in other parts of China are closely monitoring events while doing their best to get on with their lives as normal.
For one man in Guangzhou, the capital of south China's Guangdong province, that means stocking up on necessities.
"Lots of migrant workers will come back to Guangdong after the new year, and no one knows what will happen," said the man, who asked not to be named.
In the meantime, he said he and his wife were stocking up on essentials like milk, eggs, flour, dried vegetables and sugar, as well as medicines to fight fever and anti-inflammatory drugs.
The bank worker said he had also bought extra disinfectant, biscuits, 10 litres (17 pints) of drinking water, chocolate and tissues. He said he also made sure his car was topped up with petrol every day.
"Maybe you think I'm crazy and worry too much, but I just think it's a must," he said. "It only costs a few hundred yuan but will help ease my mind."
People are understandably worried about the epidemic, and are being told to keep away from crowds. But for one woman from east China's Jiangxi province, a few too many news reports led to an unnecessary panic on a train.
Viola Zeng said she was riding the high-speed train home to Jiujiang from the southern city of Shenzhen on Friday when the conductor made a public appeal for a doctor. The message was that someone had "fallen ill", she said.
Zeng said she immediately tensed up and put on her face mask. She had heard the passenger was alone in a compartment but still she worried.
"All the air vents in the compartments are connected," she said.
It was not until she was almost home that she learned that the passenger was suffering from nothing more serious than a stomachache.
It was a false alarm, but Zeng said that since arriving home she and her family had remained safe indoors – except for a few minutes on Saturday evening when she went for a short run.
Shops in Jiujiang had run out of face masks and rubbing alcohol, she said.
Other people fear the outbreak will get worse when people travel back to where they work after the holidays.
Xiaotie, who runs an LGBT centre in Beijing, said people should be allowed to stay at home until February 18 to prevent cross infections.
She is leading a group of volunteers to draw up proposals supporting the idea that they plan to share on social media and send to the State Council, China's cabinet.
"We plan to mobilise 100,000 people to leave comments for the government by noon on Monday, to extend the holiday and reduce infections," she said. "The disease is spreading too fast."
Purchase the China AI Report 2020
brought to you by SCMP Research and enjoy a 20% discount (original price US$400). This 60-page all new intelligence report gives you first-hand insights and analysis into the latest industry developments and intelligence about China AI. Get exclusive access to our webinars for continuous learning, and interact with China AI executives in live Q&A. Offer valid until 31 March 2020.
This article appeared in the South China Morning Post print edition as: Fear is also contagious, even away from danger zone