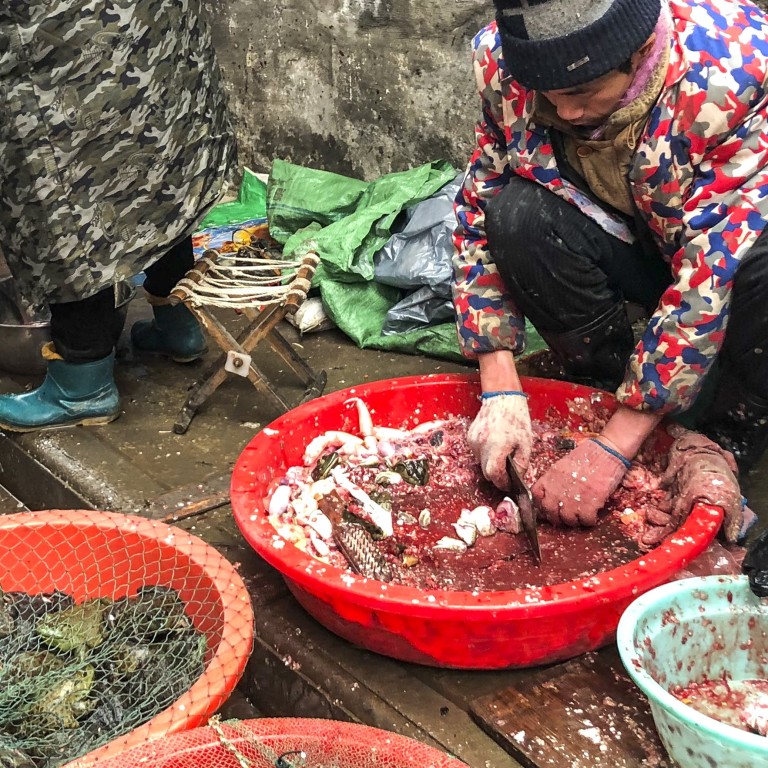 China bans wildlife trade as Wuhan coronavirus spreads, death toll climbs
Order goes into effect immediately and will be strictly enforced, government agencies warn
But temporary restrictions will not solve the underlying problem, animal rights activist says
Health authorities have linked exotic animals sold at a seafood market in the central city of Wuhan to the new coronavirus, which has killed 80 people and infected more than 2,500 others within China, and spread around the world.
The ban goes into effect immediately and will continue until the end of the "national epidemic".
In addition, wildlife breeding centres will be quarantined, regulations strictly enforced, and the public warned not to eat wild game products, according to the orders backed by three government agencies.
"Consumers should fully understand the health risks of eating wild animals, avoid 'game meat', and eat healthily," the agencies – the State Administration for Market Regulation, the Ministry of Agriculture and Rural Affairs, and National Forestry and Grassland Administration – said in a statement on Sunday.
The move follows a call from 19 leading scientists for the "elimination of the consumption and trade of wild animals", published on the Twitter-like platform Weibo on Friday.
The group said various emerging infectious diseases had been linked to animals in recent years, including severe acute respiratory syndrome (Sars), H7N9 bird flu, and Middle East respiratory syndrome.
"Controlling or even eliminating wild animal food and its related trade is not only necessary for ecological protection, but also of great significance in controlling risks to public health," the group said, adding that the risk of disease transmission grew with increased contact between wild animals and humans.
Links between game meat or the handling of wildlife and the Wuhan coronavirus have been suspected since the early days of the outbreak, when many of the initial patients with pneumonia-like symptoms were found to have worked or lived near the city's Huanan Wholesale Seafood Market.
The market, which reportedly sold exotic game meats in addition to seafood, was closed on January 1.
The link between the virus and wild animals sold at a seafood market was confirmed on Wednesday by Gao Fu, director general of the Chinese Centre for Disease Control and Prevention.
The outbreak has similarities with Sars in 2002-03, which was linked to civets sold at a wet market in Guangdong province near Hong Kong.
Studies indicate that the Wuhan and Sars viruses share a common ancestor – a betacoronavirus found in bats. However, that virus could not be transmitted to humans without an intermediary.
Researchers are still trying to work out which animal is responsible for the spread of the Wuhan coronavirus.
Last week, a study released by a group of Chinese scientists suggested that the virus might have made its first jump to a human
from a snake
, which, if correct, would be the first time a reptile was the host for this kind of pathogen.
While the wildlife ban aims to minimise further infections from animal hosts, enforcing existing licensing rules related to wildlife has long proved a challenge, according to Liu Yidan, a volunteer for animal rights group Let Migratory Birds Fly.
Liu said it had been hard to tell and monitor whether shops selling exotic animals purportedly bred under licence had been trapped.
"Last year we reported about a farm in Huangshan, Anhui province, where we saw hundreds of civet cats ... Many of their legs were broken by traps and they were kept in cages," she said.
The farm owner had a licence to rear the species, which was linked to the Sars outbreak, and insisted the operations were legal.
But the main concern was what would happen if officials reinstated the wildlife trade after the outbreak was over, leaving the door open for another disease, she said.
"If they only ban sales temporarily, it does not solve the issue for good," Liu said.
Additional reporting by Phoebe Zhang
Purchase the China AI Report 2020
brought to you by SCMP Research and enjoy a 20% discount (original price US$400). This 60-page all new intelligence report gives you first-hand insights and analysis into the latest industry developments and intelligence about China AI. Get exclusive access to our webinars for continuous learning, and interact with China AI executives in live Q&A. Offer valid until 31 March 2020.