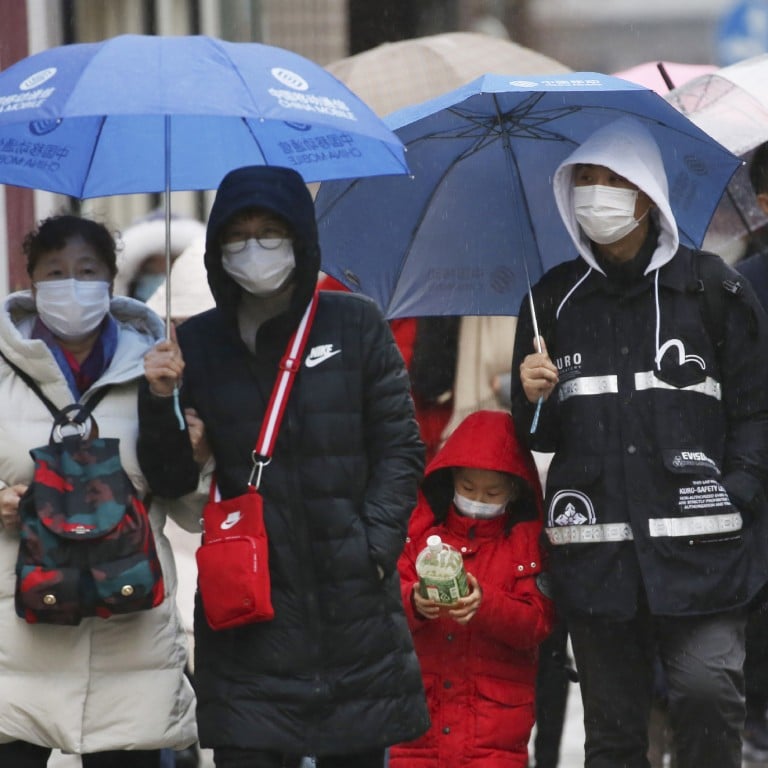 China coronavirus: first health chief sacked as death toll climbs to 170
Communist Party authorities in Huanggang near the heart of the outbreak say health commission director dismissed
Russia announces closure of border with China while US says it will organise more flights out of Wuhan for American citizens
The number of known
coronavirus
cases jumped by 1,737 to 7,771 in China on Thursday morning including the first confirmed case in Tibet, according to health authorities, raising the global total to almost 8,000 – and nearing the total infections worldwide in the Sars outbreak of 2002-03.
The epidemic's death toll also continued to rise sharply, by 38 since Wednesday, taking the total to 170, all in China, as of Thursday morning. The coronavirus is believed to have originated last month in a market that sold
wild animals
in Wuhan, the capital city of Hubei province, in central China.
The first suspected case in Tibet has been confirmed, meaning the virus has spread to all of mainland China's 31 provinces, municipalities and autonomous regions. Of the 38 new deaths, 37 were in Hubei and one in Sichuan province in the southwest.
Huanggang health chief dismissed
Tang Zhihong, the head of the health commission of the central Chinese city of Huanggang, was sacked on Thursday night, according to the city's Communist Party committee.
The announcement came after state broadcaster CCTV aired footage of Tang unable to answer key questions such as the number of available hospital beds or the city's capacity to test for the coronavirus.
Huanggang, near the Hubei provincial capital of Wuhan, has 324 confirmed cases of the illness, as of Thursday – second only to Wuhan.
On Thursday night, Hubei officials acknowledged there was a dire lack of protective equipment such as masks at Wuhan hospitals.
It came after staff from at least one hospital, Wuhan Xiehe Hospital, posted an urgent appeal on social media for donations.
"Our hearts ache over the lack of protective equipment for medical workers. We accept criticism of our work and will try to do better," deputy Hubei governor Cao Guangjing said.
Cao also said that several medical equipment factories in the province had returned to full production and more were expected to do so as well.
Russia closes border with China
Russia will close its border with China to prevent the spread of the outbreak, news channel RT reported on Thursday.
Russian Prime Minister Mikhail Mishustin signed an order for the border closure after President Vladimir Putin urged officials to stop the illness's spread.
Russia will also temporarily stop issuing electronic visas for Chinese nationals.
"We will inform everyone about the border closures in the Far East as well as other measures taken by the [Russian] government," Mishustin was quoted as saying.
Flights for US and Australian citizens
The US State Department will put on more flights from around Monday for US citizens wanting to leave Wuhan, according to a notice sent to American citizens in China.
It follows a flight arranged for non-emergency personnel and family members of US government employees in the city on January 29. The upcoming flights would be for private citizens and on a "reimbursable basis", the notice said.
The Australian government is also in talks with Beijing to evacuate Australian citizens in Hubei province. A plane from Australia was expected to arrive within days, the Sydney Morning Herald reported on Thursday.
Australian nationals would have to pay up to A$1,000 (US$673) for a seat on the plane and would be quarantined for up to 14 days on Christmas Island, around 1500km (930 miles) from the Australian mainland, the report said.
Meanwhile, Australia reported its eighth coronavirus case on Thursday, the Queensland government said. A 42-year-old Chinese national from Wuhan tested positive for the virus and was isolated in Gold Coast University Hospital, Queensland Health said.
The woman, who was in a stable condition, was in the same tour group as another confirmed Queensland case.
First human-to-human transmission case for South Korea
South Korea reported two new coronavirus cases – including its first of human-to-human transmission – on Thursday, bringing the country's total to six, according to Yonhap News Agency. A 32-year-old South Korean man recently returned from Wuhan while the other, a 56-year-old Korean national, was the country's first to contract the virus through contact with another person, the report said.
The 56-year-old man had been in contact with South Korea's third confirmed patient, according to the report.
First cases for India and Philippines
And a 38-year-old Chinese national who travelled to the Philippines was confirmed to be the country's first positive coronavirus case. The woman was one of 29 people monitored by the Department of Health. She was no longer showing symptoms, according to Health Secretary Francisco Duque.
Taiwan 'kept waiting'
Taiwan's Mainland Affairs Council and Straits Exchange Foundation have requested that Taiwanese people trapped in Wuhan be allowed to return home on charter flights, but Beijing has yet to give any response, Central News Agency reported on Thursday.
Several hundred Taiwanese have been stranded in Wuhan since a transport lockdown was imposed on the city a week ago, affecting air, rail, road and boat travel.
United States Senator Marco Rubio was quoted as saying that refusing Taiwan's requests to evacuate its citizens was "outrageous".
Wuhan residents to fly home
China's aviation authority has approved charter flights home to Wuhan for residents of the city who are abroad, state broadcaster CCTV said on Thursday.
Residents who left before the lockdown have been stranded overseas because of flight cancellations. Some travellers from Wuhan who were in Singapore, Japan and Myanmar have started to return home, the report said.
The aviation authority requested that airlines allow passengers from Wuhan who pass health checks to board flights.
Infected expert recovers
Wang Guangfa, a leading respiratory expert who was infected with the coronavirus after visiting Wuhan, has recovered and was discharged from hospital on Thursday, agency China News reported.
The case had attracted attention after Wang told media that infections from the virus were preventable and under control.
He has said the virus was probably
contracted through his eyes
, given that he wore a full protective suit and face mask, but not goggles, when he came into contact with patients. He confirmed a week ago via social media that he had contracted the virus.
Pets at risk?
A Chinese expert has warned pet owners that the coronavirus can also be transmitted from mammal to mammal.
In an interview with CCTV on Wednesday night, Li Lanjuan, a member of the national expert group dealing with the outbreak, said: "If the [mammal] pets are exposed to the virus or have contact with patients, the owners will need to monitor their pets.
"This virus can be transmitted from mammal to mammal, so we need to take precautions against [all] mammals."
The World Health Organisation (WHO) had on Wednesday advised that there was no evidence that pets such as dogs and cats could be infected with the virus.
US-China cooperation
United States President Donald Trump said his country would monitor the ongoing developments and was working closely with China. "We have the best experts anywhere in the world, and they are on top of it 24/7!" he said in a tweet.
On Wednesday, following a meeting at the White House about the outbreak, the Trump administration announced it had set up a coronavirus task force.
Led by Secretary of Health and Human Services Alex Azar, and comprising the country's top infectious diseases experts and officials from government agencies, the group has been meeting daily since Monday.
"The task force will lead the administration's efforts to monitor, contain and mitigate the spread of the virus, while ensuring that the American people have the most accurate and up-to-date health and travel information," a White House statement said.
China's top diplomat Yang Jiechi, a Communist Party Politburo member, had a telephone conversation with US Secretary of State Mike Pompeo on Wednesday.
"China has established an interdepartmental mechanism to contain the virus, taking decisive and effective steps in Wuhan and other places across the nation to fully curb the spread of the virus," Yang was quoted as saying by the Chinese Foreign Ministry. "China has the confidence and ability to win the battle against the virus."
The 2002-03 outbreak of severe acute respiratory syndrome (Sars) infected just over 8,000 people worldwide and killed almost 800, after originating in China.
Cases of the new coronavirus have migrated beyond mainland China's borders to
Hong Kong
, Macau, Taiwan,
the US
,
Japan
, South Korea and several other countries since the Chinese government first reported the virus at the end of December.
The virus can be transmitted from person to person. In one case reported on Wednesday, a
German
man who lives near Munich contracted the coronavirus from a colleague from Shanghai who was visiting his workplace; it is believed to be the first case of such transmission in Europe. Person-to-person transmission cases have also been reported in
Japan
,
Vietnam
and Taiwan.
'Complicated and grave'
A Chinese Communist Party leading group on the coronavirus prevention effort, chaired by
Premier Li Keqiang
, on Wednesday called the situation "complicated and grave". Health authorities said that in addition to those cases already confirmed, there were more than 9,000 suspected cases nationwide.
According to state media, the group recommended that after the Lunar New Year holiday, which ends on Sunday, local government agencies should let employees from cities with a high number of confirmed cases work from home.
The group also said that measures should be taken to push manufacturers of medical supplies in short supply, such as face masks and goggles, to resume production as quickly as possible.
The Chinese Ministry of Finance said that as of 5pm on Wednesday, 27.3 billion yuan (US$3.9 billion) had been allocated for coronavirus prevention and control.
The Communist Party said 108 million yuan from membership fees paid to the party would be allocated to local governments for the fight against the coronavirus, party newspaper People's Daily reported.
The funds would support frontline medical staff and party members, paying for medical supplies and relieving financial difficulties of party members and the public caused by the outbreak, the report said.
Ikea closures
Starting from Thursday, Ikea closed all of its 33 stores in mainland China, citing the coronavirus.
The company said in a statement on Chinese social media network Weibo: "Ikea is closely following the development of the novel coronavirus outbreak. The health and safety of customers and staff remains our highest priority."
The Swedish furnishings giant, which employs about 14,000 people in China, had already closed its store in Wuhan from Sunday.
Purchase the China AI Report 2020
brought to you by SCMP Research and enjoy a 20% discount (original price US$400). This 60-page all new intelligence report gives you first-hand insights and analysis into the latest industry developments and intelligence about China AI. Get exclusive access to our webinars for continuous learning, and interact with China AI executives in live Q&A. Offer valid until 31 March 2020.