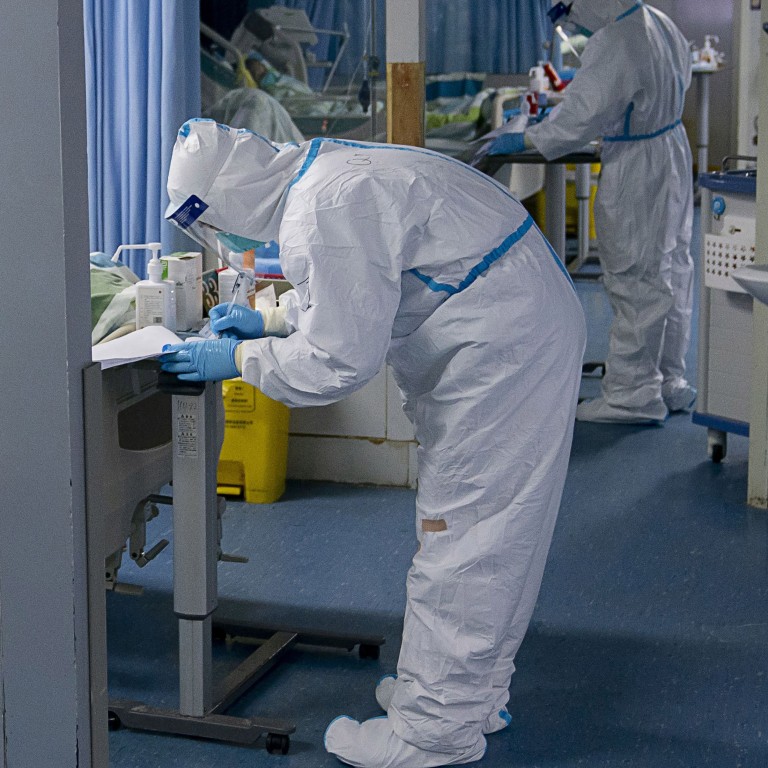 Men may be more prone to coronavirus than women, Chinese study finds
Researchers also say early diagnosis is important, as illness can lead to complications and organ failure
They studied the cases of nearly 100 patients treated at a hospital in Wuhan, where the outbreak started
The study – published in The Lancet on Wednesday – was carried out by a team of doctors at Wuhan's Jinyintan Hospital, which has handled a number of coronavirus patients, along with researchers from Shanghai Jiao Tong University and Ruijin Hospital in Shanghai.
The finding was in line with earlier observations that men with underlying health problems were more prone to the virus, but the latest study was based on a bigger sample size.
It also warned that early identification and treatment of the pneumonia-like illness was important, since many patients went on to suffer complications and organ failure.
The virus has killed 170 people and sickened more than 7,800 in China so far, with dozens more cases confirmed elsewhere, including in the United States, Japan, Thailand and Germany.
The researchers based the study on 99 patients – 67 men and 32 women – admitted to the Wuhan hospital from January 1 to 20. It found that almost half of them were infected in clusters, though Chinese health authorities only confirmed that cases were being transmitted between humans on January 21.
"We observed a greater number of men than women in the 99 cases of 2019-nCoV infection. Mers-CoV and Sars-CoV have also been found to infect more males than females," the study said, referring to Middle East respiratory syndrome and severe acute respiratory syndrome, which are also coronaviruses.
"The reduced susceptibility of females to viral infections could be attributed to the protection from X chromosome and sex hormones, which play an important role in innate and adaptive immunity," it said.
Half of the patients also had other chronic diseases such as heart problems or diabetes, the researchers said.
They said the mortality rate of the 99 cases was 11 per cent. That compares to an earlier study by doctors from the same hospital and other Chinese scientists based on 41 patients, which put the mortality rate at 15 per cent.
The latest study found that 49 per cent of the patients were infected in clusters and were exposed to the Huanan Wholesale Seafood Market, which is believed to be the source of the outbreak. Most of them were vendors and cleaners at the market, and two were shoppers. But the study did not identify how the other patients were infected.
One-third of the patients in the study developed complications and organ failure. Some 17 per cent developed acute respiratory distress syndrome, a serious lung condition, while 8 per cent experienced an acute lung injury and 3 per cent had kidney failure or damage.
Based on these findings, the researchers said early diagnosis and treatment of the coronavirus was crucial.
They said more cases needed to be studied to provide a more complete picture of the disease, as it did not include undiagnosed patients. The
South China Morning Post
has reported that many patients with flu and respiratory symptoms
had been turned away by hospitals in Wuhan
because of a shortage of beds.
A separate study of nine coronavirus patients published in The Lancet on Wednesday found that one of them had not been to the seafood market at all, but had stayed in a hotel nearby from December 23 to 27. The others all worked at the market. It did not say whether that indicated a community outbreak had already begun at that time.
The study was carried out by a team of Chinese scientists, most from China's Centre for Disease Control and Prevention.
They found that the nine samples were almost identical – meaning the coronavirus strain had only recently emerged, since this type of virus mutates over time. They said the coronavirus was more similar to a strain found in bats in Zhoushan, Zhejiang province than to Sars and Mers. But it was still not known how it was spread between bats and humans.
"It is therefore striking that the sequences of 2019-nCoV from different patients described here were almost identical, with greater than 99.9 per cent sequence identity," the study said.
"This finding suggests that 2019-nCoV originated from one source within a very short period and was detected relatively rapidly."
Purchase the China AI Report 2020
brought to you by SCMP Research and enjoy a 20% discount (original price US$400). This 60-page all new intelligence report gives you first-hand insights and analysis into the latest industry developments and intelligence about China AI. Get exclusive access to our webinars for continuous learning, and interact with China AI executives in live Q&A. Offer valid until 31 March 2020.
This article appeared in the South China Morning Post print edition as: Men 'are more at risk'