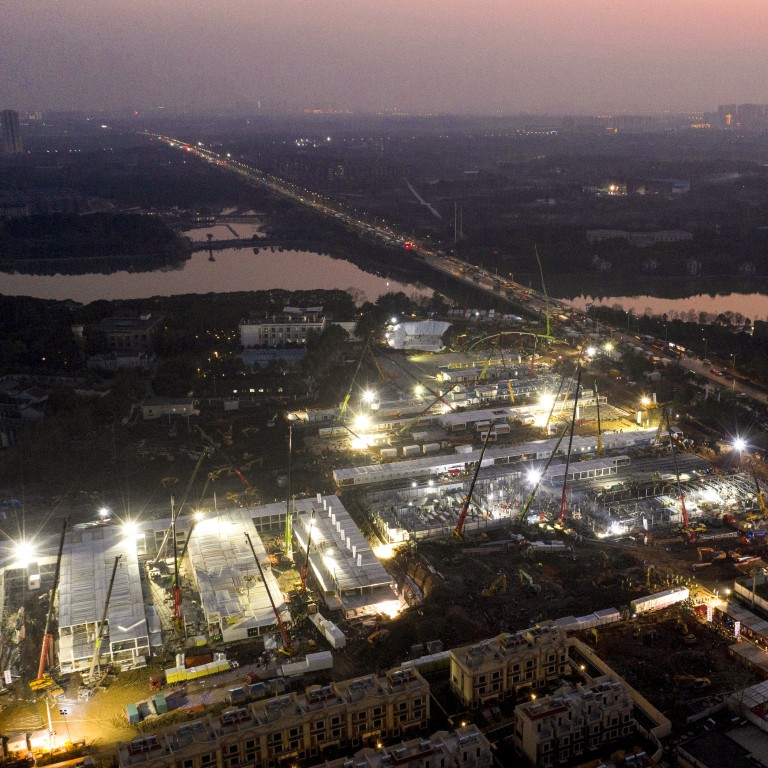 China's race to build temporary hospitals to fight coronavirus 'too little too late'
Three makeshift facilities are under construction in Hubei, the epicentre of the outbreak
But academic says they may be substandard, and specialist treatment centres should already be in place
As the number of new
coronavirus cases
continues to jump every day, one measure to cope with the outbreak in the province where it started – building three makeshift hospitals – has been criticised as "too little too late".
Hundreds of workers were mobilised last week to build the facilities, which are modelled on the Xiaotangshan hospital built in Beijing in 2003 to treat severe acute respiratory syndrome (Sars) patients.
The temporary hospitals – two in the outbreak epicentre of Wuhan and one in Ezhou, both of which are in Hubei province – are part of efforts to contain the pneumonia-like illness and will provide
much-needed hospital beds
, where patients can be treated in isolation.
They were expected to be completed in a week to 10 days and live streams from the construction sites in Wuhan have
drawn millions of viewers
. Other measures include imposing a lockdown on more than a dozen Hubei cities, including Wuhan.
The virus has killed 213 people and sickened more than 9,800 in China so far, with dozens more cases confirmed elsewhere. The World Health Organisation has declared it a global public health emergency.
Chan Wai-keung, a lecturer in social sciences at Hong Kong Polytechnic University, said the makeshift facilities in Hubei were not enough.
"Building the Xiaotangshan hospitals now is too little too late," Chan said. "But it is better than none."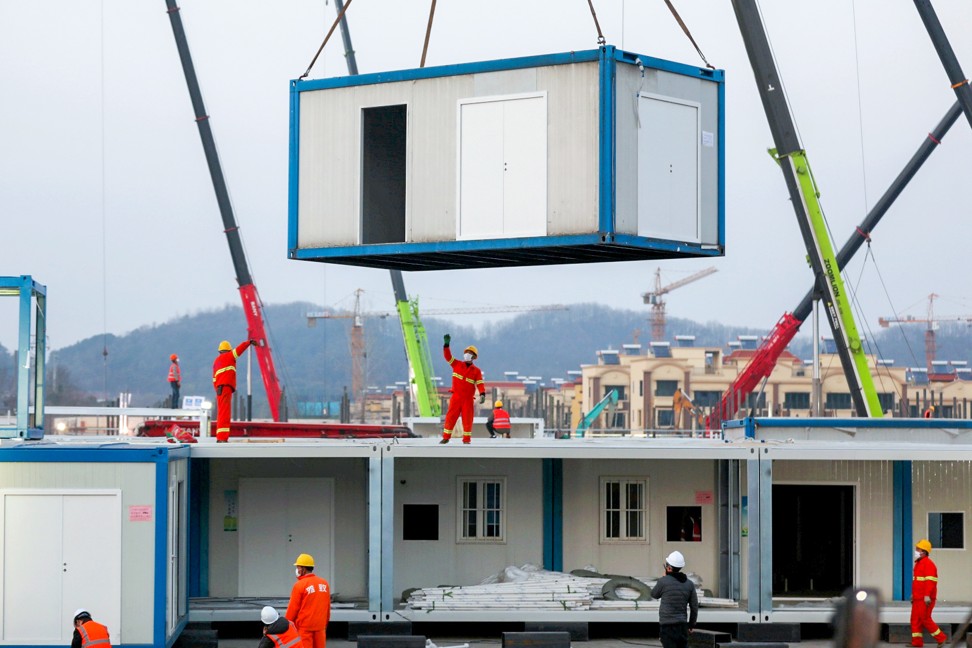 He said hospitals specialising in infectious diseases should be built in various locations around China so that they are in place before outbreaks happen and can be put into use immediately to treat patients and contain the spread of a virus.
Chan said there were also concerns that the fit-out and equipment at the temporary hospitals could be substandard given the speed at which they were being built.
The two new facilities in Wuhan will provide another 2,300 beds and are expected to be ready next week. They have been given names derived from feng shui that aim to show a determination to fight the outbreak – Huoshenshan, meaning "Mountain of the God of Fire", and Leishenshan, meaning "Mountain of the God of Thunder", according to state-run Global Times.
In Ezhou, the temporary hospital is expected to be completed in 10 days and will add 600 beds, according to the Hubei government.
But the growing number of confirmed and suspected coronavirus cases will stretch both the existing and new hospital capacity to the limit.
As of Friday, Hubei province had 5,806 confirmed cases, up by 1,220 from the previous day. There were 32,340 people under medical observation, according to the Hubei health commission.
The number of new cases in the province went up by an average 846 cases every day between January 25 and 30. For Wuhan, the average daily increase was 344 cases in that period.
The health commission on Thursday said around 11,000 hospital beds had been made available for patients in isolation around the province and more would be added as needed.
As with the Xiaotangshan hospital in Beijing during Sars, the two facilities in Wuhan will be managed by the military.
Despite the scepticism over the rapidly built hospitals, a source familiar with the People's Liberation Army medical team deployment said they would be run to a high standard.
She said most of the medics from the Central Military Hospital had been deployed to Hubei, and some had been sent to Xiaotangshan in Beijing. The Sars-era facility is to be refitted and put into use again.
The military-run hospitals would have sufficient supplies, such as protective gear for medical workers, and the infectious disease doctors staffing them were well trained to prevent cross-infections, according to the source.
"The military medics have sworn to dedicate themselves to treat the injured and heal the sick, and battle on in the face of hardship and death," the source said.
Zhang Yanling, former president of the Xiaotangshan hospital in Beijing, arrived in Wuhan on Saturday to provide guidance as the two new facilities in the city were being built.
State broadcaster CCTV reported that 99 per cent of the patients admitted to the Beijing facility during the Sars outbreak recovered, and none of the more than 1,300 medical staff were infected.
Similar facilities are also under construction in Heilongjiang and Henan provinces.
Guangdong was preparing to potentially build temporary hospitals in Guangzhou, Shenzhen, Zhuhai and other cities, the province's health commission said on Friday.
Purchase the China AI Report 2020
brought to you by SCMP Research and enjoy a 20% discount (original price US$400). This 60-page all new intelligence report gives you first-hand insights and analysis into the latest industry developments and intelligence about China AI. Get exclusive access to our webinars for continuous learning, and interact with China AI executives in live Q&A. Offer valid until 31 March 2020.