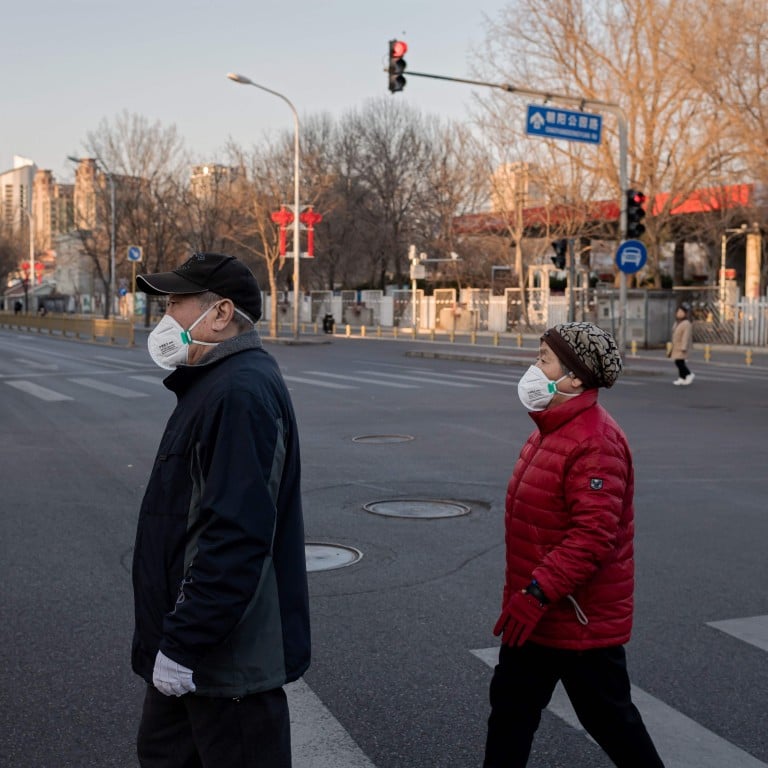 China starts clinical trials for new antiviral drug to treat coronavirus
Remdesivir, developed by Gilead Sciences, was last week given to US patient whose condition appeared to improve within a day
Tests are being carried out at multiple hospitals in Wuhan, ground zero of the outbreak
China has begun clinical trials to test a drug for the
deadly new coronavirus
, which has no cure and is being treated with a combination of antivirals and other measures, as scientists race to find a vaccine.
The experimental antiviral drug, Remdesivir, developed by US-based Gilead Sciences, is aimed at infectious diseases such Ebola and Sars. It was
given to the first US patient
last week – a 35-year-old man whose condition appeared to improve within a day.
China's National Health Commission on Monday said the drug trials were being carried out at multiple hospitals in the central city of Wuhan, the epicentre of the outbreak that has killed more than 360 people since December. Some 270 patients will take part in the study, Thepaper.cn reported.
The World Health Organisation also said it was working with partners to speed up drug research and development to treat the pneumonia-like illness. It said although antibiotics did not work on viruses, only bacterial infections, patients may also be given antibiotics to fight co-infections.
Chinese epidemiologist Zhong Nanshan, a pivotal figure in the country's fight against the Sars epidemic in 2002-03, on Sunday said although there was no vaccine or cure for the disease, some of the treatments had been effective.
"We have developed an effective treatment plan based on our experience of dealing with Sars, by employing various life support methods to [achieve] a higher rate of recovery," Zhong told official news agency Xinhua.
Severe acute respiratory syndrome, which is also a coronavirus, killed 813 people and infected more than 8,000 worldwide, according to the WHO.
The NHC last week released its fourth version of a treatment plan for the new coronavirus, to guide medical staff in hospitals across the country. It calls for the use of antiviral drugs usually used to treat HIV, such as lopinavir and ritonavir. For more severe cases, hospitals are advised to try to prevent complications and provide organ, respiratory and circulatory system support.
A respiratory specialist in Nanjing who only gave her surname, Dai, said the treatment recommended in the NHC plan for Chinese hospitals mainly provided support for a patient's body to fight the virus.
"There's no cure yet for this specific virus, just like [there isn't one] for common viral colds," she said.
The antiviral medicines being used have not yet proven to be completely effective, and other measures in the plan are mostly for life support, such as using an oxygen mask and extracorporeal membrane oxygenation (ECMO) – an artificial heart-and-lung treatment.
As of Monday, a total of 477 patients in the Chinese mainland had recovered and been discharged from hospital, while the total confirmed cases there rose to 17,205, with more than 180 cases in over a dozen other places.
Medical professionals have repeatedly stressed that prevention measures are the key to containing the spread of the virus, which the WHO has declared a global public health emergency.
Zhong told Xinhua that government measures taken so far had proven effective, including extending the Lunar New Year holiday, transport restrictions and temperature checks in public places.
Beijing has taken the unprecedented step of locking down more than a dozen cities in Hubei province, including the virus epicentre Wuhan, affecting some 60 million people.
"These measures effectively blocked infections and reduced second and third generation infections," Zhong said. "We believe the spread will peak in the next 10 days to two weeks, but we still need to strengthen prevention and control and we cannot let our guard down."
This article appeared in the South China Morning Post print edition as: trials begin on drug developed for ebola