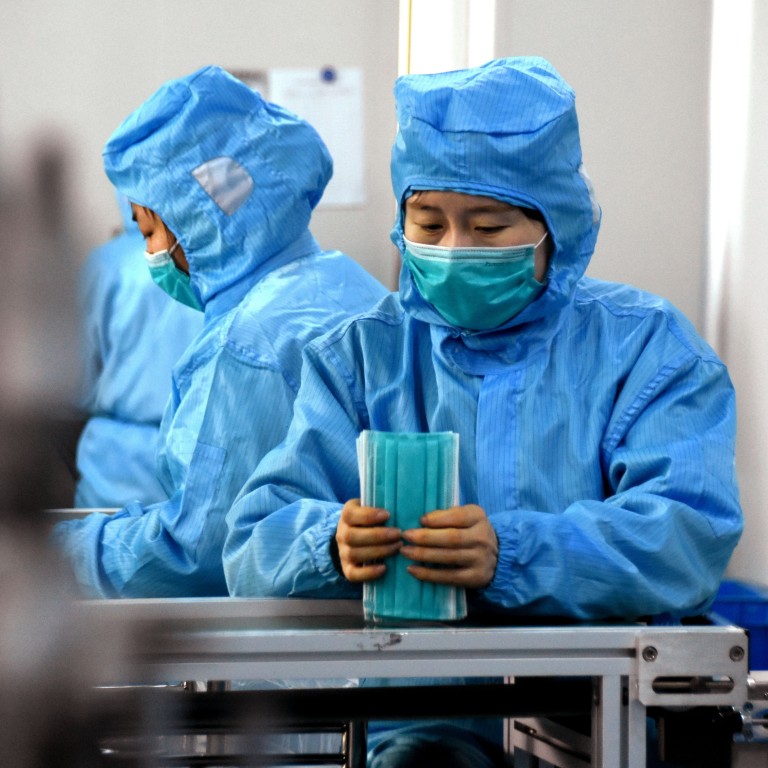 Coronavirus: infant tests positive just 30 hours after birth
Child in stable condition as case raises concern of transmission in the womb
'Dormant' patients can transmit virus and mild cases should be quarantined, Chinese health authorities say
This is a rolling story. See the heading below for the latest update.
Daily deaths caused by the new
coronavirus
have reached yet another record high in China, with 65 fatalities – all in Hubei province – confirmed in overnight figures released by health authorities. The newly reported fatalities took the death toll in mainland China to 490.
According to data released on Wednesday morning by China's National Health Commission (NHC), confirmed cases around the country rose by 3,887 – also a daily record high – to 24,324, the majority of which were in Hubei, the epicentre of the outbreak.
Cases of the novel coronavirus in Hubei rose by 3,156 to 16,678, according to provincial figures as of midnight on Tuesday. Almost 2,000 of those new cases were confirmed in Hubei's capital of Wuhan, where the virus is believed to have originated at a seafood and meat market.
Newborn tests positive
An infant in Wuhan has reportedly tested positive for the coronavirus just 30 hours after birth, raising concerns that the infection could be contracted in the womb.
Citing sources from the city's children's hospital, state broadcaster CCTV reported that two infants were infected with the virus, the youngest just 30 hours old.
"The mother of the newborn was a confirmed patient of the coronavirus. At present, the infant's vital signs are stable," the report said.
Zeng Lingkong, a senior physician at the hospital's neonatal department, said the case was a signal that "we should be concerned about the possible new transmission route of the coronavirus".
Zeng said pregnant women should stay away from infected patients.
The Wuhan Children's Hospital had set aside an area to treat pregnant women with suspected symptoms, the report said.
Asymptomatic transmitters
Chinese health authorities have identified a number of patients who have become carriers and transmitters of the coronavirus despite showing no outward symptoms of the disease.
Li Xingwang, chief infectious diseases expert at Beijing Ditan Hospital, said most of the "dormant" carriers were related to and had caught the virus from patients with symptoms.
"These [carriers] have the virus and can transmit it. The amount of virus correlates to the severity of the illness, which means these patients carry less of the virus and their ability to transmit disease is weaker," Li said.
In new treatment and diagnosis guidelines released on Wednesday, the National Health Commission said people with milder symptoms, such as fever, fatigue, a cough but no lung infection, should be quarantined and treated to curb further infections.
The guidelines also said airborne and digestive tract infections were other possible modes of transmission after traces of the coronavirus were found in patients' faeces.
Li said the two modes were still only possible routes and further investigation was needed to confirm them.
Cambodia's leader visits
Cambodian Prime Minister Hun Sen will meet Chinese President Xi Jinping and Premier Li Keqiang in Beijing on Wednesday, becoming the first foreign leader to visit since the introduction of emergency measures to try to contain the rapidly spreading coronavirus.
Chinese Foreign Ministry spokeswoman Hua Chunying has confirmed Hun Sen's trip to the capital following confusion over where he would travel to after visiting South Korea.
On Tuesday, Hun Sen said he wanted to visit the 27 Cambodian students stranded in Wuhan, but China said going to Wuhan would not be appropriate and offered to host him in Beijing instead.
"We fully understand the concerns of Prime Minister Hun Sen about the students," Hua said in a statement. "However, as efforts to curb the outbreak go into full force in Wuhan, and in such a short period of time, it is not convenient to arrange to go to Wuhan. China pays high regard to the safety and health of Cambodian students."
Hun Sen has been criticised by domestic media for not evacuating Cambodian citizens from Wuhan, and last week urged people to remain calm. He also threatened that reporters or officials seen wearing a face mask would be kicked out of Phnom Penh, Cambodia's capital.
"The prime minister does not wear a mask, so why should you be wearing a mask here?" he said in a televised address.
There is one confirmed coronavirus case in Cambodia.
Drug patent application
China has applied for a new patent on an experimental drug to treat the coronavirus.
Wuhan Institute of Virology said in an online notice that a patent application had been filed on January 21 for the use of remdesivir, a drug developed by biopharmaceutical company Gilead Sciences. The drug has not been approved or licensed anywhere in the world, but has been rushed into trials in China after showing signs of effective use on coronavirus patients.
Chinese scientists have found remdesivir – and chloroquine, an 80-year-old malaria drug – "highly effective" in laboratory studies aimed at thwarting the coronavirus, they said in a paper published on Tuesday in the journal Cell Research.
The two drugs' effect on humans required further clinical tests, the Wuhan institute said in the online notice. It made the patent application in the national interest and would not exercise its patent rights if foreign pharmaceutical firms worked with China to curb the contagion, it said.
New Taiwan restrictions
Taiwan will bar mainland Chinese nationals from entering the island from Thursday until further notice, the Taiwan Centres for Disease Control announced on Wednesday.
Health Minister Chen Shih-chung said Taiwanese who had travelled to the mainland, Hong Kong or Macau would be quarantined at home for 14 days immediately after returning to the island.
Taiwan has 11 confirmed cases of the illness, including a 50-year-old Taiwanese businessman who returned from Wuhan with 246 others on a charter flight on Monday night.
According to the Taiwan CDC, one of the 11 patients is recovering and expected to be discharged this week.
Wuhan ups testing
Capacity to diagnose the coronavirus has been boosted in Wuhan, according to mainland media. Hubei Daily reported on Wednesday that 31 institutions in Wuhan were equipped to carry out testing, and that their capacity had been increased from 200 tests a day to 4,000.
Tongji Hospital could now perform 1,000 tests a day, and had 27 staff – up from 12 – who were able to conduct them in a 24-hour operation, the report stated. "As the demand for tests is rising, we have deployed manpower from other departments," Sun Zirong, a director of the hospital, said.
At the city's Jiangbei Hospital, it takes up to five hours to test each batch of samples.
The ability of health authorities in Wuhan to quantify the scale of the outbreak has been hampered by a short supply of testing kits, a member of the NHC's expert panel said earlier this week.
Trump 'coordinating with China'
US President Donald Trump said in his State of the Union address that the United States was working with China to fight the outbreak.
"We are coordinating with the Chinese government and working closely together on the coronavirus outbreak in China," he said, without giving details.
"My administration will take all necessary steps to safeguard our citizens from this threat," he said.
China has expressed unhappiness over the US' ban on entry for travellers who have visited China in the previous two weeks, accusing the US of overreacting and spreading fear while failing to provide any substantial help. The White House has said that China agreed to allow American health experts into the country to help, but that China did not react very enthusiastically.
UN urges support, not stigmas
The United Nations Secretary General Antonio Guterres has called for international solidarity and an end to any ill-founded discrimination over the outbreak.
At a press conference in New York on Tuesday, Guterres urged "a strong feeling of international solidarity, a strong feeling of support to China in these difficult circumstances and all the countries that might be impacted, and a strong concern to avoid the stigmatisation of people that are innocent, and victims of situation".
There have been reports of overseas Chinese and Asian people facing racist abuse since the outbreak of the coronavirus. Local media in Britain reported that a Chinese student in Sheffield was attacked for wearing a face mask on Thursday. A Chinese woman was sent to hospital for medical treatment after being hit by two foreigners in Berlin on Friday.
True numbers may be higher
The new totals of deaths and infections came amid growing concerns voiced by health experts that the true number of cases caused by the contagion, also known as 2019-nCoV, could be significantly higher, since official statistics generally reflect only acute cases in which patients have been admitted to hospital.
Over 2,500 of the patients undergoing treatment in Hubei were in either serious or critical condition, according to the latest figures.
The latest data followed predictions by a top health official that recent health care measures would cause the fatality rate in Hubei – particularly Wuhan – to fall. Those measures included increased beds for patients in critical condition and the deployment of specialist medical teams experienced in severe respiratory diseases, said Jiao Yahui, deputy director of the NHC's Medical Administration Bureau.
The overnight figures indicated a small drop in Hubei's fatality rate, falling to around 2.9 per cent from 3.1 per cent the day before. The mortality rate in the province remained significantly higher than the national rate, which stood at just over 2 per cent.
As of midnight on Tuesday, 892 people nationwide who had contracted the illness had been successfully treated and released from hospital, the NHC said. Over 185,000 people remained under medical observation.
Purchase the China AI Report 2020
brought to you by SCMP Research and enjoy a 20% discount (original price US$400). This 60-page all new intelligence report gives you first-hand insights and analysis into the latest industry developments and intelligence about China AI. Get exclusive access to our webinars for continuous learning, and interact with China AI executives in live Q&A. Offer valid until 31 March 2020.