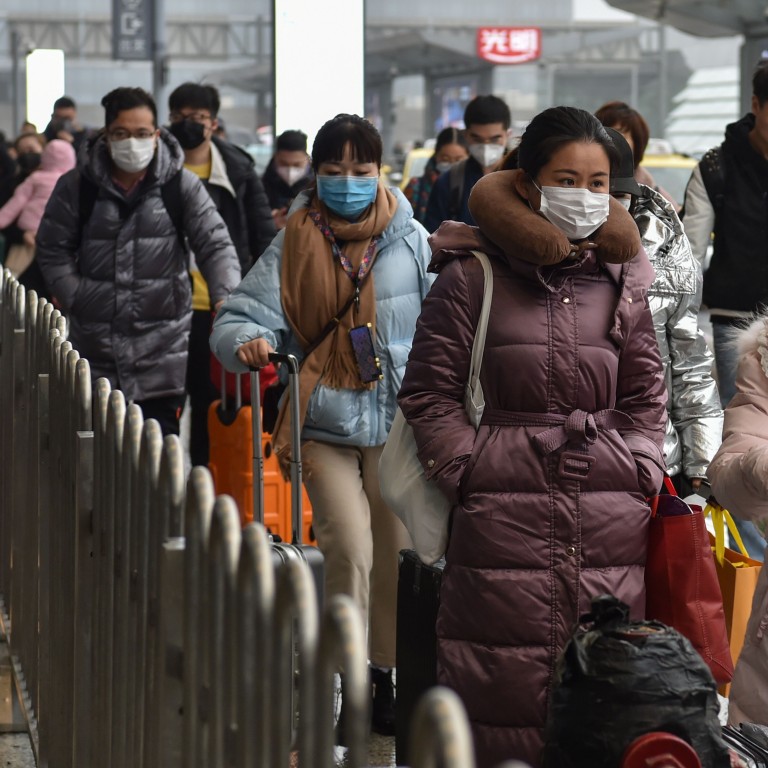 China faces dilemma as it tries to get back to work amid coronavirus outbreak fears
Economist says allowing people to return to their jobs after extended Lunar New Year holiday is crucial for both economy and fighting outbreak
But public transport numbers for the weekend indicate people might not be rushing back
China is facing a dilemma as it tries to get back to business after the extended Lunar New Year holiday amid fears that a mass movement of workers across the country will worsen the spread of
the deadly coronavirus
that has struck nearly 30,000 people.
Allowing the workforce to return to their jobs was crucial both for sustaining economic growth and providing support to fight the outbreak, according to Lu Zhengwei, chief economist at the Industrial Bank in Shanghai.
"It's obviously desirable for employers who are now paying rent, salaries and social welfare for their employees, for nothing in return," he said, adding that most small and medium enterprises in China could only last about a month in the current situation.
After the State Council, China's cabinet, issued a directive to extend the holiday until last weekend as part of measures to contain the virus outbreak, a number of provinces and municipalities – including Beijing, Shanghai, Zhejiang and Guangdong – pushed back the return to work to this Monday.
Advisory firm Oxford Economics has lowered its growth outlook for China to 5.4 per cent in 2020, compared with 6 per cent previously, according to its chief Asia economist Louis Kuijs.
Meanwhile, Tao Wang, China economist at UBS, forecast the country's first-quarter growth at 3.8 per cent, and 5.4 per cent for the whole year.
Lu, the economist with Industrial Bank, said getting people back to work soon was crucial to support efforts to contain the outbreak.
"The supply of masks, protective suits and disinfectant will all depend on having more workers getting back to work, as will the emptying shelves in supermarkets," he said.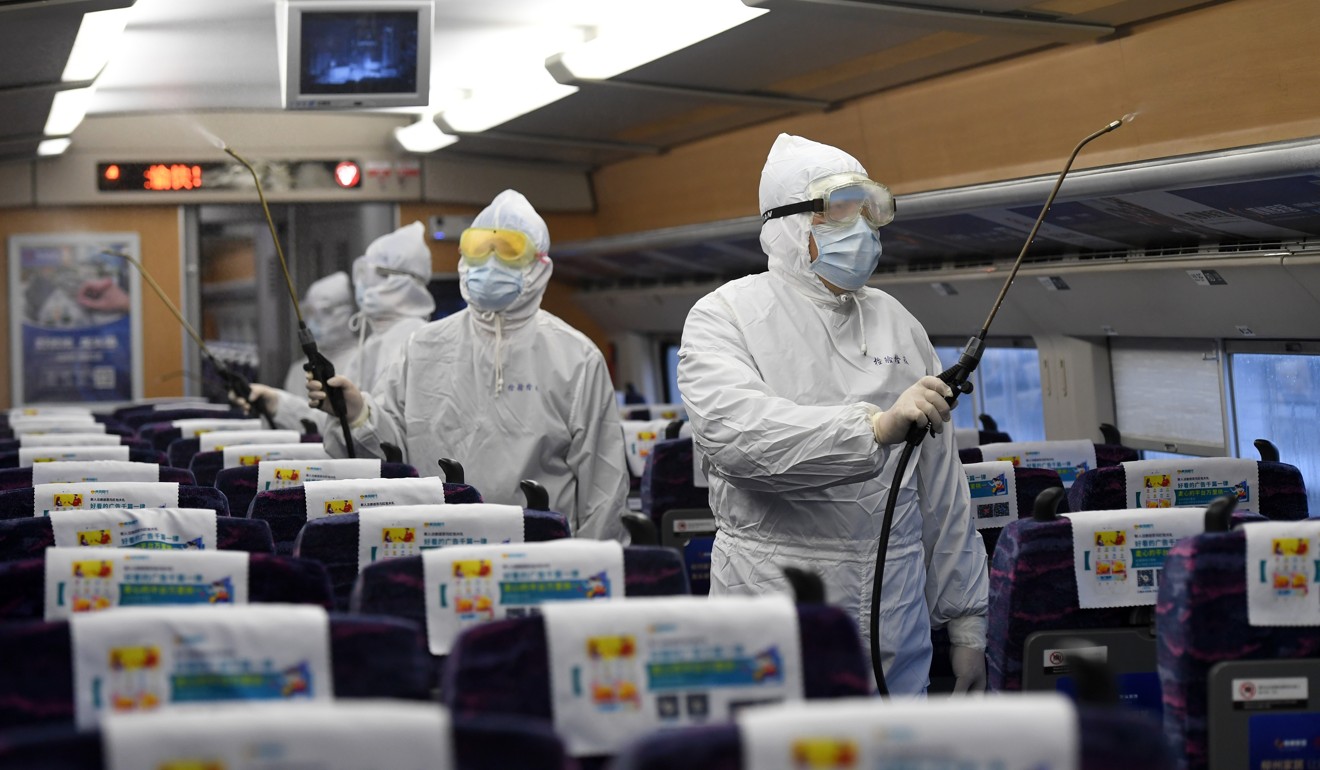 But public transport numbers released on Thursday indicated people might not be rushing back to work.
Huang Xin, an official with the China Railway Corporation, said about 2 million to 3 million passengers were expected to travel each day from Saturday to Tuesday – only about one-quarter of the normal peak number following the Lunar New Year break.
"We will be paying extra attention to return trips of college students and migrant workers," he said at a press briefing in Beijing. "We will also use big data to adjust our railway capabilities."
Huang said measures were in place to help curb the spread of the virus, with ticket sales capped at under half of the total seats available so that passengers could be seated further apart to lower the risk of transmission. Temperature checks at stations would also be stepped up, and quarantine areas would be available, he said.
Similar arrangements had been made for air passengers, said Yu Biao, an official with the Civil Aviation Administration of China. Yu said the number of flights in China had been halved in the past week, and only 45 per cent of seats had been filled.
Speaking at a State Council meeting on Thursday, Premier Li Keqiang stressed that Beijing's goal was to maintain an "orderly" resumption of production.
"[We] must provide better support for fighting and controlling the outbreak, while safeguarding the normal order of the economy and society," Li told a leading group on combating the outbreak in Beijing.
According to official reports, the pneumonia-like virus has infected more than 28,000 people and killed 565 since the outbreak began in the central Chinese city of Wuhan in December.
Beijing is treading carefully as it tries to minimise further shocks to the economy. On Thursday it announced that from next week it would halve additional tariffs imposed on US$75 billion of American products late last year – indicating that it was implementing the phase one trade deal agreed with the US despite the coronavirus outbreak.
Beijing will cut a 10 per cent punitive tariff to 5 per cent, and a 5 per cent tariff to 2.5 per cent on February 14, according to the Ministry of Finance.
China announced in August that it would impose tariffs in two rounds in September and December, but it did not apply the second round that was due to come into effect on December 15.
"China hopes both sides can follow what has been agreed in the deal and make efforts to implement relevant parts of the deal to boost market confidence, to promote bilateral relations, and to help world economic growth," the finance ministry statement said.
Ahead of the announcement, observers had been bracing for Beijing to delay some of the phase one commitments as it attempted to contain the outbreak of the coronavirus, which has placed large swathes of the economy on lockdown.
Additional reporting by Zhou Xin and Cissy Zhou
Purchase the China AI Report 2020
brought to you by SCMP Research and enjoy a 20% discount (original price US$400). This 60-page all new intelligence report gives you first-hand insights and analysis into the latest industry developments and intelligence about China AI. Get exclusive access to our webinars for continuous learning, and interact with China AI executives in live Q&A. Offer valid until 31 March 2020.
This article appeared in the South China Morning Post print edition as: Dilemma as workforce prepares for return to duty