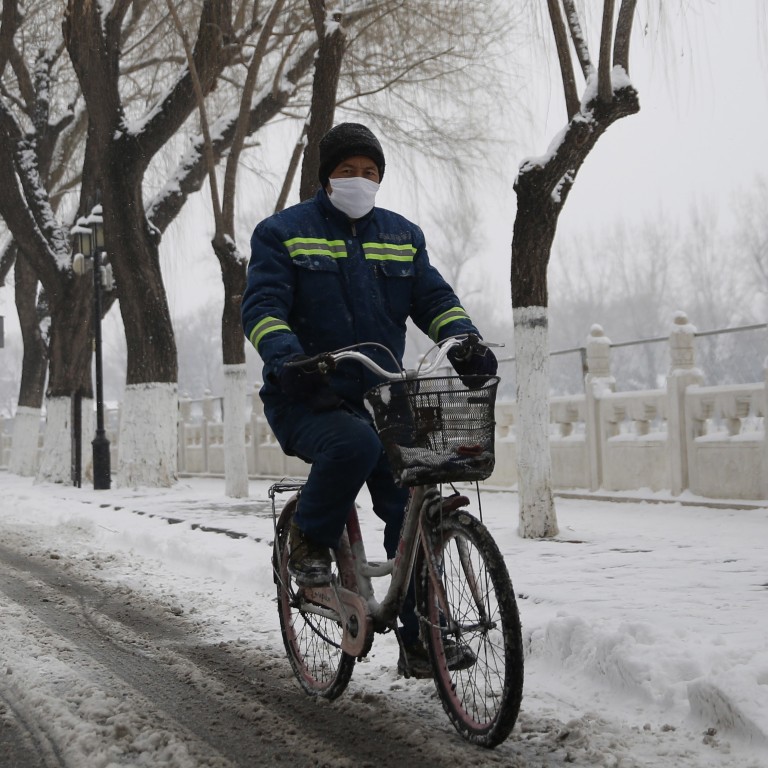 China will succeed in coronavirus counter-attack, Donald Trump says; 73 new fatalities reported
Death toll in China rises to 636, with 3,143 new cases on Thursday
Hubei province reported 69 new deaths and 2,447 confirmed new cases
Health authorities in China pegged deaths caused by the novel coronavirus epidemic on Thursday at 73, with 69 in Hubei province, according to official figures released early Friday. The updated numbers raise the death toll in mainland China to 636.
Newly confirmed cases rose by 3,143, a second consecutive daily drop, bringing the total to 31,161 cases in the country, according to data released on Friday morning by China's National Health Commission (NHC).
Most of the deaths came from Hubei province, epicentre of the outbreak, where 69 new fatalities from the epidemic were reported on Thursday, one less fatality compared with the day before. The total death toll in Hubei rose to 618, the province's health commission said.
Trump: China will contain outbreak
US President Donald Trump has expressed confidence in China's efforts to contain the outbreak, saying the drive would be a "successful operation".
In a tweet on Friday, Trump said he had a long and "very good conversation" with Chinese President Xi Jinping.
"He is strong, sharp and powerfully focused on leading the counter-attack on the coronavirus. He feels they are doing very well, even building hospitals in a matter of only days. Nothing is easy, but he will be successful, especially as the weather starts to warm & the virus hopefully becomes weaker, and then gone," he wrote.
"Great discipline is taking place in China, as President Xi strongly leads what will be a very successful operation. We are working closely with China to help!"
During the conversation on Friday, Xi told Trump that China's economic development would not be affected by the outbreak, state broadcaster CCTV reported.
Xi said the authorities and the public had put their fullest efforts into containing the outbreak from the start.
"We have adopted the most comprehensive and strictest prevention and control measures ... We have declared a people's war against the epidemic through prevention and control," Xi was quoted as saying.
"We are fully confident and capable of fighting the epidemic. The long-term trend of China's economic development will not change."
White House spokesman Judd Deere said Trump expressed confidence in China's strength and resilience in confronting the outbreak.
Deere added on Twitter that the two leaders had agreed to continue extensive communication and cooperation and reaffirmed their commitment to implementing the US-China phase one trade deal.
Beijing has accused Washington of creating panic by imposing travel restrictions on Chinese travellers. Other nations followed the US move.
Top anti-corruption agency to probe whistle-blower case
The Chinese government's highest anti-corruption agency is sending an investigation team to Hubei following widespread public anger over the death of a doctor who sounded an early alarm about the new virus.
The National Supervisory Commission said the team would conduct a "comprehensive investigation" into the issues raised by the public about
Li Wenliang
, the 34-year-old doctor who died on Friday and is fast becoming a national hero.
The commission did not specify the issues of public concern, but angry posts on social media platform Weibo about why the police stopped and reprimanded Li when he warned his friends on WeChat about the new virus have overwhelmed the internet.
Li, who worked in a Wuhan hospital, was certified dead at 2.58am on Friday morning by Wuhan Central Hospital, just days after he said he was infected with coronavirus. Li was one of the whistle-blowers who alerted his friends about the outbreak in December, and was reprimanded by police for spreading inaccurate information.
News of his death swept the country, triggering waves of comments paying respect to Li and expressing anger over whether there had been a cover-up of the outbreak and negligence among government officials in Hubei province.
Internet censorship was toughened in response to the outpouring, with many posts on social media platforms Weibo and WeChat expressing anger and criticism of government officials quickly deleted.
A one-sentence statement by the Wuhan government said it deeply regretted Li's death.
"We express our deep condolences and regrets! We pay tribute to his sticking to the front line in fighting the epidemic, and offer our sincere condolences to his family," it said.
Cui Tiankai, Chinese ambassador to the United States, said he was "really saddened" by Li's death.
"He was a very devoted doctor. We are so grateful to him for what he has done in our joint efforts fighting against [the coronavirus]," Cui wrote on Twitter.
Global Times, a nationalist tabloid affiliated to People's Daily, said Li should be respected, but the nation should be united to contain the outbreak.
Amnesty International said Li's death highlighted human rights failings in China's response to the coronavirus outbreak.
"The case of Li Wenliang is a tragic reminder of how the Chinese authorities' preoccupation with maintaining 'stability' drives it to suppress vital information about matters of public interest," Amnesty International regional director Nicholas Bequelin said.
"China must learn the lesson from Li's case and adopt a rights-respecting approach to combating the epidemic. Nobody should face harassment or sanctions for speaking out about public dangers, just because it may cause embarrassment to the government."
ByteDance, an internet company based in Beijing, said it would give 1 million yuan each to the families of the five medical workers who have died in the fight against coronavirus. Zhou Hongyi, chairman of internet security company Qihoo 360, said he would donate 1 million yuan to Li's family.
Taiwan cuts mainland flights
Taiwan will suspend all flights from the island to mainland China except for services to Beijing, Shanghai, Xiamen and Chengdu.
Taiwanese Health Minister Chen Shih-chung said the suspension would start on Monday and the action was in response to the coronavirus outbreak.
Chen also said that incoming passengers would have to remain quarantined at home or in a hotel for 14 days if they arrived via the mainland, Hong Kong or Macau.
Taiwan has 16 confirmed cases of coronavirus infection.
The transport ministry said there were about 1,340 flights to and from the mainland each month the suspensions would cut that total back to roughly 580.
Italy to resume 'some flights' to China
China's foreign ministry said on Friday that Italy was willing to resume some flights between the two countries, after it suspended direct air traffic last month due to worries about the coronavirus outbreak.
It said China's vice foreign minister, Qin Gang, had a meeting with Italy's ambassador to China, Luca Ferrari, on Thursday during which they discussed the issue.
Qin said China was strongly dissatisfied with the measures taken by Italy – which were imposed without notifying Beijing – and that this had caused "great inconvenience" to citizens of both countries.
Qin said Italy should resume commercial flights between the two nations, and take care of Chinese citizens stranded in Italy.
According to the Chinese foreign ministry statement, Ferrari said Italy was aware of China's concerns and would resume some flights between the two nations.
More than 60 countries have imposed restrictions on Chinese travellers since the coronavirus outbreak, including the US, Singapore and Japan.
Short-term package to boost virus-hit economy
Beijing has introduced a package of short-term measures, from tax rebates to reductions on the costs of financing, to lift the country's coronavirus-hit economy.
The People's Bank of China (PBOC) has set up a special fund of 300 billion yuan (US$43 billion) to provide targeted support to suppliers of key virus-related resources such as masks and sterilisers, as well as daily necessities, with China's Ministry of Finance compensating half of interest payments. The real cost of funding for these suppliers will be below 1.6 per cent.
The ministry has also given a value-added tax exemption for the supply, delivery and transport of virus-related products.
The hardest-hit industries – which include transport, restaurants, hotels and tourism – will be able to carry over their losses from 2020 for up to eight years, compared to the previous five years, according to the government, reducing their taxes to zero in some cases.
Pan Gongsheng, deputy governor of PBOC, said the impact of the virus on the Chinese economy was temporary and, after it was over, the economy could have a "compensatory recovery". He added that the central bank would strengthen anti-cyclical measures to help growth.
By Thursday, the Chinese government, at both the central and local levels, had arranged 66.7 billion yuan for containing the virus, of which 28.4 billion has been spent. Beijing is considering a second batch of virus-related funds.
Hubei reports 2,447 new cases
Hubei's health authority reported 2,447 newly confirmed cases in the last 24 hours, bringing the province's total to 22,112. The number of new confirmed cases in the province dropped from a day earlier, when 2,987 were reported.
Earlier on Thursday, the World Health Organisation cautioned against reading too much into data showing a dip in daily new coronavirus infections in China after that figure had been rising for weeks.
Michael Ryan, the head of the WHO's health emergencies programme, said it was too early to make predictions on whether the outbreak had peaked.
On Wednesday, the National Health Commission in Beijing reported a slight drop in newly confirmed cases of 3,694 nationwide, from the 3,887 reported on Tuesday.
Wuhan's temporary hospital 'pretty good' says patient
A video recorded by a patient of the recently opened Huoshenshan temporary hospital in Wuhan has been shared by Chinese state media, including Global Times. The 1,000-bed field hospital, built in 10 days and operated by military medical personnel, admitted its first batch of patients on Tuesday.
Several more makeshift "ark hospitals", converted from schools, sports stadiums and conference venues, have opened across the country in the past week.
"The facilities are pretty good here. There are two people to a room, and behind our beds are all kinds of medical equipment," the patient said in the video. "There is an oxygen machine, a machine for measuring my blood pressure, air conditioning and purifying equipment, a TV and bathroom."
Several designated hospitals for treating the coronavirus in Wuhan and the surrounding Hubei province have reported desperate shortages in basic medical supplies needed by doctors to treat patients.
Purchase the China AI Report 2020
brought to you by SCMP Research and enjoy a 20% discount (original price US$400). This 60-page all new intelligence report gives you first-hand insights and analysis into the latest industry developments and intelligence about China AI. Get exclusive access to our webinars for continuous learning, and interact with China AI executives in live Q&A. Offer valid until 31 March 2020.