Disease
Get more with myNEWS
A personalised news feed of stories that matter to you
Learn more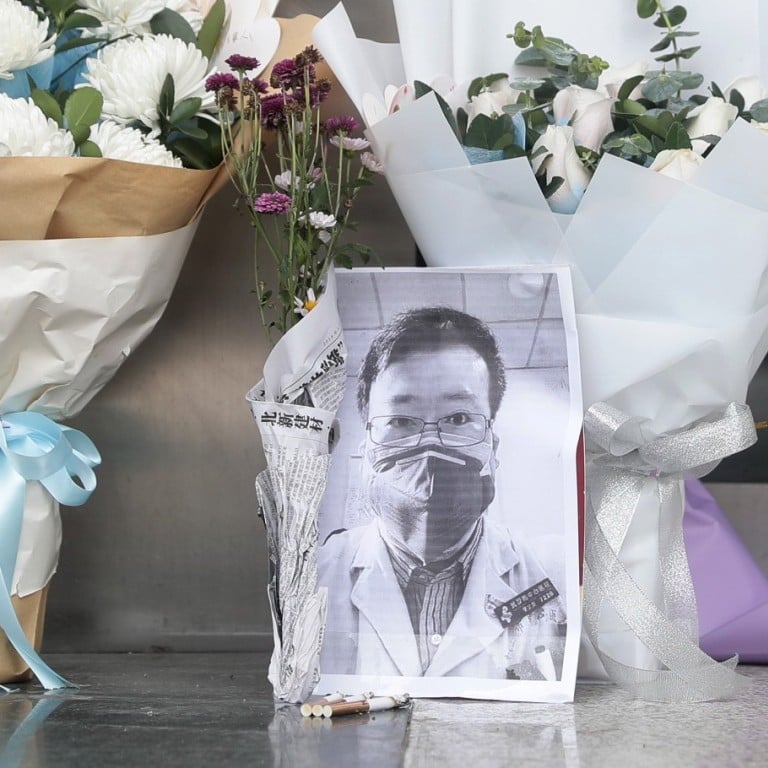 Explainer

|
Dr Li Wenliang: who was he and how did he become a coronavirus 'hero'?
China's health authorities and the public have offered their condolences over the death of the doctor, whom police tried to silence in the early days of the outbreak
The father-of-one was warned off after telling an alumni group about a mystery illness at his hospital
Li worked in a hospital in Wuhan, central China, and was among eight people reprimanded in the early days of the outbreak by public security officers for "spreading rumours".
He died on Friday morning
after contracting the previously unknown coronavirus.
What is the controversy around Li?
Li, 34, was an ophthalmologist at Wuhan Central Hospital. On December 30, 2019, he wrote a post to a closed group of medical school classmates on the WeChat social media site. In the post called "Seven cases of severe acute respiratory syndrome (Sars) from the Huanan Seafood Wholesale Market", he warned about an outbreak of undiagnosed pneumonia at his hospital.
A screenshot of his post was leaked and circulated online on December 31, a day before the local health authority made an official announcement saying that 27 cases of viral pneumonia of unknown cause had been detected.
On January 1, Wuhan police said they were punishing eight people for "spreading rumours".
It was later revealed that all eight were medical staff.
Was Li a whistle-blower?
Apparently, he did not initially see himself as such. In the message to his alumni WeChat group he asked them not to spread the message but "remind your family members and loved ones to be on the alert".
Beijing-based news service Caixin reported on February 1 that he was originally very upset that his post was leaked and he was worried about being punished. But he said he later came to understand it reached a broader audience because of concerns about public health safety.
Even though it seemed Li did not intend to alert the wider public of the outbreak of an unknown disease, he was widely hailed as a hero across China's social media sites.
One commentator said he was in Wuhan when he read the screenshot of Li's post. As a result, the writer said he bought a box of face-fitting N95 respirator masks for protection before there were acute shortages of the equipment.
What do the authorities think of Li?
Wuhan police said on January 1 that eight internet users were punished for spreading rumours.
Li's comments "were not factual and broke the law" and his behaviour had "severely disturbed public order", according to the police document Li was required to sign after being summoned and warned. The police document was later uploaded to Li's Weibo account.
As the public realised the eight so-called rumour spreaders were actually medical staff, anger against how they were treated grew. Wuhan police issued a statement on January 29 to defend their action, saying the eight had spread unverified rumours and had received only light punishment.
The Supreme People's Court waded in on the issue
the same day, issuing a commentary on its social media account saying the police should take into consideration the intentions of the eight people. "It might have been a fortunate thing if the public had believed the 'rumour' then and started to wear masks and carry out sanitisation measures," the commentary said.
How did Li get infected?
Li treated a patient with glaucoma on January 8. The patient's body temperature was normal. She developed a fever the next day and a CAT scan showed a lung infection. Two relatives of the woman also developed a fever. Li reported to the hospital that this clearly showed human-to-human transmission.
Li developed a cough on January 10 and a fever the next day. He was admitted to hospital as a suspected case after a CAT scan showed a lung infection. His parents and colleagues were also infected and admitted to hospital.
The confusion
In a post on January 31, Li said he was in an intensive care unit and had difficulty breathing. After several negative tests, he was officially confirmed to be infected with the new coronavirus on February 1.
He told a reporter on Wednesday that he was still short of breath and his oxygen saturation was very low.
At around 10pm on Thursday, social media was flooded with posts that Li had died. Mainstream media including Global Times and Caixin reported his death. Wuhan University, where Li studied medicine for seven years, also offered condolences in a statement on Thursday night. The World Health Organisation said on Twitter that the agency was deeply saddened by Li's death.
But Wuhan Central Hospital issued a statement at 00.38am on Friday saying that the hospital was still trying to save him. It announced his death at 2.58am on Friday, February 7.
He is survived by a son and his wife, who is five months pregnant.
What the authorities did next
Although there has been no official apology for the original punishment of Li, within hours the Wuhan municipal government took the unusual move to issue an official statement to pay tribute to Li and offer condolences to his family.
The National Health Commission and its Hubei provincial counterpart also issued statements offering their condolences.
Later on February 7, the Chinese government's highest anti-corruption agency, the National Supervisory Commission, announced that a team would be sent to Hubei to conduct a "comprehensive investigation" into the issues the public has raised about the treatment of Li.
Since his death was announced, more than half a million internet users have left messages in response to Li's last post on Weibo. The commentaries are a mixture of loss at his death and anger at the authorities. Many declared him an "ordinary hero".
On Thursday night and Friday morning, three rapidly trending social media hashtags – "The Wuhan government owes Li Wenliang an apology", "I want freedom of speech", and "We want freedom of speech" – were seen millions of times before they were censored.
Purchase the China AI Report 2020
brought to you by SCMP Research and enjoy a 20% discount (original price US$400). This 60-page all new intelligence report gives you first-hand insights and analysis into the latest industry developments and intelligence about China AI. Get exclusive access to our webinars for continuous learning, and interact with China AI executives in live Q&A. Offer valid until 31 March 2020.