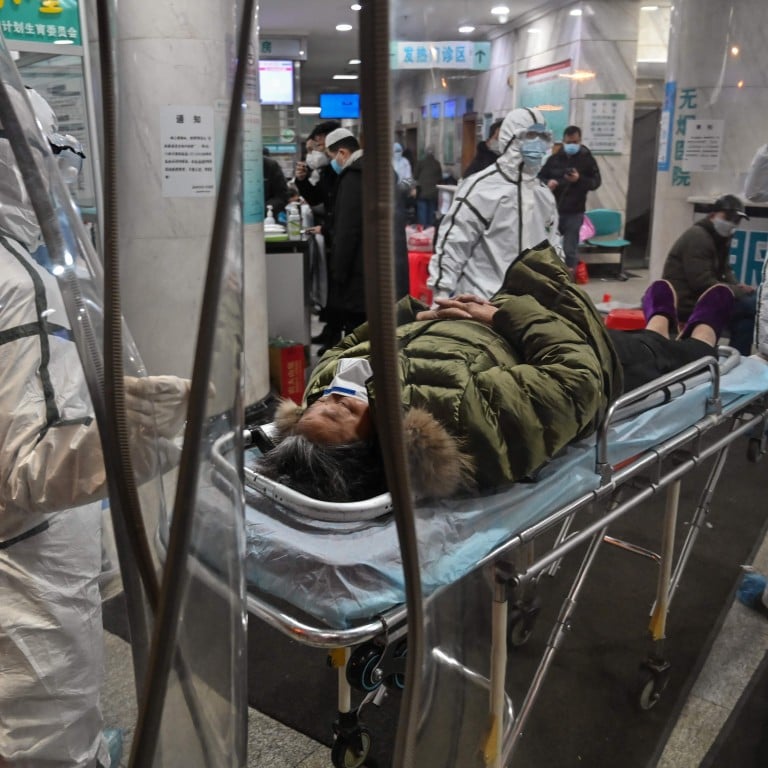 Coronavirus illness given official name Covid-19 as hopes rise that cases could peak soon
One hundred deaths are reported in a single day for the first time, but statistics show number of new cases decreasing
First senior heads roll as Beijing tries to contain public anger over outbreak of respiratory disease
The World Health Organisation on Tuesday gave an official name – Covid-19 – to the disease caused by the coronavirus that has ravaged China and spread across the globe, as statistics suggested that infections could level off in the coming weeks and Beijing vowed to hold local cadres to account for failing to contain the outbreak.
China's National Health Commission said on Tuesday that the country had reported 108 new deaths from the virus – the first time that 100 or more fatalities were recorded in a single day.
The outbreak, which was generally believed to have originated from Wuhan in central China, has killed 1,018 people worldwide – including one death in Hong Kong and another in the Philippines.
But Zhong Nanshan, one of China's top respiratory disease experts, predicted that the outbreak could peak this month, according to state broadcaster CCTV.
"We can now see a trend that the number of new cases is gradually reducing," said Zhong. "Through mathematical modelling, [we can say that] new infections will peak in mid or end of February in southern China."
Zhong added, however, that "it is not possible to predict when exactly the plateau will happen, and that would largely depend on how effective our prevention and control measures are as more people make the journey to return to work" after the Lunar New Year holiday.
Meanwhile, Xu Yahua, a transport ministry official, told a daily briefing in Beijing that 160 million people were expected to return to the cities where they work over the coming week.
This mass movement of the workforce has sparked fears that infected people – some of whom may show few symptoms – would spread the disease further.
Suggestions that the outbreak may peak later this month were supported by statistics published by the National Health Commission on Monday that showed a consistent drop in the number of new confirmed cases.
According to the commission, there were 381 new cases in mainland China outside Hubei on Monday, compared with 890 on February 3 – a decrease of 57 per cent.
In Hubei, excluding Wuhan city, the daily number of new infections fell for six consecutive days from 1,121 cases on Wednesday last week to 545 on Monday – a drop of 55 per cent.
One open-access data model published on Monday by scientists at Xian Jiaotong-Liverpool University in eastern Jiangsu province also predicted a sharp decline in new confirmed infections next week before falling close to zero by February 23. However, the researchers warned there were many factors that could influence the model.
"While this appears to be a relatively rapid near-end to new, confirmed cases, we must keep in mind that other factors could change the trend or that the data on current cases could be under-reported, which would also change the prediction," said Yi Zhou, a lecturer at the university.
"If nothing else occurs that would change the trend, this model does suggest the worst is over for new infections."
A team from the WHO, led by Canadian epidemiologist Bruce Aylward, arrived in China on Monday to help study the outbreak.
Its priorities were expected to include an investigation into the effectiveness of China's preventive measures, which includes controls on public transport, temperature checks on passengers at transport hubs and self-quarantine arrangements for people returning to cities.
Speaking at a press briefing, WHO director general Tedros Adhanom Ghebreyesus explained the new name of the illness caused by the virus, formerly known as 2019-nCoV.
"Under agreed guidelines … we had to find a name that did not refer to a geographical location, an animal, an individual or group of people, and which is also pronounceable and related to the disease," he said.
"Having a name matters to prevent the use of other names that can be inaccurate or stigmatising. It also gives us a standard format to use for any future coronavirus outbreaks," he added.
On Tuesday morning the central government announced that two senior officials from Hubei province were to be replaced by a central government fixer – the first high-level figures to be removed from their posts since the outbreak.
Beijing announced that Wang Hesheng, a deputy chief from the National Health Commission, has taken over from Hubei's health commission party secretary Zhang Jin and the commission director Liu Yingzi.
In a sign suggesting more heads may roll, a special task force set up by Beijing leadership to supervise the prevention efforts also summoned three officials in Wuhan to attend "emergency meetings".
According to the state news agency Xinhua, the meetings focused on the failings of Wuhan deputy mayor Chen Xiexin and two district heads, Yu Song and Lin Wenshu.
The city moved to hospitalise all those infected by the virus on Sunday after weeks of turning away people who showed signs of infection – a U-turn that led to chaos.
Officials from the task force told Xinhua that any officials who were found to have been negligent would be held accountable.
"All party members and cadres must be conscientious and do their jobs well, be vigilant as they are in wartime emergency, and put the health and safety of the public as their first priority," the report said.
The task force, headed by vice-premier Sun Chunlan, was recently joined by Chen Yixin, the head of the party's top law enforcement body.
The decision to add Chen, widely regarded as a protégé of President Xi Jinping, was taken on Sunday as the authorities sought to contain growing public outrage after the death of Li Wenliang, the doctor who was reprimanded by police for warning colleagues about the outbreak.
His death has sparked a flurry of calls to protect freedom of expression in China and investigate whether there has been a cover-up.
"Beijing's patience is wearing thin," said a person familiar with the changes at the top in Hubei, who declined to be named because of the sensitivity of the matter.
Meanwhile cities outside Hubei have stepped up contingency measures, including the southern megacities of Shenzhen and Guangzhou, which both passed legislation to requisition private property to help contain the outbreak.
City and district governments will be given the power to take over houses, public venues and vehicles, and mobilise businesses to produce essential items.
By Tuesday evening, the number of confirmed infections had reached 43,138 worldwide, including 42,667 cases in mainland China.
Reporting by Keegan Elmer, William Zheng, Laurie Chen, Kristin Huang, Cissy Zhou and Teddy Ng
Purchase the China AI Report 2020
brought to you by SCMP Research and enjoy a 20% discount (original price US$400). This 60-page all new intelligence report gives you first-hand insights and analysis into the latest industry developments and intelligence about China AI. Get exclusive access to our webinars for continuous learning, and interact with China AI executives in live Q&A. Offer valid until 31 March 2020.