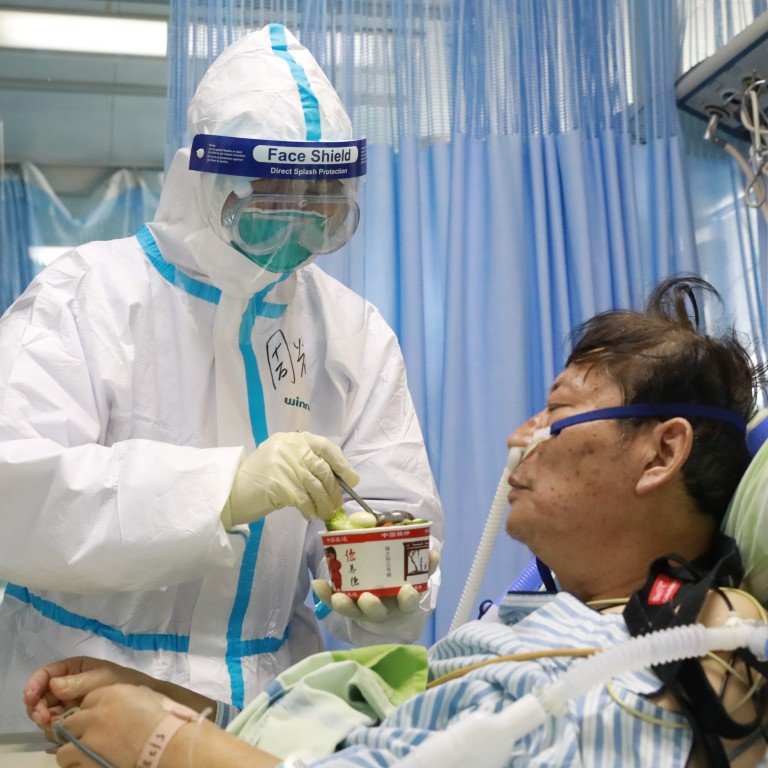 Chinese officials' phone apology to patients as coronavirus deaths hit 1,115
WHO scientists co-write letter saying December 26 data indicating Sars-like coronavirus was not passed to global health community for 17 days
Hundreds of Chinese sign petition asking legislature to protect freedom of speech, amid discontent over outbreak's handling and anger over Dr Li Wenliang' death
China's health authority reported 97 new deaths caused by the coronavirus and 2,015 newly confirmed cases of infection, taking its totals to 1,113 and 44,653 respectively.
As of Tuesday, 744 recovered patients had been discharged and the total number of recovery cases stood at 4,740.
Outside Hubei province, the epicentre of the coronavirus, the rise in new infections reported by China slowed for an eighth consecutive day.
Apology for slow treatment
A district leader in Hubei's capital of Wuhan apologised on Tuesday to critically ill patients who had not been treated in a timely manner, state media reported.
Staff in the Wuchang district who were in charge of a chaotic bus transfer of people to hospital on Sunday were ordered to apologise to patients and their families one by one by telephone.
Wuchang officials told state media that mistakes had been made and the district's most urgent priority was to admit all patients to hospitals or other medical facilities as soon as possible.
The district leader, who visited hospitals to apologise in person, was mocked online for wasting protective suits when the city faces a shortage of medical supplies.
"Health care workers don't have enough protective gear, why are you wearing it to apologise?" one person wrote on China's Twitter-like Weibo. "These people are suspected cases, not confirmed ones. It's a pity to waste the protective gear – it protects the lives of health care workers!"
"I really don't think it's necessary to apologise one by one, just apologise in the newspaper! Don't waste time and protective clothing on formalities," another person wrote.
Reporting system 'needs update'
A group of scientists have called for changes in the way new viruses are reported, after a delay of more than two weeks between the first indication of a coronavirus strain in Hubei and the release of critical information to the global health community.
The group said in a letter to The Lancet that data indicating a Sars-related coronavirus was obtained by researchers on December 26.
"The Chinese authorities ruled out Sars and Mers, as well as a few other non-coronaviruses, on January 5, and confirmed a novel coronavirus as a potential cause on January 9. However, the genome sequence – crucial for rapid development of diagnostics needed in an outbreak response – was not released until January 12, 17 days after the preliminary sequence data were obtained," they wrote.
The letter mentioned the "crucial role" of doctors in detecting the outbreak in China, including "eight doctors who were wrongly accused of spreading 'fake news'" – a reference to a group that included Li Wenliang, the doctor hailed as a whistle-blower who later succumbed to the disease.
"There are lessons the global health community can and should learn and act on so that we can better respond to the next EZV (emerging zoonotic virus) event, which is almost certain to happen again. These lessons are definitely not unique to China," they wrote.
Two of the letter's authors sit on the committee that provides the World Health Organisation (WHO) advice about when to declare a public health emergency of international concern – a status given to the coronavirus on January 30.
Hubei reports 94 new deaths
Health authorities in Hubei reported 94 new deaths attributable to the contagion on Tuesday and 1,638 newly confirmed cases, taking the province's totals to 1,068 and 33,366 respectively. They had reported 103 fatalities and 2,097 newly confirmed cases a day earlier.
Some 1,104 of the new cases announced were confirmed in Wuhan, where the virus is believed to have originated at a seafood and meat market.
The figures from Hubei on Tuesday showed the province's lowest number of new cases in a day since the beginning of February, and the first time it had reported fewer than 2,000 new cases in a day since February 2.
Disease can spread faster than Sars: WHO
Michael Ryan, the WHO's head of emergency programmes, said on Tuesday in Geneva that the disease caused by the coronavirus – now officially named Covid-19 by the WHO – had the potential to spread faster than either the Ebola or Sars viruses. Earlier this week, Covid-19 exceeded the Sars outbreak of 2002-03 in terms of deaths attributed to it.
Transmission methods have been shown to include human-to-human contact, and the incubation period is believed to be up to 14 days.
In recent days, epidemiologists have said that the contagion may also spread through "aerosol transmission" – when tiny particles or droplets of the virus suspended in the air are inhaled.
Others indicated that transmissions were possible from patients who showed mild or no symptoms.
WHO officials said on Tuesday that the agency had also activated a UN crisis management team to better assess and mitigate the outbreak's economic implications.
Petition calls for freedom of speech
Hundreds of Chinese, led by academics, have signed an online petition calling on the national legislature to protect citizens' right to freedom of speech, amid growing public discontent over the handling of the coronavirus outbreak.
It also follows a massive outpouring of grief and anger over the death of Wuhan-based Dr Li Wenliang.
The petition is gaining momentum online, but some of the signatories and other rights activists have already come under pressure. Addressed to the National People's Congress (NPC), it lists five demands for Beijing.
The demands are: to protect people's right to freedom of expression; to discuss the issue at NPC meetings; to make February 6, the day Li died, a national day for free speech; to ensure no one is punished, threatened, interrogated, censored or locked up for their speech, civil assembly, letters or communication; and to give equitable treatment, such as medical care, to people from Wuhan and Hubei province. Many have reported experiencing discrimination elsewhere in the country.
US repeats concern over China's purchases
The outbreak could have an impact on China's commitment to buy more US agricultural products this year under the US-China phase one trade deal, White House national security adviser Robert O'Brien said on Tuesday.
"We expect the phase one deal will allow China to import more food and open those markets to American farmers, but certainly, as we watch this coronavirus outbreak unfold in China, it could have an impact on how big – at least in this current year – the purchases are," O'Brien told an event at the Atlantic Council, a Washington think tank.
'No US doctors in China'
O'Brien said there were no American doctors on the ground in China so far, despite US offers to help fight the outbreak.
"We've offered the Chinese the opportunity to have American doctors … and other experts come to China to help them. That offer has not been accepted at this point but that is an outstanding offer," he said.
But US officials said on Monday that China had agreed to allow American health experts into the country.
"China has accepted the United States' offer to incorporate a group of experts into a WHO mission to China to learn more about and combat the virus," White House spokesman Judd Deere said.
In a tweet on Monday, WHO director general Tedros Adhanom Ghebreyesus said an advance team of WHO experts had arrived in China to "lay the groundwork for the larger international team".
Tibet's only patient cured
The only Covid-19 patient in Tibet was cured and discharged from hospital on Wednesday afternoon, People's Daily reported, citing the patient's doctor at the Third People's Hospital of Tibet.
The patient, a 34-year-old man from Suizhou, Hubei province, spent three days on a train before reaching Lhasa on January 24. He sought medical treatment a day later and was isolated for treatment, before being confirmed as being infected on January 29.
The man tested negative for the virus on Sunday and Tuesday, and CAT scans and clinical symptoms showed he had been cured. He left Tibet by train on Wednesday afternoon, according to thePeople's Daily report.
Iran denies report of Covid-19 death
Iran's health ministry has denied a report that an Iranian woman has died of a suspected coronavirus infection.
The state daily newspaper Iran reported on Wednesday that a 63-year-old woman had died in a Tehran hospital on Monday and that an investigation had been ordered into the cause of her death. No sources were cited in the report.
A spokesman for Iran's health ministry denied the report. "There have been no cases of coronavirus in Iran," he said.
Iranian health authorities have repeatedly said there were no confirmed cases of coronavirus in the country.
Exams under threat
Chinese authorities are considering whether to postpone the country's college entrance exams, due to take place in June.
"Those responsible for arranging college entrance exams need to put the lives and health of candidates and testing staff first," Wang Hui, a Ministry of Education official, said at a press briefing on Wednesday. "We will closely monitor the development of the outbreak, evaluate the possible impact on the exams and carefully formulate a plan."
Additional reporting by Reuters