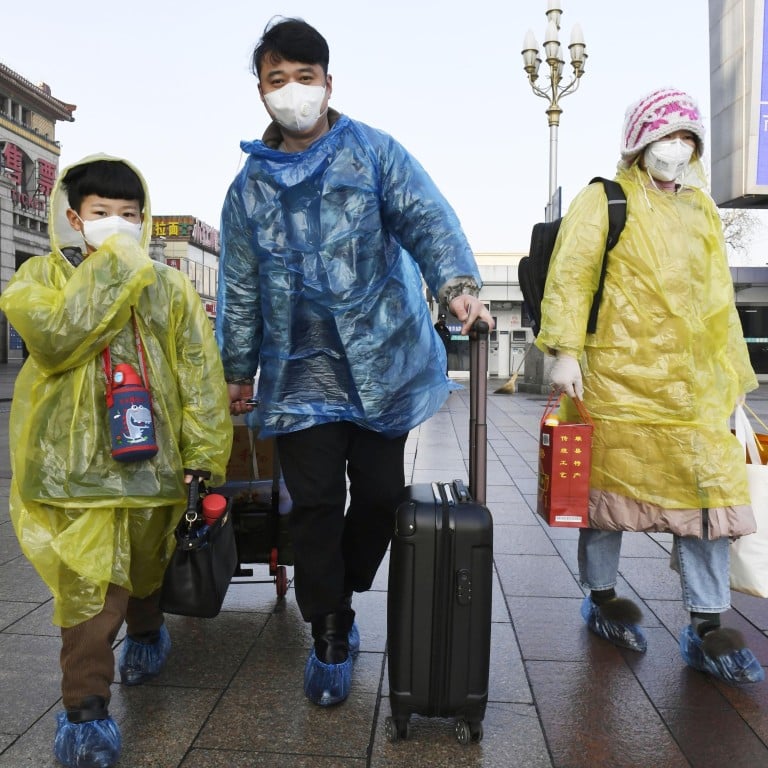 Coronavirus: top Chinese expert says family isolation curbs outbreak, contradicting claims in Beijing
Chief expert of China's Centre for Disease Control and Prevention says studies show 83 per cent of clusters of cases occur within families
But briefing comes a day after Beijing city government opts to move people out of family isolation because household clusters show they fail to self-monitor adequately
The chief expert of China's disease control agency claimed on Tuesday that family isolation had been effective in curbing the spread of the
coronavirus
, despite the chief physician of the body's local branch in Beijing saying that residential monitoring was not sufficient.
Speaking at a daily coronavirus news briefing in Beijing, Wu Zunyong, chief expert of the national Centre for Disease Control and Prevention, said that his team had studied nearly 1,000 clusters of infections caused by the virus and found that 83 per cent happened within families, with the rest occurring in hospitals, schools, shopping malls and workplaces.
According to Wu, these clusters covered all age groups from infants to elderly people.
He said that 22 per cent of confirmed cases in these clusters contracted the disease through "first-generation transmission" – people who had lived or travelled in Hubei province where the outbreak originated. Infections in 64 per cent of these cases were among carers or individuals who had close contact with first-generation patients through events such as meals.
The remaining 14 per cent were third and fourth-generation transmissions, with the patients unknowingly contracting the virus from first-generation cases.
"The occurrences of such third or fourth-generation transmission is mainly because the first-generation patients who they had come into contact with did not show obvious clinical symptoms. And those who were in close contact with them also lacked awareness of self-protection," Wu said.
"Occurrences of these cluster cases showed that our control measures and treatment have been effective in preventing the spread of the virus from small units to bigger areas in the community."
However, on Monday, the Beijing city government said it would move people from family isolation to centralised locations for monitoring, after the city reported an increase of infections within families.
Wu Jiang, the chief physician of the Beijing Centre for Disease Control and Prevention, said on Monday that 90 per cent of 77 coronavirus clusters in the capital – involving nearly 200 patients – had occurred within families, indicating that family isolation did not work.
"It showed that many who were told to be isolated for self-monitoring at home did not fully follow the protective measures," Wu said, adding that the city would begin to institute centralised isolation to better contain the virus.
"Under the new circumstances [of centralised isolation], we can strictly implement the self-protective measures with the guidance of professionals. Contact [among patients] will be reduced and so will be risk of infection."
Hubei, the worst-hit province in China, took an even more aggressive approach on February 2, putting all suspected patients in centralised isolation instead of family isolation.
The coronavirus outbreak, which started about two months ago in Wuhan, the capital city of Hubei, has caused pneumonia-like illness among more than 40,000 people and killed more than 1,000, mostly in China. On Tuesday, the World Health Organisation named the contagion Covid-19, a label indicating a coronavirus disease of 2019.
Purchase the China AI Report 2020
brought to you by SCMP Research and enjoy a 20% discount (original price US$400). This 60-page all new intelligence report gives you first-hand insights and analysis into the latest industry developments and intelligence about China AI. Get exclusive access to our webinars for continuous learning, and interact with China AI executives in live Q&A. Offer valid until 31 March 2020.