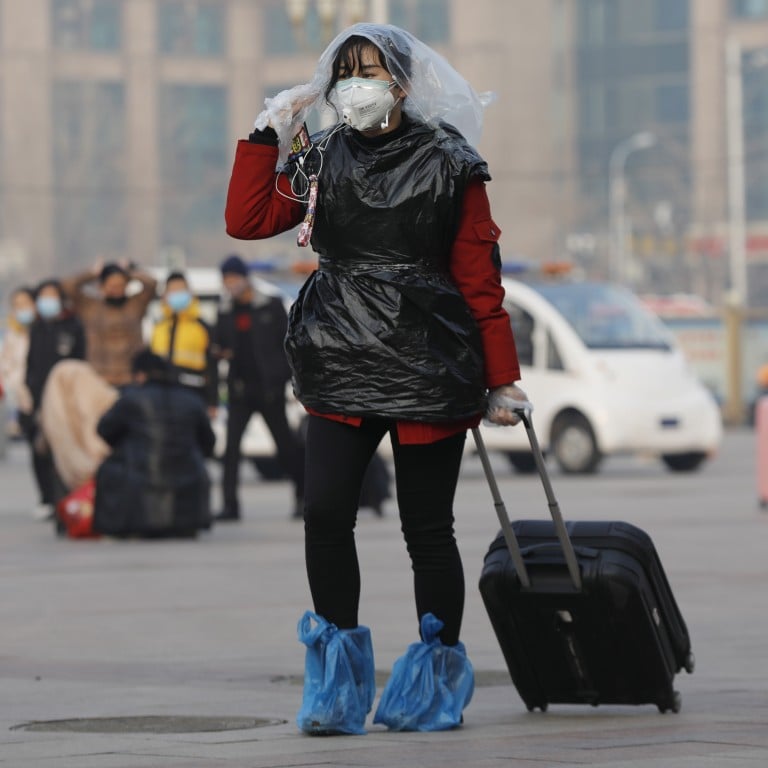 Coronavirus infects 1,716 medical staff as China reports 5,090 new cases
Antibodies in the blood of recovered patients can kill the virus, Chinese researchers say
Total mainland cases now at more than 63,851 and deaths at 1,380
China reported 5,090 new cases of coronavirus infections on Thursday, bringing the total number in mainland China to 63,851.
The National Health Commission said 121 new deaths were reported, making the death toll on the mainland 1,380. The commission removed 108 deaths from the Hubei numbers because they had been counted twice.
Hubei province, the epicentre of the outbreak, reported a further 4,823 cases of the diseases. It was the 10th straight day that the number of daily new confirmed cases in the country fell, excluding Hubei.
The figures were the second daily batch to be released since the roll-out of expanded diagnostic criteria, under which a diagnosis based on an analysis of symptoms is considered a confirmed case. The new diagnostic criteria are only being used in Hubei.
Zeng Yixin, deputy director of the commission, said it would not rule out using the new diagnosis metric in other provinces. Asymptomatic people who showed symptoms such as fever and cough during quarantine would be reported as confirmed cases, he said.
More than 1,700 medical staff infected in China
At a press conference on Friday, Zeng revealed for the first time revealed that 1,716 medical workers were infected with the coronavirus.
Zeng said the number of medical workers infected as of Tuesday was 3.8 per cent of the total infections on mainland China. Of those, 1,502 are from Hubei province, and 1,102 from Wuhan.
Six medical workers had died from the coronavirus as of Tuesday, he said.
Plasma from recovered patients used in virus fight
China National Biotec Group announced on Thursday evening that virus-neutralising antibodies had been detected in the plasma of patients who have recovered from Covid-19, and experiments have proven they can effectively kill the virus, according to a Beijing News report on Friday.
The company said it had successfully prepared the plasma for clinical treatment after strict blood biological safety testing, virus inactivation and antiviral activity testing. The plasma had been used to treat 11 patients in critical condition, with significant results, it said.
The first phase of the treatment was carried out on three critically ill patients in Wuhan on February 8 and the plasma is currently being used to treat more than 10 critically ill patients.
Clinical tests showed that, after 12 to 24 hours of treatment, the main inflammatory indicators in the laboratory decreased significantly, the proportion of lymphocytes increased, key indicators such as blood oxygen saturation and viral load improved, and clinical signs and symptoms improved significantly.
"The plasma product to treat the novel coronavirus is made from plasma loaded with antibodies donated by recovered patients. It went through virus inactivation and was tested against virus-neutralising antibodies and multiple pathogenic microorganisms," the company said, according to the report.
Doubling down in Wuhan
Hubei's new Communist Party boss, Ying Yong, has ordered officials to reinforce quarantine controls in communities and neighbourhoods in Hubei.
Heading his first meeting in Wuhan on the outbreak, Ying asked officials to organise quarantine controls around every residential estate, and redouble efforts to ensure that all confirmed and suspected cases were treated and properly quarantined, the official Hubei Daily reported on Friday.
At the meeting convened Thursday afternoon, the new party boss also said the province should help local factories to expand their capacity to manufacture medical supplies.
Boosting confidence overseas
China's foreign minister Wang Yi said China's economy would rebound strongly once the Covid-19 outbreak was controlled and consumption resumed.
Wang said at a press conference in Berlin with his German counterpart Heiko Maas on Thursday that the virus' effect on China's economy was temporary and the country would strive to minimise its impact.
"I believe, once the epidemic is over, the depressed consumption demand will be unleased quickly, and the economic momentum will have a resilient rebound," he said.
He also called for worldwide joint efforts to contain the virus, adding that China had effectively prevented the virus from spreading to other countries.
Philippines to lift travel ban on Taiwanese
The Philippines will lift a travel ban on visitors from Taiwan, a measure introduced to control the spread of the coronavirus, according to a senior Philippine official and Taiwan's official news agency.
The move follows a warning from Taipei of possible retaliation against the ban.
Taiwan's Central News Agency cited an unnamed source in the Philippines as saying the ban would be lifted.
White House official: US 'disappointed'
The United States feels let down by a lack of transparency from China over the crisis, a senior White House official said on Thursday, contradicting President Donald Trump's confidence in Beijing.
"We are a little disappointed that we haven't been invited in and we're a little disappointed in the lack of transparency coming from the Chinese," Larry Kudlow, director of the National Economic Council, told reporters.
Trump on Thursday again praised his Chinese counterpart Xi Jinping for his government's response to the outbreak but Kudlow said unanswered questions were mounting and there was no sign of the promised cooperation.
"President Xi assured President Trump that China was on it and there would be openness, they would accept our help," he added.
"We're more than willing to work with the UN (and) WHO on this and they won't let us. I don't know what their motives are. I do know that apparently more and more people are suffering over there."
"Is the Politburo really being honest with us?" he asked, referring to communist China's top leadership body.
The United States Centres for Diseases Control said on Thursday it expected more coronavirus cases in the country in the days ahead as health officials announced a 15th confirmed infection – this one in an evacuee from China under quarantine in Texas.
Saturday flights arranged from Vietnam for Chinese citizens
Vietnam will organise six flights for Chinese citizens to fly home, China's embassy in Hanoi said in a statement on its official social media platform on Friday afternoon.
The flights will all leave on Saturday afternoon. There will be one flight from Hanoi to Guangzhou, two from Ho Chi Minh City to Guangzhou, one from Da Nang to Guangzhou, and two flights from Nha Trang – one to Guangzhou and another to Chengdu.
Chinese citizens have until 6pm on Friday to buy tickets for the Vietnam Airlines flights, which are available on the company's website. These flights, which can also be taken by foreigners holding valid visas, may be changed if too few passengers bought tickets, the embassy said. No meals will be served and each passenger will be given just one bottle of water.
The statement also said people would not be able to join the flights if they had a fever or cough, or had in the past 14 days stayed in areas where infections had occurred.
Change in protocol leads to dramatic numbers spike
The inclusion of clinical diagnoses in the official count led to a dramatic spike in confirmed cases and deaths, appearing to confirm suspicions that the true number of cases far eclipsed the official figures of the past few weeks. The official data had been constrained by the availability of diagnostic tests.
Around two thirds of the new cases reported on Friday were clinically diagnosed.
The new monitoring protocol coincides with a purge of top party officials in Hubei, where local authorities have become a target of nationwide public fury over the government's response to the outbreak.
Wuhan, Hubei's capital and the site of the seafood and meat market where the contagion is thought to have broken out, reported more than 3,900 new cases and 88 more deaths on Friday.
The coronavirus has infected more than 65,200 people worldwide and spread to two dozen countries. To date, three people outside mainland China have died from the disease, in Hong Kong, the Philippines and Japan.
Additional reporting by Agence France-Presse
Purchase the China AI Report 2020 brought to you by SCMP Research and enjoy a 20% discount (original price US$400). This 60-page all new intelligence report gives you first-hand insights and analysis into the latest industry developments and intelligence about China AI. Get exclusive access to our webinars for continuous learning, and interact with China AI executives in live Q&A. Offer valid until 31 March 2020.