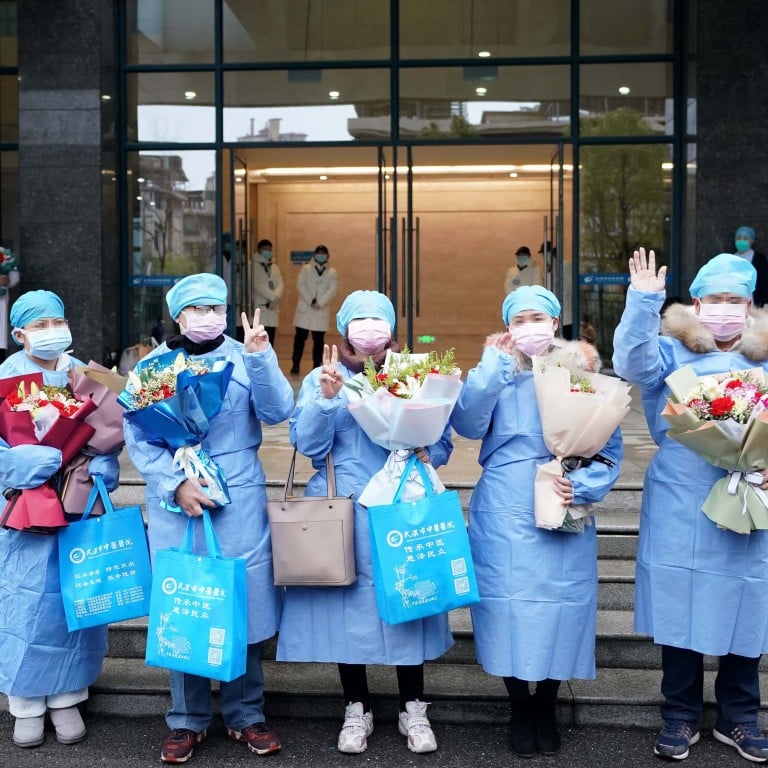 Coronavirus: do herbal remedies work, and could they help in the stricken epicentre of Hubei?
Province was unusual in not giving its patients herbs, and has been ordered to do so after treatment elsewhere in China suggested it may help
Traditional methods continue to divide opinion and their success is difficult to gauge when used together or in combination with modern drugs
While the death toll from the
coronavirus
continues to rise, some cured patients, carrying flowers and wearing face masks, have been emerging from Chinese hospitals.
There were two notable ones on February 7 in Liyang, in central China's Hunan province – the northern neighbour of Hubei, the outbreak's epicentre. In the next three days, another three were discharged in Hebi in Henan province, bordering Hubei to the south, along with two in Hangzhou, on the coast.
All of these were among the first patients in their cities who had fully recovered from the infection, and, like nearly all other patients outside Hubei, they had received a treatment that combined modern medicine and herbal remedies.
Each province had the right to make its own policy, and Hubei did not routinely treat patients with herbal remedies.
This prompted the Chinese government's virus response task force in Wuhan, Hubei's capital, to send an urgent notice last Tuesday to all agencies and hospitals involved in containing the epidemic in the province, giving them 24 hours to ensure herbal tea was made available for all confirmed and suspected patients.
Less than a third of Hubei's patients had been given herbal medicines, compared with nearly 90 per cent in the rest of the country, according to the notice. "The absence of traditional medicine has already affected the outcome of efforts to save and cure [people]," it said.
The directive reflected a growing consensus among Chinese medical experts that herbal medicine could and should play an important role in the fight against the coronavirus.
By Monday, the epidemic had
killed more than 1,800 people
, most of them in Hubei. The sheer number of patients has put enormous pressure on medical personnel and materials in the province, but inadequate herbal treatments for patients who initially had only mild symptoms might also be a reason.
The southern province of Guangdong, and coastal Zhejiang, meanwhile, had some of the highest numbers of patients after Hubei. Patients there were given herbal drinks to relieve symptoms even before they were testing positive.
By Friday, Guangdong had reported a mortality of just 0.1 per cent of infected people – compared with Wuhan's rate of 2.6 per cent – and none of the 1,155 confirmed patients in Zhejiang had died.
Whether herbs could kill the virus remains a topic of heated debate in the scientific community. The virus is difficult to kill because it does not live as an independent organism, like bacteria. Once in the body, it injects alien code into its genes and can duplicate rapidly, causing havoc.
A golden rule in herbal practice is that the doctor must see the patient. Among the first medical support professionals arriving in Wuhan after the outbreak were some of the most respected and famous traditional medicine doctors, including Tong Xiaolin, Huang Luqi and Zhang Boli.
They spent days and nights in quarantined blocks checking patients' pulses through protective suits, examining their physical condition, asking questions and updating herbal formulas for patients in different stages of disease development.
On Chinese social media, news of efforts by traditional medicine doctors were greeted with both praise and scorn. While many supported the use of herbs based on their personal experience, some remained highly sceptical, if not hostile.
"Why can't the herbalists shut up and let the Western doctors do their job," one person said on Weibo.
A doctor in Beijing who was informed of the medical work in Wuhan said some front-line doctors preferred using Western drugs partly because their mechanisms and side effects were simpler and better understood. In contrast, herbal formula sometimes contain more than a dozen ingredients, some of which are alien in modern science.
Some antiviral drugs need to tamper with our genes to wipe out the virus inside, and the mainstream opinion among biologists today is that plants have no such capability.
But there was plenty of data supporting the effectiveness of herbs in antiviral treatment. Although the epidemic is ongoing, Chinese researchers had obtained some initial promising results from clinical observations.
Zhang, who is also a member of the national expert panel advising the central government, said in a press conference last week: "A team in Guangzhou has treated more than 50 patients and none later developed severe symptoms. In Shanghai, patients with a combined treatment usually take seven or eight days to test negative [for the coronavirus]. Without herbal medicine it could take more than 10 days."
By last Wednesday, some large factories in Hubei were up and running to produce herbal drinks for quarantined citizens, according to People's Daily. The drinks were boiled and distributed in plastic packaging, according to the report. One plant in Wuhan could meet the daily consumption of 30,000 patients.
Since the 2002-03 outbreak of severe acute respiratory syndrome (Sars), the World Health Organisation has commissioned a number of investigations into the effect of herbal medicines. In mainland China, where about half of all patients in the country's medical system have received herbal treatment, doctors have reported that a combined therapy significantly reduced the severity of symptoms, mortality rate and side effects.
In one of the most dramatic cases, all 58 patients in a public hospital in Guangzhou recovered and no medical staff were infected. A study by the Chinese University of Hong Kong involving local patients also suggested herbal treatment as "a safe, efficacious and affordable Sars prevention measure", according to information on the WHO website.
A study by Zhang Chenyu, a Nanjing University professor, solved part of the puzzle. In a landmark paper published in the journal Cell Research in 2014, Zhang's team found that honeysuckle could effectively eliminate influenza A virus in mice.
The flower plant contained some tiny, unique molecules of genetic material known as micro ribonucleic acid that could bind with the viral strain and slow down its duplication in our genes. Before the study, it was believed that genetic materials were fragile and easily destroyed in the environment.
But Zhang's study found that these small plant genes could remain almost intact after being boiled – as required when preparing herbal medicine – and they tended to concentrate in a mouse's lungs. The herbal treatment more than doubled mice's survival rate, according to the experiment.
The study has prompted heated discussion in the research community, because if the plant could kill the virus, it could also tamper with genes. Genetically modified plants such as soybean and corn were certified safe for consumers because scientists believed that plants could not change the genetic coding in human cells. For the same reason, no genetically modified animals have so far been approved as food, because they were considered closer to humans, with a higher risk to health.
Chinese scientists today are armed with cutting-edge technology to fight the coronavirus. A few days after the release of its full genome sequence last month, a research team with the Chinese Academy of Sciences in Shanghai generated a list of about a dozen herbs that could suppress the virus by simulating on computer how they would internet with the viral strain.
Chinese researchers had also fired up the Shanghai Synchrotron Radiation Facility, one of the world's most expensive and advanced light sources, to study the virus' real-life structure for clues of possible cures.
The effect of many plants is difficult to quantify, and "when you put them all in a bowl of soup, it is no longer science, it is an art", said a doctor who requested not to be named because of the controversy around the issue.
It is also difficult to tell exactly how well herbs perform because in most cases they were taken by patients together with modern pills, and some patients in critical condition also received technical life support such as artificial lungs.
The supporters of herbs have pointed out that China has gone through more than 320 recorded plagues since the Han dynasty more than 2,000 years ago. Chinese doctors accumulated rich knowledge and experience in those fights.
Plagues in China did not cause a mortality rate as high as some in Europe, such as the Black Death in the 14th century, which wiped out 60 per cent of the entire European population. Dr Tu Youyou, who won a Nobel Prize for malaria drug artemisinin, which saved millions of lives, got her idea from a plant used in traditional herbal formulas.
Tong, who is the chief scientist with the China Academy of Chinese Medical Sciences in Beijing, said in an interview with Sina Technology on Thursday that it was not the time for rival medical camps to criticise each other's methods.
"Don't argue who should be the main player, or who has better techniques," he was quoted as saying. "Everyone must join hands and unite."
Purchase the China AI Report 2020 brought to you by SCMP Research and enjoy a 20% discount (original price US$400). This 60-page all new intelligence report gives you first-hand insights and analysis into the latest industry developments and intelligence about China AI. Get exclusive access to our webinars for continuous learning, and interact with China AI executives in live Q&A. Offer valid until 31 March 2020.