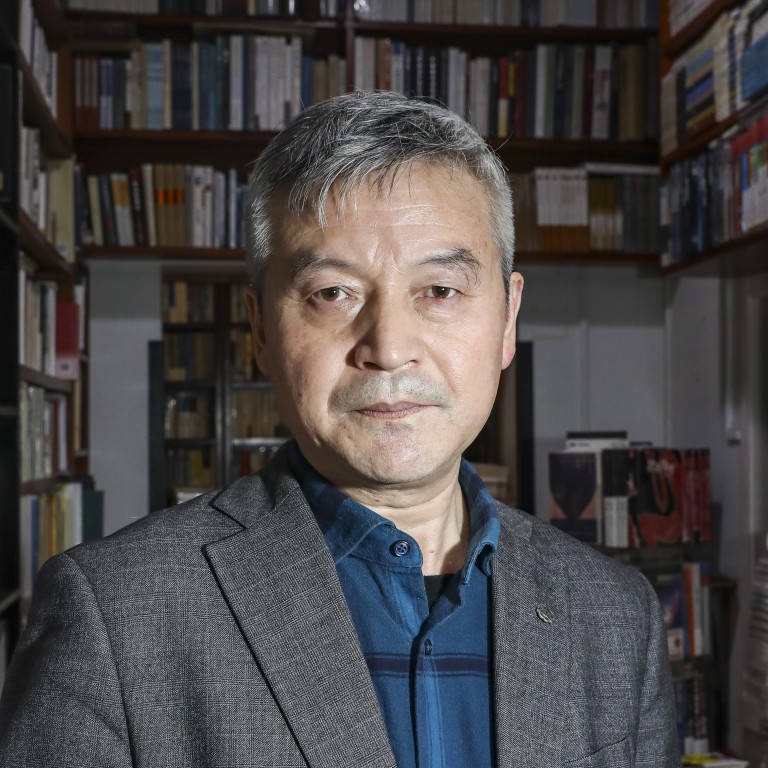 Lack of free speech helped spread of coronavirus in China, says leading professor
Peking University academic He Weifang says 'people live in distress and the government in mendacity' because of the lack of press freedom
Legal specialist's plea – handwritten to bypass censors – questioned why it had taken more than a month for Xi Jinping's apparent call for disease control efforts to be reported
The lack of a free press, poor governance, and an information blackout are all culprits in allowing the spread of the Covid-19 disease, which has caused thousands of fatalities, according to a leading academic. "I hope the heavy price [of the outbreak] will make Chinese authorities come to realise that without press freedom, people will live in distress and the government in mendacity," He Weifang, a professor of law at Peking University, wrote in an article shared with friends via the social media network WeChat on Monday.
The article, which had been handwritten in an effort to bypass the censors, also said a free press that could report on the authorities' performance would help develop a better governance system.
The disease, which first emerged in Wuhan city, has killed more than 1,800 people and infected over 70,000 worldwide, mostly in Hubei province.
He also highlighted a report published by the Communist Party's bimonthly journal Qiushi on Saturday, which said President Xi Jinping had told officials to act to stop the disease spreading in early January – something that was not made public at the time.
According to the report, Xi told the Politburo Standing Committee two weeks ago that he had called for disease control measures in a meeting with officials on January 7, saying it would be a "major test" for the country and its governance system.
But the state news agency Xinhua made no mention of this call in its report on the January 7 meeting and it was not made public until Saturday's report appeared – 12 days after the Politburo Standing Committee meeting.
"A shocking fact is that Xi's January 7 speech was not reported by any media. Does Xi know that? Or did the leadership decide it was inappropriate to release it to the public?" He wrote in the article.
"If the media in Wuhan or Hubei could report freely and responsibly, the people would not have to rely on the buck-passing bureaucracy and live in misery," he wrote.
He said later that he had written the article by hand because he thought that would make it more difficult for WeChat to censor it, but the posts were deleted about an hour after he forwarded the two-page article to several chat groups on the platform.
There has also been growing public concern and anger about the handling of the outbreak and the news that Li Wenliang, a doctor who later died from the disease, had been reprimanded by police for trying to warn colleagues.
While the Wuhan health authorities started reporting cases of the hitherto-unknown strain of pneumonia from December 31, the public were largely kept in the dark at first.
Early reports mentioned only a few dozen cases of the illness, and the authorities initially said there had been no cases of human-to-human transmission.
No information was released between January 6 and 10, when Wuhan officials held their annual legislative and political meetings.
The first public confirmation that the disease could be transmitted by humans came on January 20 when Zhong Nanshan, the country's leading specialist in respiratory diseases, said it was clear that this had been happening in Wuhan.
But only days earlier the city's authorities had allowed, or even encouraged, around 40,000 families in Baibuting district to gather and share home-cooked food in a Lunar New Year banquet.
A few days later, people who had attended the banquet started become ill and 57 residential blocks in the community have been designated as "fever buildings", the business news outlet Caixin reported on February 5.
There are no official figures on how many Baibuting residents have been infected.
Renmin University's Chongyang Institute for Financial Studies released a report on Monday, criticising the way some local governments had responded to the outbreak.
"We understand local governments are trying to control the disease. But some places are going too far by resorting to extreme administrative measures," nine researchers led by economist Jia Jinjing wrote in the report.
They said some authorities were "stopping everything and acting carelessly, resulting in chaos".
They also cited widespread media reports about mask supplies, including local governments seizing shipments destined for other parts of the country.
In one incident, the authorities in Dali, a city in Yunnan, commandeered about 600 boxes of masks from Vietnam that were destined for the megacity of Chongqing.
They also gave the example of a company that had 22,000 face masks seized by a southern municipality and received less than a third of their value in compensation.
The report also highlighted the case of one researcher's father, who had been denied hospital treatment for a urinary tract infection in Hainan.
The province had 163 confirmed cases of Covid-19 as of Friday, but the man was told that the hospital could not treat patients with other complaints.
The research also listed examples of local governments blocking roads and carriers refusing to take passengers from Hubei and warned: "Such simple and brutal measures will only exacerbate public panic and are against the rules of modern governance."
It concluded: "China should evolve towards a more refined and humanised style of governance instead of going backwards."
Additional reporting by Cissy Zhou
Purchase the China AI Report 2020 brought to you by SCMP Research and enjoy a 20% discount (original price US$400). This 60-page all new intelligence report gives you first-hand insights and analysis into the latest industry developments and intelligence about China AI. Get exclusive access to our webinars for continuous learning, and interact with China AI executives in live Q&A. Offer valid until 31 March 2020.
This article appeared in the South China Morning Post print edition as: Top law professor hits out over 'high price' for freedom