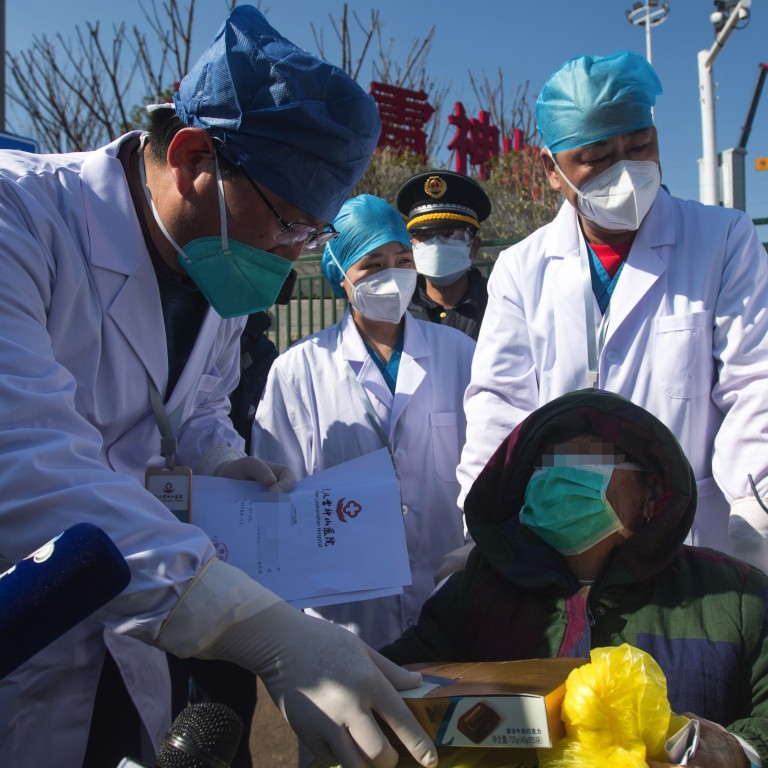 China takes new steps to help revive coronavirus-hit economy
Authorities say assistance will be targeted at smaller businesses in the outbreak's epicentre
Medical priority is to separate Covid-19 patients from those with seasonal flu, top infectious disease expert says
China's State Council, the country's cabinet, has announced new steps to boost the economy as it tries to weather the battering of
the coronavirus outbreak
.
Most of the State Council's new measures would be in the form of temporary cuts to business levies, particularly for small and medium-sized businesses in Hubei province, where the outbreak started.
The State Council also will increase subsidies for pig farmers, and the State-owned Assets Supervision and Administration Commission (SASAC) will introduce low-interest loans and rent cuts for businesses hit by the outbreak.
In addition, a special task force under the State Council to combat the outbreak has issued a new directive ordering local officials to take a flexible approach in both controlling the disease and
keeping the economy on the right track.
"All localities must follow the relevant laws and regulations and carry out dynamic analysis of the situation," state news agency Xinhua quoted the directive as saying.
"As soon as the number of infections shows a consistent decline, and the disease is being effectively contained, individual localities should take the opportunity to lower or lift their emergency response."
The raft of measures reflects the deep concern among the country's leadership to push for a resumption of normal production while also stopping the spread of the disease.
The coronavirus, which is widely believed to have come from a seafood and meat market in Wuhan in central China, has so far infected more than 70,000 worldwide and killed more than 1,800 people, the vast majority in mainland China.
Speaking in the southern Chinese city of Guangzhou, Zhong Nanshan, one of China's top respiratory disease experts, said that human-to-human transmission was continuing in Wuhan and the key to stopping it would be to separate coronavirus patients from those with seasonal influenza.
"The decline of confirmed cases in Wuhan is not as clear-cut. Wuhan is the key [of this battle]: 80 per cent of the patients are in Wuhan and 90 per cent of the death cases are in Wuhan or its vicinity," Zhong said.
"To be able to really stop human-to-human transmissions, we would have to separate ordinary [healthy] people from patients, and to separate Covid-19 patients from those of seasonal influenza," he said referring to the disease caused by the coronavirus.
"If we fail to solve these two problems, it will be impossible [for us] to stop human-to-human transmission."
China reported 1,886 new confirmed cases on Monday, and of those 1,600 were in Wuhan. While Beijing pointed to a decline in new confirmed cases nationwide, the figures for Wuhan remains roughly at the same level. Wuhan had 1,690 new cases on Sunday, and 1,548 on Saturday, though the daily number has dropped from more than 3,000 on Thursday.
In Hong Kong, health officials said that residents with minor flu-like symptoms would be asked to test themselves for the coronavirus at home in a bid to identify cases earlier.
Hong Kong health officials are extending virus checks to patients at doctors' surgeries and those in emergency care from Wednesday as part of a week-long pilot programme aimed at improving detection of the deadly virus.
Those patients with relevant respiratory or pneumonia symptoms will be asked to take testing kits home and return their samples the next day, with the results expected two or three days after that.
"The extended surveillance measures will allow us to better understand the disease and detect patients at an earlier stage," Dr Chui Tak-yi, food and health undersecretary, said.
Until now, coronavirus tests have only been performed on patients admitted to hospitals.
Despite some reports of false negatives in mainland China, Zhong, the respiratory expert, said that the nucleic acid test used to test for the coronavirus was "relatively accurate" if the samples were collected properly.
"Some media reports said it was only 30 to 50 per cent accurate, some said 20 per cent. I think the reports are not complete. The methods are correct, but [the result] depends on how the samples are collected," he said.
Zhong added that he had proposed using antibody tests as a new diagnostic tool for coronavirus. The new tool would test for IgM, a type of antibody, in blood to determine whether a person had the virus.
He said he had already applied to Beijing to fast-track approval of the process and he hoped that the new tool could be used in Wuhan to help expedite the testing of suspected cases.
However, other specialists said the antibody tests might not be an effective tool for diagnosis because it could only track people who had already been infected. It was more of a research tool, they said.
"It would be able to help for surveys to look at people in the wider community to see which people did have infection and which had symptoms, and you can also [use it to] look at routes of transmission in households, communities or workplaces," said Sanjaya Senanayake, an infectious disease specialist at Australian National University.
China has recently added clinical diagnosis to laboratory test diagnosis hoping to better identify patients showing clinical symptoms to cut off community infections. But patients with influenza may show similar symptoms to those with a coronavirus infection and they may be infected if they are isolated with other suspected or confirmed patients.
"A lot of other infections, viral and otherwise, can present with an influenza-like illness: fever, sore throat, aches and pains with or without a runny nose," Senanayake said. "So it can be quite a non-specific presentation and you do need microbiological confirmation to say if it's flu or another virus or something else.
"I would be concerned if they grouped people based on those findings. You could be putting an influenza patient in the room with a Covid-19 patient and with someone who has bacterial pneumonia and they could potentially crossinfect each other."
He said the scale of the outbreak had made it hard for diagnosis.
"It sounds like the system is under the pump in China. It sounds like they are using a lot of resources both human and otherwise to get on top on this … It may be tough to do all the testing that needs to be done because of the numbers and then … have you got enough [test] kits?"
But the Chinese authorities are also under pressure to treat patients in time.
Qian Yuankun, deputy secretary general of the Communist Party in Hubei province, said on Tuesday that the condition of some coronavirus patients had deteriorated to serious, and some patients even died because of delayed treatment.
Drew Thompson, a visiting senior research fellow at the Lee Kuan Yew School of Public Policy at the National University of Singapore, said that the government was in a bind.
"These simple binary choices of treat or don't treat, those simple solutions just aren't there, because it's a complex disease and the system is stressed and overwhelmed."
Additional reporting by Ng Kang-chung and Brian Wong
Purchase the China AI Report 2020 brought to you by SCMP Research and enjoy a 20% discount (original price US$400). This 60-page all new intelligence report gives you first-hand insights and analysis into the latest industry developments and intelligence about China AI. Get exclusive access to our webinars for continuous learning, and interact with China AI executives in live Q&A. Offer valid until 31 March 2020.
This article appeared in the South China Morning Post print edition as: Beijing announces measures to boost economy