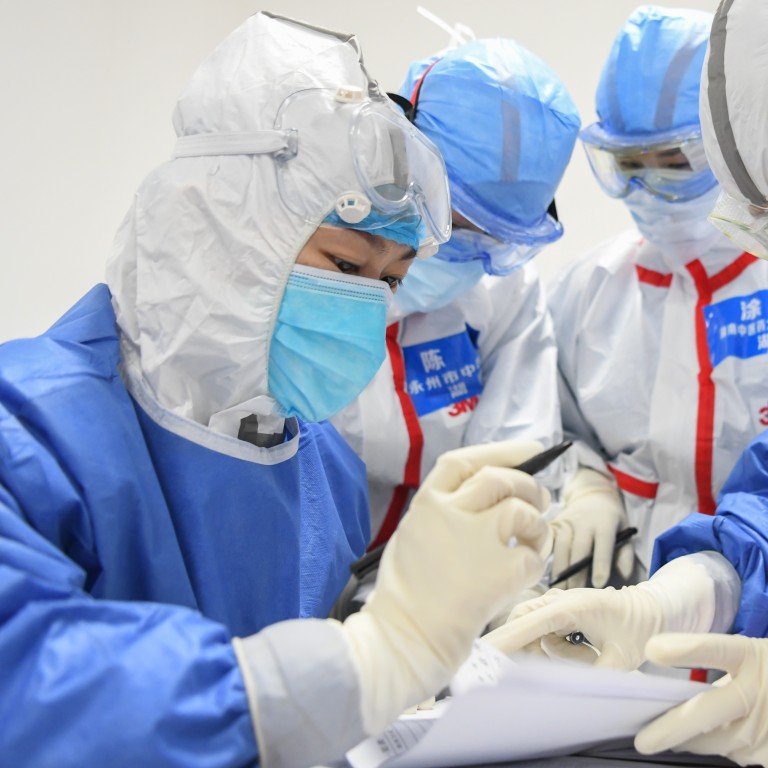 Sharp fall in new Chinese coronavirus cases, but is it only because of new counting method?
Decline in confirmed cases raises hopes Covid-19 may soon reach its peak, but scientists warn new method of counting may be the reason
In future, only positive tests confirmed in a laboratory will count towards the official total, reversing a decision to include diagnoses made using a CAT scan
China's National Health Commission announced 394 new Covid-19 infections on Thursday, the lowest figure in weeks, after it changed the diagnostic criteria to exclude patients who were "clinically diagnosed" by methods such as CAT scans.
The gradual decline in the number of new infections recorded across China has raised hopes that the situation there will start to stabilise, but other Asian countries have seen a sudden spike in infections.
Thursday's figure represented a significant drop on Wednesday's nationwide total of 1,749. It was also the 16th straight day where new infections fell outside the epicentre of Hubei, while new cases inside the province have now been falling for a week.
China's health authorities announced the change on Wednesday in a new treatment plan, saying that only confirmed laboratory tests would be included. This reversed an earlier decision to include "clinically diagnosed" cases from Hubei in the national tally.
That method saw a surge of over 14,000 new recorded infections, mostly inside the province, on February 12.
The gradual decline in the number of new infections recorded across China has raised hopes that the situation there will start to stabilise, but other Asian countries have seen a sudden spike in infections.
Some experts have previously expressed hope that the outbreak will peak in late February to early March, including leading Chinese respiratory expert Zhong Nanshan, who said on Monday that he expected a late February peak that will stabilise in April.
Yanzhong Huang, a senior fellow for global health at the Council on Foreign Relations in Washington, said: "The heavy-handed containment measures appear to be effective in stemming the further spread of the virus outside Hubei province."
But others urged caution, saying the drop appeared to be largely due to changes in the diagnostic criteria and it remained to be seen how effective widespread restrictions on movement had been.
Michael Osterholm, director of the Centre for Infectious Disease Research at the University of Minnesota, said "The measures put in place by the Chinese government are by far the most extreme population-based quarantine we've ever seen in modern history. It should have had a dramatic impact on transmission.
"The challenge is now when China tries to go back to work, when people are in public spaces. We'll see a major rebound effect and there's enough virus now in China that surely that could happen quickly."
Lawrence Gostin, professor of public health law at Georgetown University, said that it is "too soon to be confident", as "the data may be flawed due to weak surveillance or change of case definition".
Gostin joined other scientists in warning that the true number of infections had been under-reported due to a critical lack of resources for diagnosing new cases. Some of these patients died before they could be properly diagnosed.
From Thursday onwards, Chinese authorities will only record cases that are confirmed in a laboratory, including nucleic acid tests, which Osterholm said were the most reliable way of detecting the coronavirus that causes Covid-19.
The reversal may be linked to the difficulty of distinguishing Covid-19 patients from those suffering from seasonal influenza, which produce similar "ground glass" symptoms in a CAT scan.
"When the CAT scan was added [to the diagnostic criteria], it surely could pick up a bigger part of the coronavirus-infected population, but then you end up with the problem that it wasn't very specific for coronavirus," he said.
"Someone could have a number of several different infectious diseases such as influenza and bacterial pneumonia that could cause that kind of picture."
Zhong said on Monday that the nucleic acid test was "relatively accurate", but only if the samples were collected properly from the patients.
"To be able to really stop human-to-human transmissions, we would have to separate ordinary [healthy] people from patients, and to separate Covid-19 patients from those of seasonal influenza," he continued. "If we fail to solve these two problems, it will be impossible [for us] to stop human-to-human transmission."
Adam Kucharski, a specialist in infectious disease statistical modelling at the London School of Hygiene and Tropical Medicine, said that the apparent slow-down in new infections was consistent with his projections made in early February.
"However, we are cautious about claiming that recent patterns reflect a peak in transmission across China, as there have been changes in case definition, reporting and testing capacity that may also be influencing observed patterns," he said.
"Transmission may also continue to change as control measures and social behaviour further adapt in response to the outbreak."
Meanwhile, the number of new infections worldwide has recently surged in countries including Japan and South Korea, which announced 53 new cases and its first coronavirus death on Thursday, bringing the country's total to 104.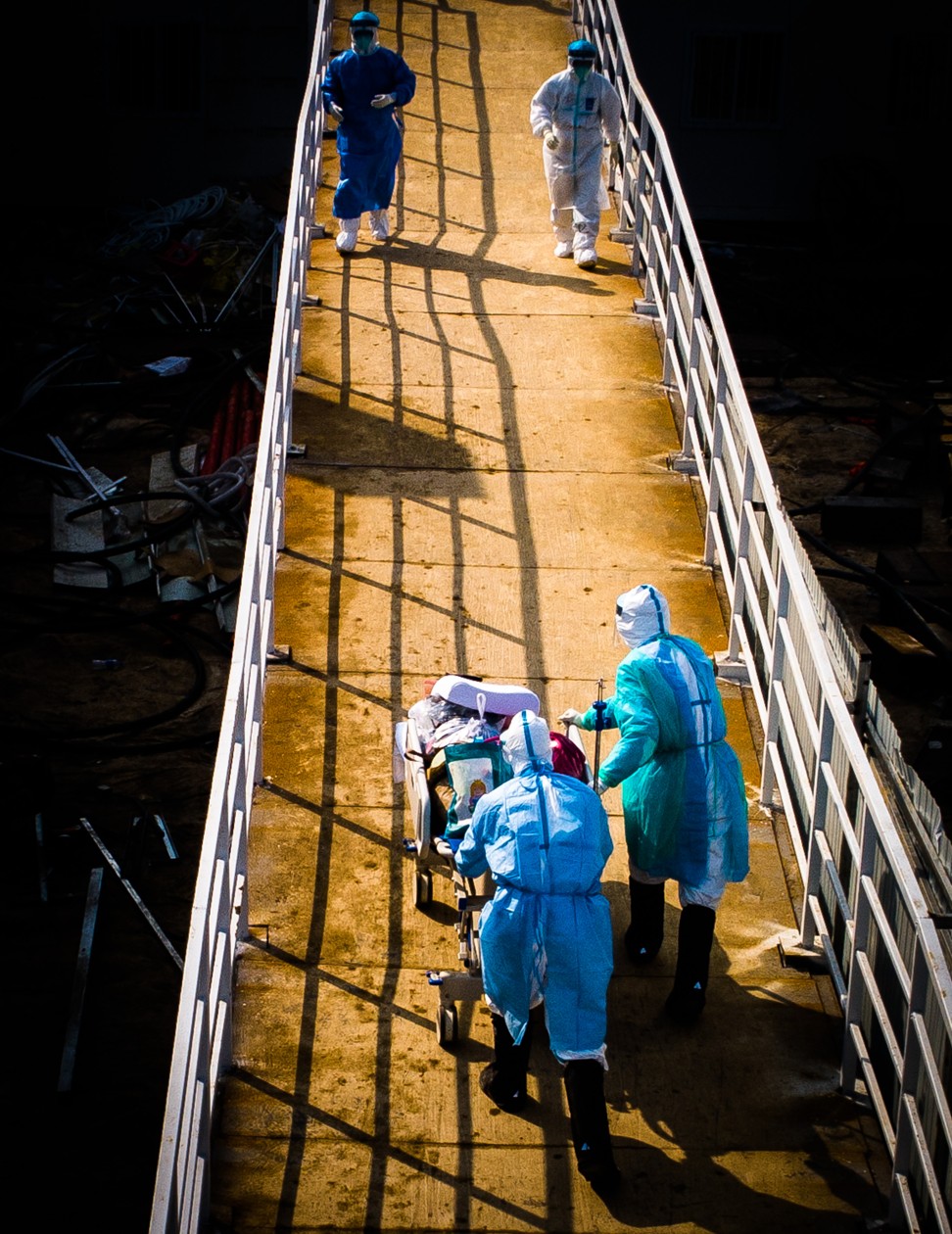 The Diamond Princess cruise liner docked at Yokohama port, where more than 600 former passengers tested positive, accounts for the vast majority of cases in Japan.
The ship announced two passenger deaths from the disease on Thursday, following 79 new cases on Wednesday and 88 the day before.
Kentaro Iwata, a Japanese infectious disease specialist at Kobe University Hospital, criticised Diamond Princess's quarantine measures as "completely chaotic" after he visited the ship on Tuesday.
Passengers who tested negative for the coronavirus began to disembark from the ship on Wednesday, and countries including the US, Britain and Australia evacuated hundreds of their citizens.
Early on Thursday morning, a total of 106 Hong Kong residents who were on board were taken back to the city on a special charter flight.
To curb the spread of the virus in China, Chinese officials have imposed a globally unprecedented range of lockdowns in dozens of cities across the country, affecting millions of people.
The restrictions on freedom of movement include curfews on individual housing communities and, in some case, bans on going outdoors, road and rail closures. Some cities have also closed down their public transport systems.
Some of the harshest lockdown measures are in Hubei, which is home to 58 million people. On Sunday the authorities there barred all citizens from leaving their residential communities or villages, and ordered all businesses to close unless they have special approval.
The province has also banned all vehicles from the road with the exception of police cars, ambulances, those transporting essential goods and other authorised vehicles.
"The prevailing narrative from China and World Health Organisation is [the] spread outside Hubei is all we care about. That's flat out wrong," said Gostin.
"Yes we want to stop its spread throughout mainland China and globally, but we have to start caring a lot more about the plight of more than 50 million people in Hubei. The ongoing threat to their physical and mental health of being trapped together is deeply concerning. Moreover, once the quarantine ends many people in Hubei will flee."
Purchase the China AI Report 2020 brought to you by SCMP Research and enjoy a 20% discount (original price US$400). This 60-page all new intelligence report gives you first-hand insights and analysis into the latest industry developments and intelligence about China AI. Get exclusive access to our webinars for continuous learning, and interact with China AI executives in live Q&A. Offer valid until 31 March 2020.