As China's coronavirus checks get stricter, fugitives turn themselves in
A man who stole a dead body for a black magic ritual is among those who surrendered to police after running out of places to hide
Strict controls to stop the spread of Covid-19 also forced a man wanted over a 1993 murder and a suspect in a US$1.5m fraud out of hiding
Strict new curbs on people's movements to contain
the spread of Covid-19
in China have forced a number of fugitives to turn themselves in to the police – including a man wanted for stealing a corpse for a black magic ceremony.
At least a dozen criminal suspects have turned themselves in since local governments started locking down cities, towns and communities, according to mainland police statements and media reports.
The most macabre case involved a man from Inner Mongolia, who was wanted for stealing a dead body for a "ghost marriage".
These ceremonies have taken various forms over time and in different parts of the country.
But in some areas of China, families believe that if someone dies unmarried they will be alone in the afterlife – unless they are buried with a corpse of the opposite sex, who becomes their spouse in the next world.
In this case the suspect, a man named Qiu, surrendered to police in Bayannur on February 11.
Local police said in a WeChat post that Qiu had evaded identity checks for four years, but finally gave up after community workers started carrying out checks on everyone entering or leaving his neighbourhood.
The police said he had confessed to stealing a corpse and selling it to a family in Shaanxi province for 5,000 yuan (US$715) to conduct a ghost marriage ceremony.
Meanwhile in the southern province of Guangdong, a 50-year-old man wanted in connection with a 27-year-old murder case also surrendered to police in Heyuan.
The man, identified only by his surname Zhang, was a native of Hubei, the epicentre of the outbreak, the Southern Metropolis News reported on Sunday.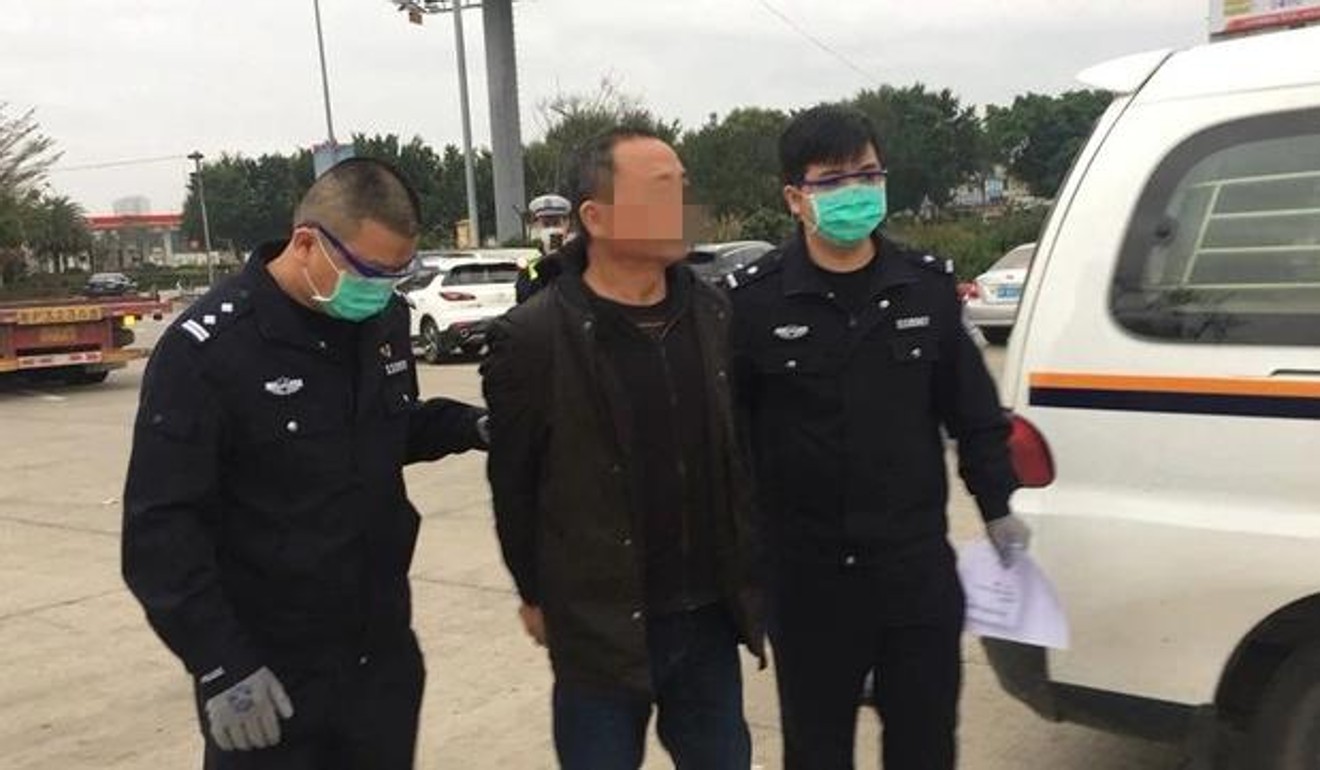 He told police that stringent checks on people's ID cards and temperatures made him realise "I would be caught sooner or later".
The report said he had confessed that he had been involved in the fatal stabbing of a man outside a cinema in Danjiangkou in 1993. Two other men were jailed for the crime.
Police officer Zuo Suijin told the city's official news portal Hbdjk.com that he had spent years on the run in Guangdong doing various odd jobs but had not dared to contact his family and friends.
But when he realised how serious the outbreak in his native province was, he realised that if he turned himself in he would at least be able to find out how they were.
Zuo, together with three other officers, took a 3,500km (2,175-mile) round trip by car to bring Liu back to the Hubei city, where he was screened for the virus before being taken into custody.
Last week another man who was accused of involvement in a 10 million yuan (almost US$1.5 million) telecom fraud five years ago, ran out of places to hide in Shanxi province.
The man named Fan had been trying to escape detection by cycling around the province, from Jincheng city to Yicheng county, according to the China News Service.
"There have been many check points in Yicheng recently, and we have also been patrolling the streets all the time. So under such pressure he surrendered. Besides, he couldn't find a place to stay," said Liu Wei, a police officer in Yicheng.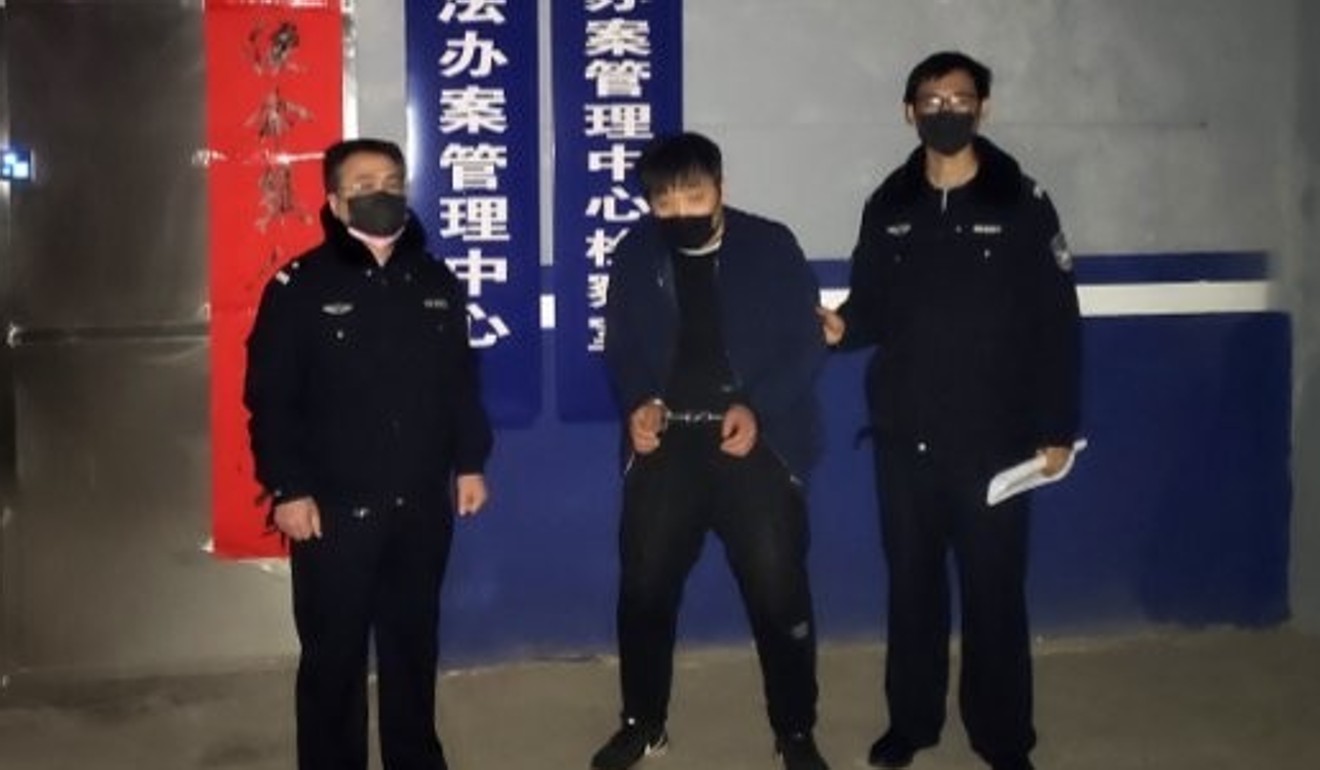 Fan was accused of being part of a group of scammers who tricked victims into handing over money by posing as attractive young women seeking investors in collectibles such as stamps and coins in 2015.
He put on a wanted list by police in Henan province in 2017 and has been transferred to their custody.
Huang Jing, a Hangzhou-based expert in criminal psychology, said fugitives who failed to settle down with a new identity in a new place would struggle when society was in crisis mode because they lacked social resources, personal connections and a steady income.
She said anxiety about the spread of the disease and the tighter controls placed on society might also make them panic.
Huang, who has 10 years' experience in criminal investigation and now works at psychological consulting firm YDL.com, said panicking "makes people desperate or even drives them to suicide".
"Fugitives who surrender to the authorities have access to food and medical services in prison," she said.
If the lockdowns and checks continue, she expects more to surrender, saying: "Over time, they will face deteriorating living conditions and become mentally weaker."
Purchase the China AI Report 2020 brought to you by SCMP Research and enjoy a 20% discount (original price US$400). This 60-page all new intelligence report gives you first-hand insights and analysis into the latest industry developments and intelligence about China AI. Get exclusive access to our webinars for continuous learning, and interact with China AI executives in live Q&A. Offer valid until 31 March 2020.
This article appeared in the South China Morning Post print edition as: 'Ghost marriage' corpse thief surrenders