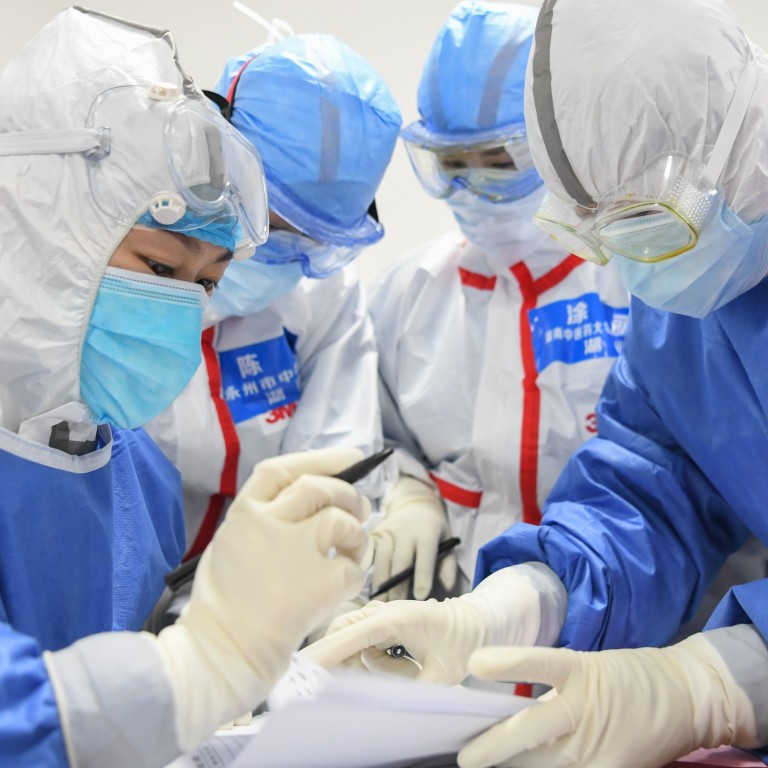 Coronavirus: surge in cases in South Korea but China reports fewer new infections
Though most of the infections and deaths have occurred in China, the past week has seen a sharp rise in reported cases and fatalities overseas
Most new infections in South Korea traced to a minor Christian sect in southeastern city
Coronavirus infections
have surged in South Korea, with authorities reporting a sixfold jump in viral cases in four days.
The announcement on Saturday came as China reported a drop in new infections – from 889 a day earlier to 397.
The National Health Commission said that another 109 people had died in mainland China, taking the death toll to 2,345.
In all, the country has reported 76,288 cases of the virus.
The commission also said 2,393 patients were discharged from hospital on Friday, with 20,659 recovered in total.
There were also 1,361 new suspected cases, compared with 1,641 a day earlier.
Spike in cases in South Korea
Though most of the infections and deaths have occurred in China, there has also been a sharp rise in reported cases and fatalities overseas in the past week, including four deaths in Iran and hundreds of confirmed infections in South Korea.
South Korea reported 229 new cases of the new coronavirus on Saturday, bringing the total in that country to 433, Yonhap news agency reported.
On Friday, South Korea declared Daegu and neighbouring Cheongdo county "special care zones" because of a cluster of coronavirus cases there in recent days.
Two South Korean coronavirus patients, who had pneumonia, died earlier this week, but public health authorities said the outbreak was still "manageable".
New cases in Japan
Japanese officials confirmed four new coronavirus infections on Saturday.
One of the new cases is a woman in her 60s who is a junior high school teacher in Chiba prefecture, east of Tokyo, according to a prefectural government official.
The woman first showed symptoms on February 12 and was hospitalised on February 19, according to media reports. She went to work while she had symptoms, so her school will close for two days from Tuesday.
The second case was a woman in her 30s, also in Chiba prefecture, who has been hospitalised but was not showing any symptoms, the prefectural government official said.
There is no relationship between the two women and it is uncertain how either of them contracted the virus, the official said.
Two more cases, a man in his 60s and a man in his 50s, were also confirmed in Kumamoto prefecture in southern Japan.
In Japan, 99 people have now tested positive for the flu-like illness, which has killed more than 2,300 in mainland China.
More than 600 cases have also been reported on the Diamond Princess cruise ship that has been quarantined off Yokohama for more than two weeks. Two elderly passengers died, taking the total of domestic deaths in Japan from the virus to three.
Alert lowered in two provinces
The two Chinese provinces of Liaoning and Gansu have lowered their emergency response from the top level to the third after having reported no new coronavirus cases.
Gansu revised down its alert response on Friday after reporting no new cases for the fourth day in a row. The province has so far registered 91 confirmed cases and two deaths.
Liaoning lowered the response level on Saturday morning, the fifth day without reports of new cases. The northeastern province has reported 121 confirmed cases and one death.
The two provinces now place their cities and counties in three risk groups that correspond to different epidemic prevention measures.
Since late January, all provincial-level regions in mainland China have activated top-level emergency responses to the coronavirus, cancelling mass events, closing scenic attractions and suspending long-distance buses.
Virus detected in urine
Chinese scientists say they have detected the coronavirus in urine samples from patients.
Zhao Jincun, a member of research group headed by Chinese respiratory expert Zhong Nanshan, said on Saturday that the team had found traces of the coronavirus in samples collected from patients in the southern city of Guangzhou.
The coronavirus had previously been detected in faecal samples.
Without specifying, Zhao said the development had implications for public health control measures.
'Virus less contagious'
The coronavirus has become less contagious, according to a Chinese infectious disease specialist.
Xiang Nijuan, a researcher at the Chinese Centre for Disease Control and Prevention, told state broadcaster CCTV on Friday that the reproduction number – the number of people who catch the disease from one infected person – was initially between two and three people but might have fallen to less than one now.
"If the reproduction number was still the same, the trend of infections would not be going down as we see now," Xiang said.
WHO team to go Wuhan
The head of the World Health Organisation (WHO) said on Friday that the window of opportunity for containing the disease was "narrowing".
An investigative mission of WHO experts in China is set to travel to Wuhan on Saturday to assess conditions in the city were the coronavirus is believed to have broken out.
The visit comes come after a series of U-turns by national and local health authorities in their counting methods, sowing confusion and amplifying concerns about the accuracy of official data.
Xi Jinping thanks Bill and Melinda Gates
Chinese President Xi Jinping has thanked philanthropists Bill and Melinda Gates for their foundation's support to China at a critical time.
Earlier this month, the foundation said it would provide up to US$100 million for the global response to the epidemic. The foundation said that some of the money would be used to accelerate the detection, isolation and treatment of the coronavirus in China and other countries that have confirmed cases.
In a letter to the couple, Xi complimented the foundation for its early efforts in the global fight against the virus and said he was grateful for the Gates' support for the Chinese people, state news agency Xinhua reported.
"Unity and cooperation is the most powerful weapon" in the battle against the virus, Xi said in the letter, indicating his support for the foundation's coordination with Chinese agencies on the ground.
Additional reporting by Bloomberg, Xinhua and Reuters