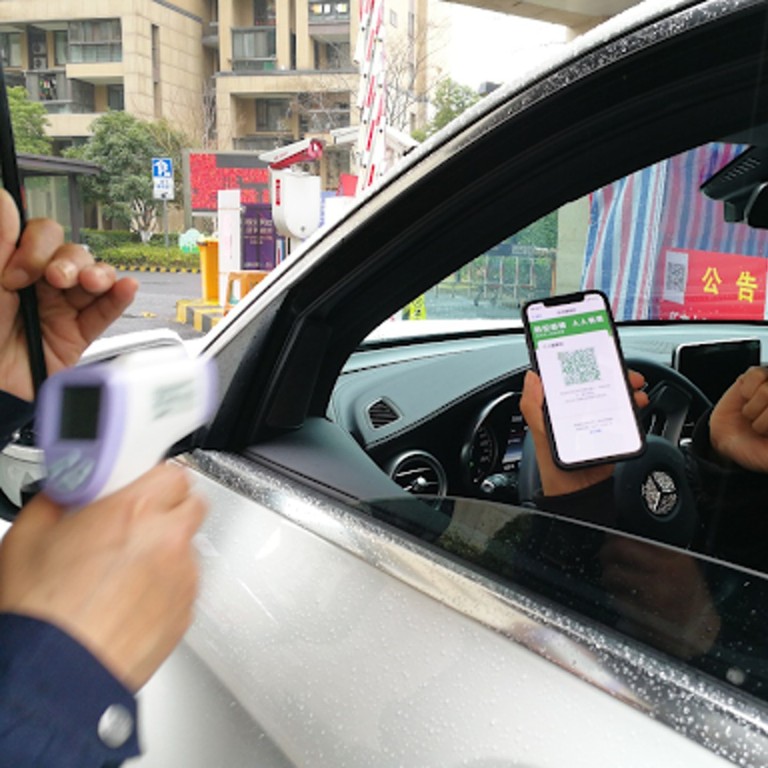 How big data is dividing the public in China's coronavirus fight – green, yellow, red
Cutting-edge technologies and old-fashioned surveillance are being used to decide who can and who can't go back to work
But the smart technology is not always that intelligent
This article was written by Viola Zhou and originally appeared in Inkstone, a daily digest of China-focused stories.
On Valentine's Day, a 36-year-old lawyer Matt Ma in the eastern Chinese province of Zhejiang discovered he had been coded "red".
The colour, displayed in a payment app on his smartphone, indicated that he needed to be quarantined at home even though he had no symptoms of the
dangerous coronavirus
.
Without a green light from the system, Ma could not travel from his ancestral hometown of Lishui to his new home city of Hangzhou, which is now surrounded by checkpoints set up to contain the epidemic.
Ma is one of the millions of people whose movements are being choreographed by the government through software that feeds on troves of data and issues orders that effectively dictate whether they must stay in or can go to work.
Their experience represents a slice of China's desperate attempt to stop the coronavirus by using a mixed bag of
cutting-edge technologies and old-fashioned surveillance
. It was also a rare real-world test of the use of technology on a large scale to halt the spread of communicable diseases.
"This kind of massive use of technology is unprecedented," said Christos Lynteris, a medical anthropologist at the University of St Andrews who has studied epidemics in China.
But Hangzhou's experiment has also revealed the pitfalls of applying opaque formulas to a large population.
In the city's case, there are reports of people being marked incorrectly, falling victim to an algorithm that is, by the government's own admission, not perfect.
The rating system that snagged Ma is known as Health Code and can be accessed through the Alipay payment app. It was developed by Ant Financial, an affiliate of e-commerce giant Alibaba, and local authorities of Hangzhou, home to many of China's biggest tech companies. Alibaba owns the South China Morning Post.
It was launched last week as millions of Chinese people began returning to work after a Lunar New Year holiday that was extended by the coronavirus epidemic.
The colour code is the result of an automated analysis that uses big data to identify potential carriers of the coronavirus.
Chinese state media has reported that the system covers three provinces – Zhejiang, Sichuan and Hainan – and the municipality of Chongqing with a total population of nearly 180 million, and will soon cover the entire country.
In Hangzhou, where the system was first launched, the city's deputy Communist Party chief, Zhang Zhongcan, said the software took into consideration a person's self-declared health status, travel history and the people they had been in close contact with.
The city has assigned every resident one of three colours – green, yellow or red – indicating different levels of risk the person poses to public health.
People with QR codes coloured in red are not allowed to enter public venues such as subway stations, restaurants or shopping malls for at least 14 days. Workers at those places are able to scan the QR code to verify the users' identity. Yellow code holders face similar restrictions, but for seven days.
Among the 7.6 million Hangzhou residents who had obtained the digital health certification by February 17, 93 per cent were marked "green", while 4 per cent, or about 335,000 people, got the red code.
Not everyone is happy with the ratings they got. On China's Twitter-like Weibo, many holders of the red tag have complained that they do not know why they have been rated as high risk.
Some said their code turned red after they ticked "stuffy nose" or "fatigue" on the system's health declaration form, even though the symptoms were common and could have nothing to do with the coronavirus.
Authorities have admitted that "some" ratings are not accurate, without saying how many. On February 12, a man was pulled off a Hangzhou-bound plane in the northeastern city of Harbin due to his red tag – he took the same flight with a coronavirus patient on January 15 but never developed symptoms.
Two days later, police manually changed his rating from "red" to "green", according to a report by the Qianjiang Evening News.
The authorities and Ant Financial have not detailed how the data is collected and calculated in the Health Code system. A spokesman for Ant Financial said questions about data protection and accuracy should be answered by the government, which provided the health code service and operates the system.
Officials need to get people back to their jobs to restart an economy threatened by the epidemic. Even before the outbreak, the Chinese economy grew at its slowest pace in 29 years, and disruption to businesses caused by the virus could set it back further.
But the authorities also fear the returning workers could cause another wave of infections in the crowded cities.
Ma, who spent the Lunar New Year holiday in Lishui, Zhejiang province, was required to obtain the code before returning to Hangzhou. He filled in a form about his health and travel history, and the system returned with a red QR code.
Having been nowhere near the centre of the outbreak, the central province of Hubei where most infections and deaths have been reported, Ma wanted to contest his status. But when he called a government helpline, he only got an automatic answer.
"I felt I was at the mercy of big data," Ma told Inkstone on February 19. "I couldn't go anywhere. There's no one I could turn to for help, except answer bots."
In a mysterious turn, his code changed from red to green two days later. The entire process was puzzling, he said.
A lawyer specialising in data compliance, Ma said the system could violate Chinese laws if citizens were put under travel bans by machines without being given a chance to appeal.
Ma is hardly alone. This week, some 200 people on two WeChat messaging groups, all red code holders, held sessions to brainstorm ways to return to work, according to one participant.
The ideas included borrowing another person's national ID card and account on Alipay to pass highway checkpoints. "I would be wearing a mask, and hopefully the officers wouldn't spot it," the participant said.
In China, authorities are able to collect huge amounts of data through its extensive surveillance network, which includes ubiquitous security cameras, real-name registration for internet users and train passengers and face scans at hotel check-in counters.
The Chinese government has previously praised the use of big data, including its medical applications, as a crucial tool to help it govern better.
Throughout the crisis, authorities have used data to track where infected patients have been, identify their close contacts and look for people who have travelled out of the outbreak's epicentre.
Those picked out by software are then passed on to a surveillance and enforcement network – millions of community workers who would put them under quarantine, check their body temperature every day and, in extreme cases, use metal chains to lock them up at home.
On February 16, a Hangzhou official acknowledged criticism of the health code system from those contesting their ratings. He said the government had sent workers to verify the data, adding that the algorithm would be modified to improve accuracy.
Despite the glitches, officials are already boasting about the contribution of its "abundant data resources" in containing the epidemic, which has infected more than 75,000 and killed at least 2,239 in China.
Besides the health code, a series of other digital tools, powered by data, have also been deployed to screen out people deemed high risk and restrict their movements.
A state-run platform called "close contact detector" now allows employers to check if their workers have been in close contact with confirmed or suspected coronavirus patients in the past 14 days by inputting the employees' national ID numbers.
China's state-run telecom operators have also provided data on users' movements to local officials. In the eastern city of Wenzhou, for example, officials earlier this month identified 3,615 people who came close to a rice noodle shop after two shop owners fell ill, with data provided by mobile operators.
Community officers later called all of them and put 40 people who claimed to have visited the shop under quarantine.
Public opinion about the use of big data is divided. Some people say the powerful technologies are making them feel safer, but others have raised concerns of mislabelling and privacy violations.
Maya Wang, a senior China researcher with Human Rights Watch, said the government's existing surveillance infrastructure, built to crack down on crime, is increasingly being used to regulate other aspects of people's life, including tracking their health status.
"In China it's particularly problematic because there is not only no law on the practice of surveillance and there's almost no mechanism to challenge the mass surveillance," she said, citing the lack of freedom of expression and an independent judiciary.
Some previous attempts made by tech companies to trace viruses with big data have failed. Google Flu Trend, which promised to monitor flu cases based on Google searches, was shut down in 2015 after it was found to be consistently overestimating cases in the United States.
Lynteris, of the University of St Andrews, said it was difficult to tell whether China's surveillance efforts had helped with disease control if the government did not allow transparent, scientific studies.
Applying flawed technologies risked putting the wrong people under quarantine, strengthening the stigma of infected population and wasting the already-strained resources to control the epidemic, he said.
But regardless of the effect of the technology-driven campaign's effectiveness, Lynteris said it gave people living in the crisis a sense of hope.
"People have a magical belief in technology," he said. "This public spectacle of a digital technology being deployed does create a sort of public consent which is much needed on the ground. Technology is reassuring the public the epidemic will be resolved."
Purchase the China AI Report 2020 brought to you by SCMP Research and enjoy a 20% discount (original price US$400). This 60-page all new intelligence report gives you first-hand insights and analysis into the latest industry developments and intelligence about China AI. Get exclusive access to our webinars for continuous learning, and interact with China AI executives in live Q&A. Offer valid until 31 March 2020.
This article appeared in the South China Morning Post print edition as: Ready, steady, stop